Prints & illustrations of York
An illustration of Clifford's Tower
Illustration - 'Parkrun York'
March 2017 - Including the infamous orange wind sock, grandstand, Terry's clocktower.
January 2017 Illustration - Millennium Bridge
A view of our Millennium Bridge with the ice cream boat on the opposite bank :)
December Illustration / Doodle
A view looking towards City Screen Picturehouse York. Pitcher & Piano. The Basement.
picturehouses.com
Odeon Cinema York
November - The York Reel Cinema (Formerly Odeon) located on Blossom Street.
reelcinemas.co.uk
October Illustration - Terry's Chocolate Factory
A view looking towards Terry's Chocolate factory clock tower. Built in 1926.
This card can be purchased at Frankie & Johnny's Cookshop (Bishopthorpe Road)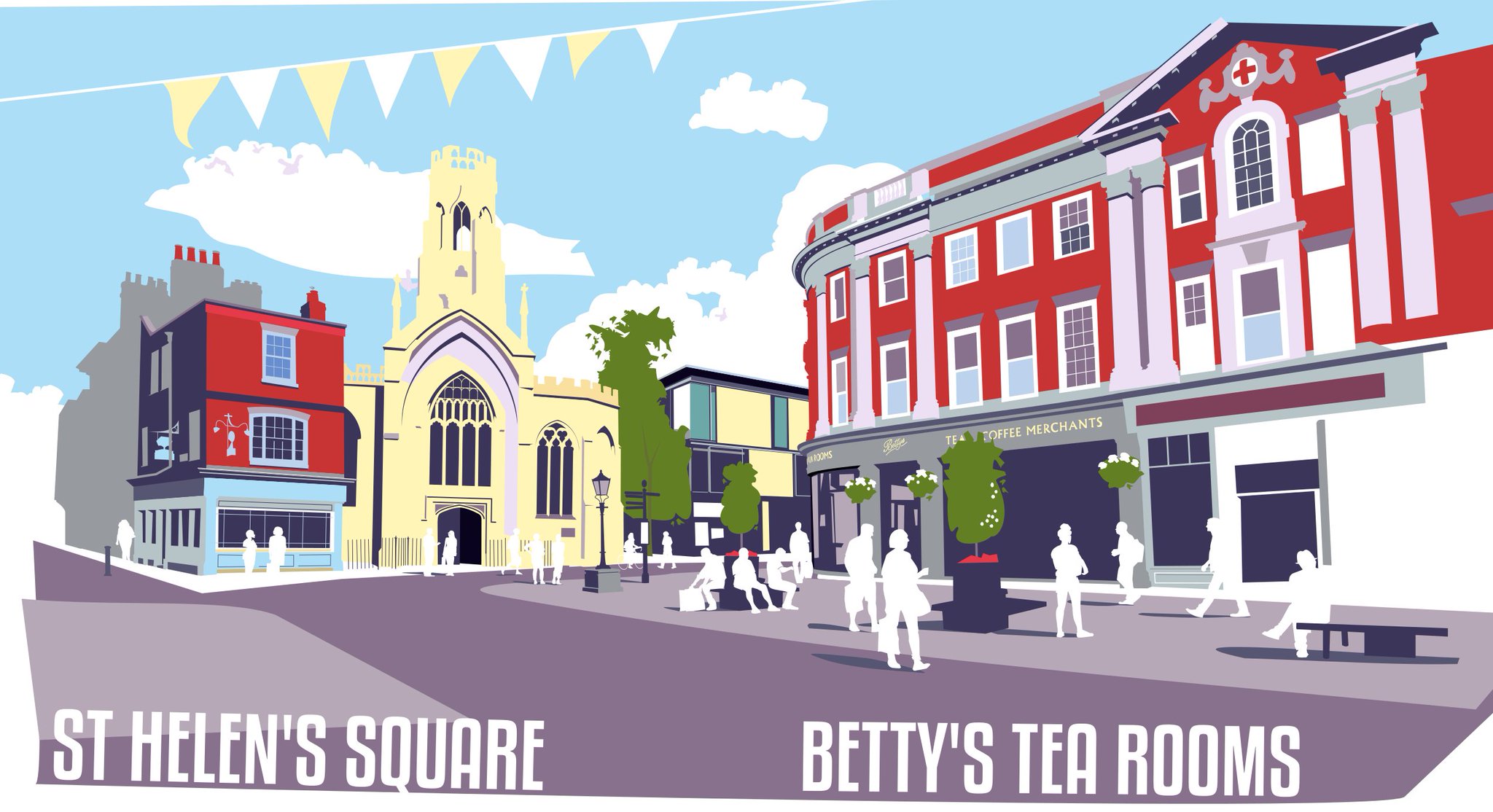 August - An illustration by E Harrison
A view looking towards Betty's Tea Rooms and St Helen's Church.
This card can be purchased at Frankie & Johnny's Cookshop (on Bishopthorpe Road)
and also Blossom Street Gallery blossomstreetgalleryandframing.co.uk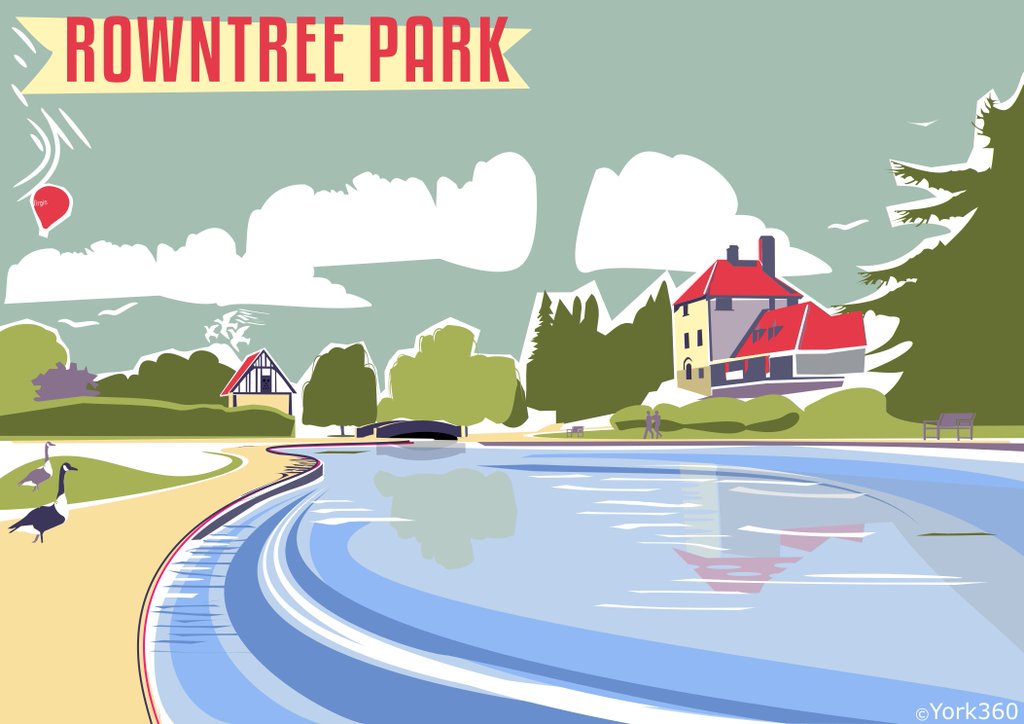 June - New Cards
These cards can be purchased at Frankie & Johnny's Cookshop (Bishopthorpe Road)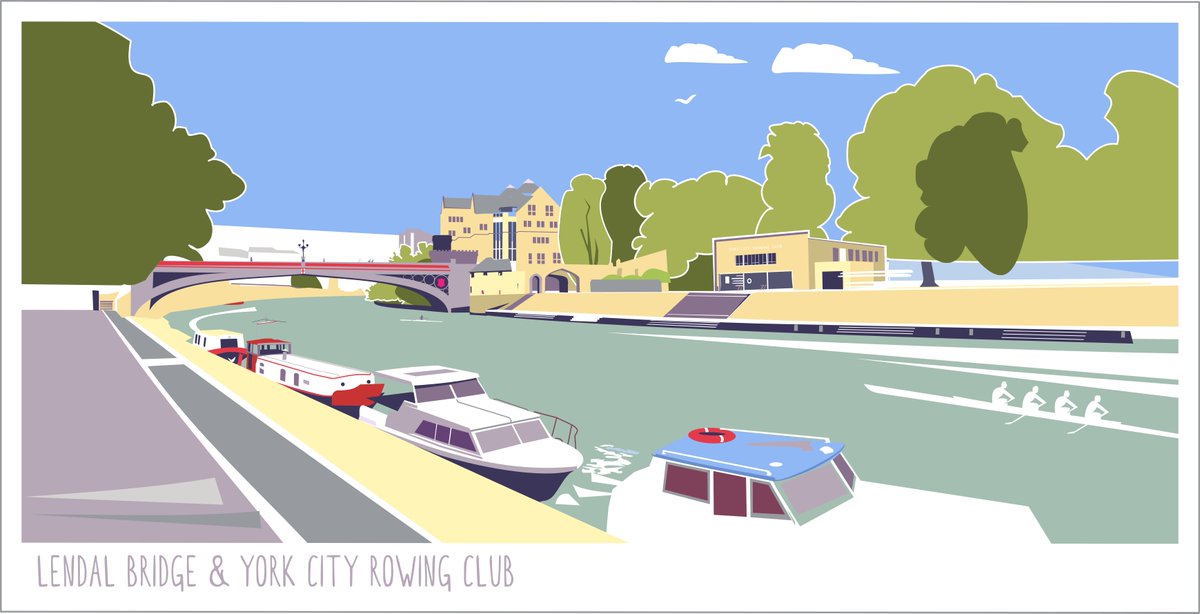 June - Summer On The River
Illustration of York Minster
A colourful illustration of the west face of York Minster.
York Minster - Artist: Phoebe Atkey
" I have tried to capture the grandeur of the majestic York Minster. "
Based in the New Forest area of southern England Phoebe is a self-taught artist with a particular passion for architecture and cityscapes. This was originally drawn with black pen, white gel pen and white pencil on artist's tonal grey paper. Prints have been created on pure cotton natural white fine art paper.
You can purchase Phoebe's prints from phoma.co.uk
York Christmas Cards & Calendar
New calendar by local York artist Tony Brook.
All paintings are taken from his original works and this year include some quite unusual concepts. They make great Christmas presents for locals and visitors alike. Every copy is of the very highest quality, produced and finished by hand locally. We recommend you visit Tony's website to view and place your orders.
tonybrookyorkartist.co.uk
Word Map of York Minster
A new illustration of York Minster created using words unique to York!
Street names, famous locals, attractions, and buildings.. Ideal as a unique gift.
Size: A2 (420mm x 594mm)
Colour: Red litho print on 200gsm white paper.
Artist: E Harrison
View and buy these prints from..

Blossom Street Gallery & Framing
Address: 2 Blossom Street, York YO24 1AE
blossomstreetgalleryandframing.co.uk
Or please email here if you would like a print posting.
© All Rights Reserved
If you would like a print of any of our photos, please contact us for a price. Please add what size would you require? and the url of the photo. Thanks
Circular Prints
These photos of York have been digitally mapped to create interesting viewpoints.