The Lund Gallery, Easingwold
Studio and Gallery of Landscape Artist Debbie Loane.
Lund Gallery, Alne Road, Easingwold, North Yorkshire, YO61 3PA
Tel 01347 824400
Our 2018 course programme is now on-line! Visit our website to find out more and book your place. We host a range of creative courses, from painting to textiles, printing to stone carving. All courses are led by practicing artists and makers including David Tress, Laurie Steen, Alice Fox, Jennifer Tetlow, Jonathan Shearer, Nicki Heenan, along with resident artist Debbie Loane.
lundgallery.co.uk
York Artworkers Association Anniversary Exhibition
Friday 12 - Monday 29 January 2018
Pyramid Gallery, 43 Stonegate, York
The York Art Workers' Association is an eclectic group of craftsmen, artists, conservators, academics and others who share a serious interest in the design of buildings, interiors and landscapes. Members represent architectural craftsmanship, other applied arts, fine arts, architecture and conservation. We welcome not only practitioners in these fields but anyone with a keen interest or appreciation of art & design.
We exist to extend and share our knowledge and experience through a programme of monthly talks at Jacob's Well, normally on the first Monday of the month, doors open at 7pm. With an annual keynote address held at Tempest Anderson Hall, in the Museum Gardens. We also have occasional outings & social events. Our talks are open not only to members but anyone with an interest in the arts.
2018 is our 25th Anniversary. The first celebratory event is an exhibition of paintings, etchings, linocut prints, pottery, glass, sculpture, jewellery at Pyramid Gallery on Stonegate. Please join us at the opening on Friday 12 January between 6.30 and 8.30pm
Pyramid Gallery, 43 Stonegate, York YO1 8AW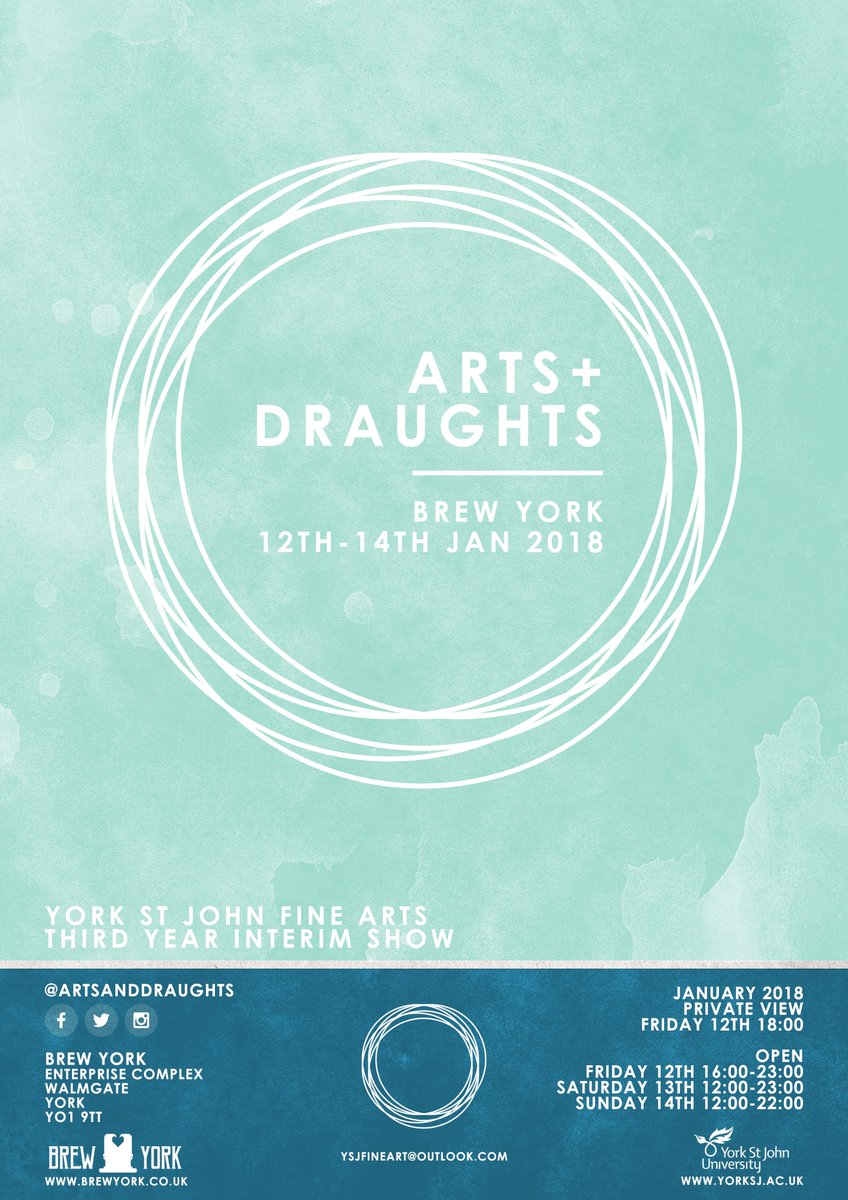 Arts + Draughts
Saturday 13 & Sunday 14 January 2018
Venue: Brew York Craft Brewery & Tap Room
For two days and two days only….
York St.John University's Third Year students present….
ARTS+DRAUGHTS
Can we organise a pop-up in a brewery?
Come and see the current work of the third years and the practices they are currently working in. We will be displaying various forms of artwork including painting, drawing, sculpture, installation and more.
Spread the news and we look forward to seeing you there!
This exhibition will be held at the Brew York in York City Centre for the public on:
Saturday 13th January: 12:00 - 23:00
Sunday 14th January: 12:00 - 22:00
Facebook: Arts+Draughts
Instagram: artsanddraughts
"Fields of Vision Exhibition"
20 January - 17 March 2018
Blue Tree Gallery, 23 Bootham, York. YO307BW
Mixed exhibition showcasing new paintings by
Jane Burnley, Ian George, Paolo Lazzerini and Janette Summerfield.
The Gallery is now Art Council approved "Own Art" scheme, making it easy and affordable to collect contemporary art and craft by providing interest free loans from £100 - £2,500.
www.giulianalazzerini.com
Art And Activism
20 January - 5 February 2018
Kings Manor, York Explore And Pica Studios
Art and activism - an exhibition. Video, sound and installation. Bought to you by the centre of applied human rights York university. Part of the York City of Sanctuary.