Art At The Yorkshire Arboretum: Justine Warner
📅
16 October - 4 November 2018
The Yorkshire Arboretum
Work by local mixed-media and textile artist Justine Warner who has produced a body of work based on the Yorkshire Arboretum during her year-long residency. The exhibition includes twelve pieces inspired by the seasons and different views of the arboretum. Entry to the Visitor Centre is free. For more information visit:
yorkshirearboretum.org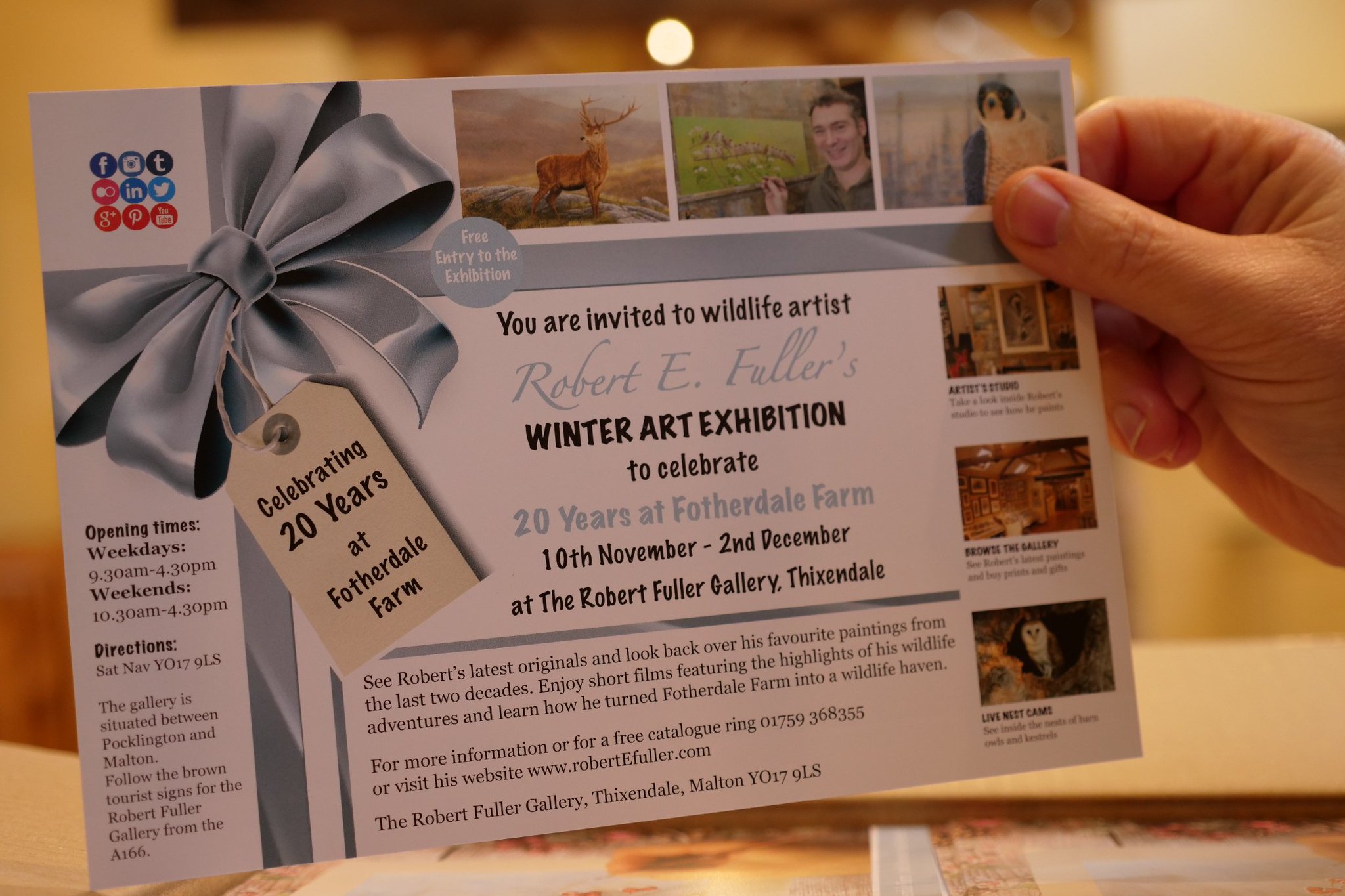 Robert Fuller Winter Wildlife Art Exhibition
📅
10 November - 2 December 2018
The Robert Fuller Gallery
Wildlife on my doorstep: Celebrating 20 years of painting on the Yorkshire Wolds
The Robert Fuller Gallery, Thixendale.
See life-like paintings and limited edition prints of owls, foxes and hares glimpsed on the Yorkshire Wolds by acclaimed artist Robert E Fuller.
Robert E Fuller, whose meticulous research into animals feature regularly on TV, is celebrating 20 years of watching and painting wildlife at his gallery on the Yorkshire Wolds.
This elegant, beamed venue ranks top of TripAdvisor's guide to the best art galleries in Yorkshire. It enjoys 12,000 visitors a year in spite of its remote location, many drawn by the artist's impressive reputation.
The artist's latest collection includes new paintings as well as a retrospective of art work featuring the wildlife he has studied over two decades on the Yorkshire Wolds and in his garden at Fotherdale Farm, Thixendale.
The display tells the story of how he transformed this once windblown and barren plot into a wildlife haven where weasels, stoats, owls and kestrels live all year round.
See inside his studio, watch live nest cams of owls and kestrels and enjoy video and photographs that inform these paintings. Entry is free and complimentary refreshments will be served.
robertefuller.com
Edward Hersey And Gordon Lees 2018
📅
16 November - 16 December 2018
York Fine Arts, 83 Low Petergate, York, YO1 7HY
York Fine Arts is delighted to announce its highly anticipated annual Edward Hersey and Gordon Lees exhibition. A show not to be missed, the exhibition brings together an exceptional collection of original paintings from two leading British artists whose work consistently captures and preserves the classic charm of Britain's most beloved towns and landscapes.
For the discerning collector or first time buyer, the exhibition is a chance to view an exclusive collection of work from two of the gallery's most recognised artists. From Edward Hersey's warming, in situ farmhouses to Gordon Lees' tranquil winter village scenes, the exhibition features a wide range of paintings to suit a variety of tastes.
Renowned for his distinct style and attention to the details of the British countryside, Edward Hersey has forged a loyal international following. Painting a fine line between realist and idealist, Hersey's work reflects the rustic beauty of pastoral life with simultaneous subtlety and finesse. His application of mood and lighting has made him one of the most highly sought after traditional painters of his generation.
Nostalgically capturing the beauty of British landscapes and towns, Gordon Lees is an established international investment favourite. His romantic style enables him to capture the idyllic atmosphere of Britain's towns and villages, and to reflect the traditional values of a rural England now so sadly missed. It is believed that Gordon's work was the inspiration for the trademark village scenes of Thomas Kinkade, one of America's most prolific artists, who recognised Gordon as 'The Original Master of Light'. Following Kinkade's passing in 2012, Gordon Lees' work has shown a surge in transatlantic sales.
The exhibition opens on Friday, 16 November and runs until Sunday, 16 December 2018. Due to expected high volume of interest, an early viewing is recommended.
York Fine Arts
83 Low Petergate, York YO1 7HY
www.yorkfinearts.co.uk
A Winter's Tale Art Exhibition
📅
17 November 2018 - 12 January 2019
Blue Tree Gallery, 23 Bootham, York. YO30 7BW
Our new exhibition, "A Winter's Tale".
A warm welcome to our new exhibition. We bring together three established painters on the theme of winter. Expressing the magic, inner warmth, awe and tales of winter's scenes in landscapes, nature and wildlife. We do hope you will enjoy this seasons visual feast!
bluetreegallery.co.uk
Christmas Selling Event By Inspired
📅
Saturday 24 & Sunday 25 November 2018
York Cemetery Chapel, Cemetery Road YO10 5AJ
Our handmade selling exhibition this year will encompass jewellery to full sized furniture, (and everything in between!) With 11 artists exhibiting, it will be The Inspired group of artists and designers biggest Christmas show to date! A wonderful mix of ceramics, jewellery, textiles, printmaking and painting will be for sale, all within the beautiful setting of York Cemetery Chapel.
Come and visit us to to shop handmade and local this Christmas.
Entry is free, and our opening times are:
🎄 Sat 24th Nov 10am - 6pm
🎄 Sun 25th Nov 10am - 4pm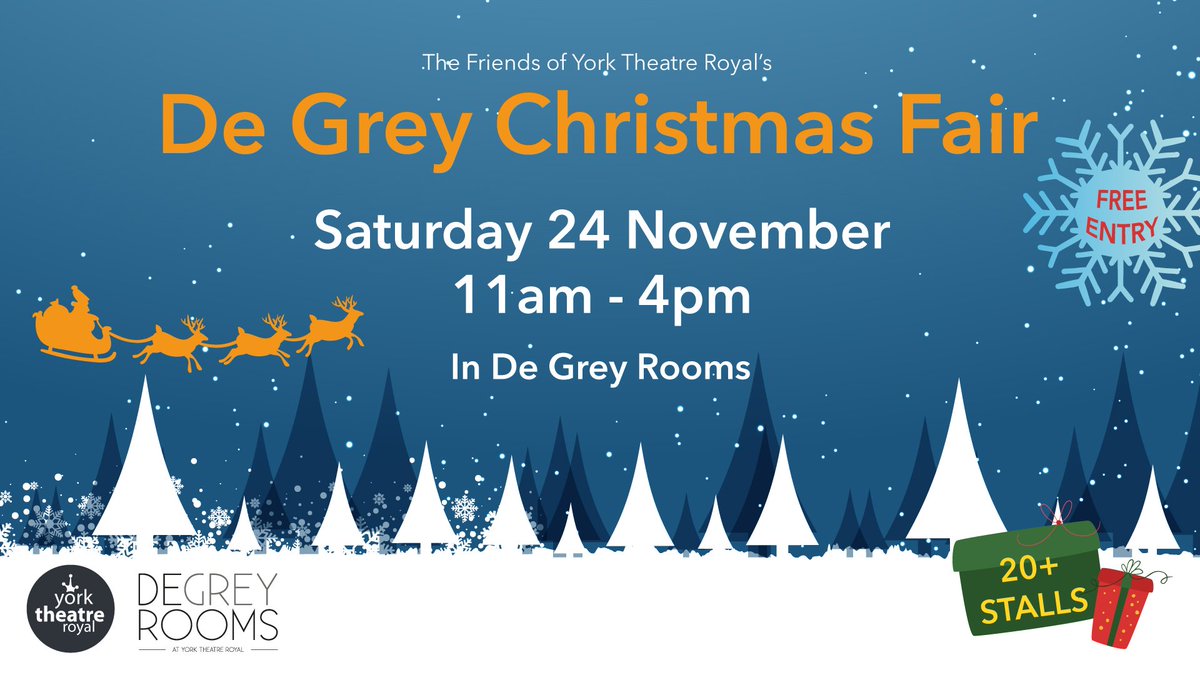 De Grey Rooms Christmas Fair
Saturday 24 November 2018
De Grey Rooms, St Leonard's Place, YO1 7HD York
11am - 4pm
Over 20 stalls bringing you a plethora of Christmas crafts, gifts and yummy treats, the De Grey Christmas Fair is the perfect way to spend the afternoon, with tea and mince pies in our beautiful bar.
Stalls include:
Flamingo Paperie
Bláthnat Jewellery
Pomtiddlypompom
Bertie Woofster & Me
Yorkshire Air Ambulance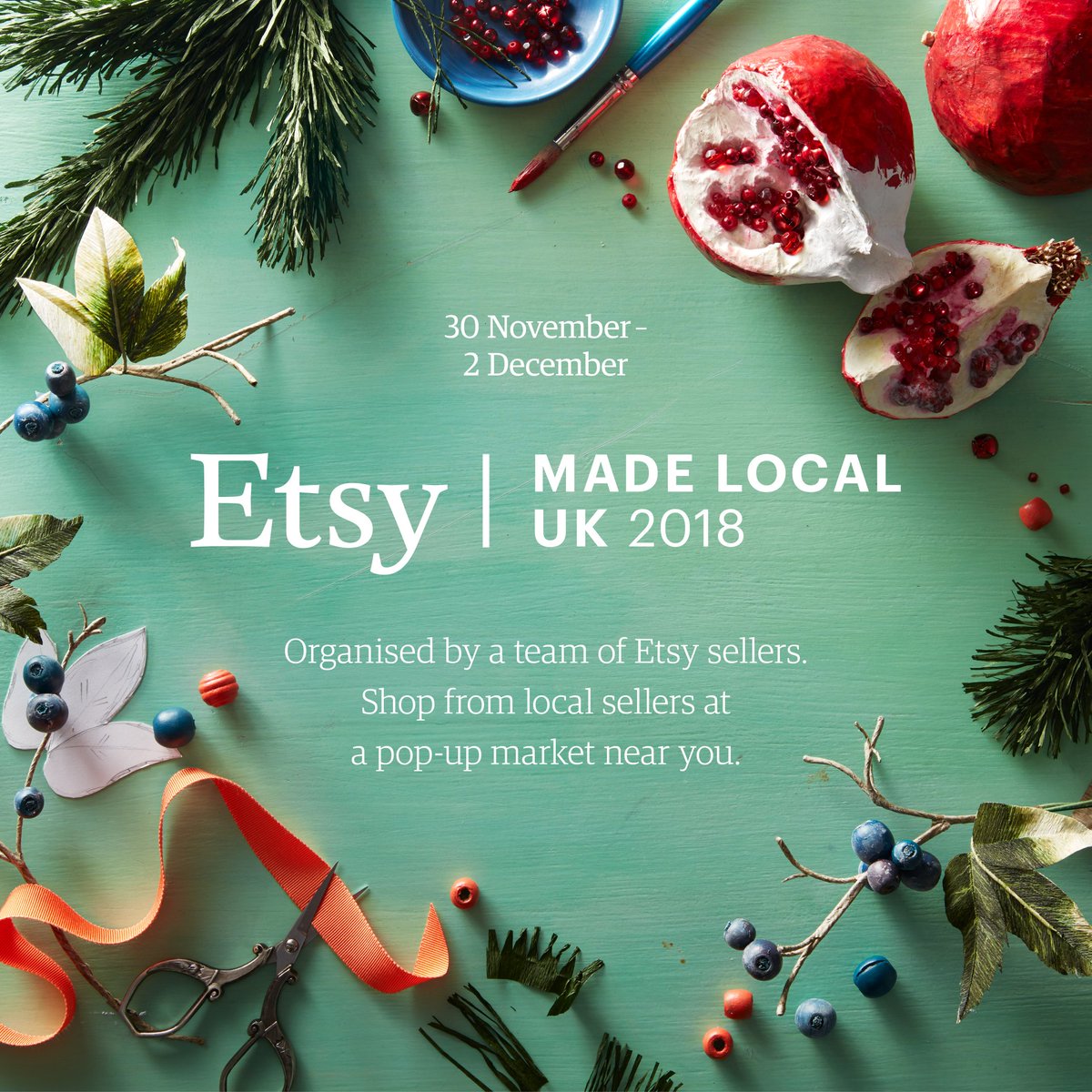 York's Etsy Made Local Christmas Market
📅
Weekend 1 & 2 December 2018
St Sampson's Church, Church Street, York
10 am to 5pm both days. Our venue is St Sampson's Church on Church Street, near the Shambles Market and St Sampson's Square.
More than 30 local creative businesses will be appearing at York's Etsy Made Local Christmas Market.
Etsy Made Local will see some of the region's finest designers, makers, crafters and artists converge on York city centre to sell their unique wares. At the event – which is free and open to the public – shoppers will be able to browse a wide range of handcrafted, vintage and locally-made items and craft supplies. From handmade chocolates to quirky ceramics, bespoke art work and illustrations to practical and beautiful textile pieces, or eye-catching fashion accessories to stylish handmade baby apparel, there's something for everyone at York's Etsy Made Local Christmas Market.
With so much on offer, shoppers are sure to find festive gifts to suit all ages, for even the hardest-to-buy-for – or perhaps just some lovely treats for themselves. What's more, they can discover items they wouldn't usually find on the high street, while also supporting small independent businesses based in York.