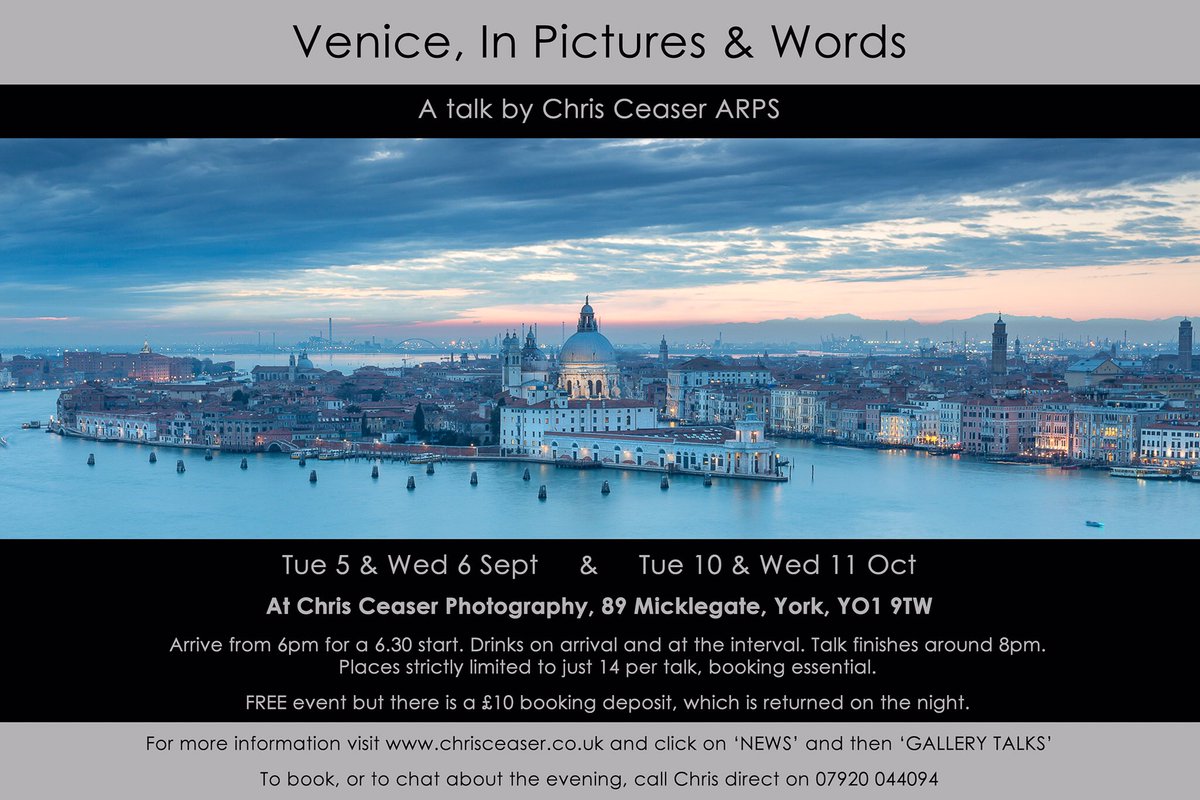 VENICE - IN WORDS AND PICTURES.
A talk by Chris Ceaser
Venue: Chris Ceaser Photography, 89 Micklegate
Limited to just 14 places per talk these evenings will allow you a personal glimpse into the work of landscape photographer Chris Ceaser as he discusses his work from this most evocative of places. Chris is an award-winning lecturer on photography and these talks, held at his own gallery, are sure to provide a unique glimpse into both his work and his technique.
Venice stirs the imagination and captures the heart of many who visit. We meet at the gallery from 6pm for a 6.30 start. Enjoy a complimentary drink and take a look around before the talk begins. The talk will be presented in four sections with a break after section 2. Chris has put together a presentation of words and his own photography that includes interesting facts about Venice itself; how it came to be, how it rose to power, how it was blighted by misfortune, how the Venetians live today and what may lie in the future.Together with Chris's superb photography we hope you have a night to remember.
The talk is FREE but you need to pay £10 to book your place, which will be refunded on the night. Contact Chris direct to book on 07920 044094.
Dates:
Tues 5th Sept 2017
. 6pm for 6.30pm start. Drinks on arrival/interval. Talk finishes app 8pm
Weds 6th Sept 2017
. 6pm for 6.30pm start. Drinks on arrival/interval. Talk finishes app 8pm
Tues 10th Oct 2017
. 6pm for 6.30pm start. Drinks on arrival/interval. Talk finishes app 8pm
Weds 11th Oct 2017
. 6pm for 6.30pm start. Drinks on arrival/interval. Talk finishes app 8pm