The York Makery
Address: 36 Gillygate, York, YO31 7EQ
Our previous classes include..
- Crochet - beginner and advanced
- Knitting - beginner and advanced
- Sewing - beginner, home and craft
- Patchwork & Quilting - beginner and block of the month
- 3D Needle Felting
- Metal Stamping
- Lino Cutting
- Weaving
- Hoop Art
- Silk Painting
View all the latest classes and workshops at
theyorkmakery.co.uk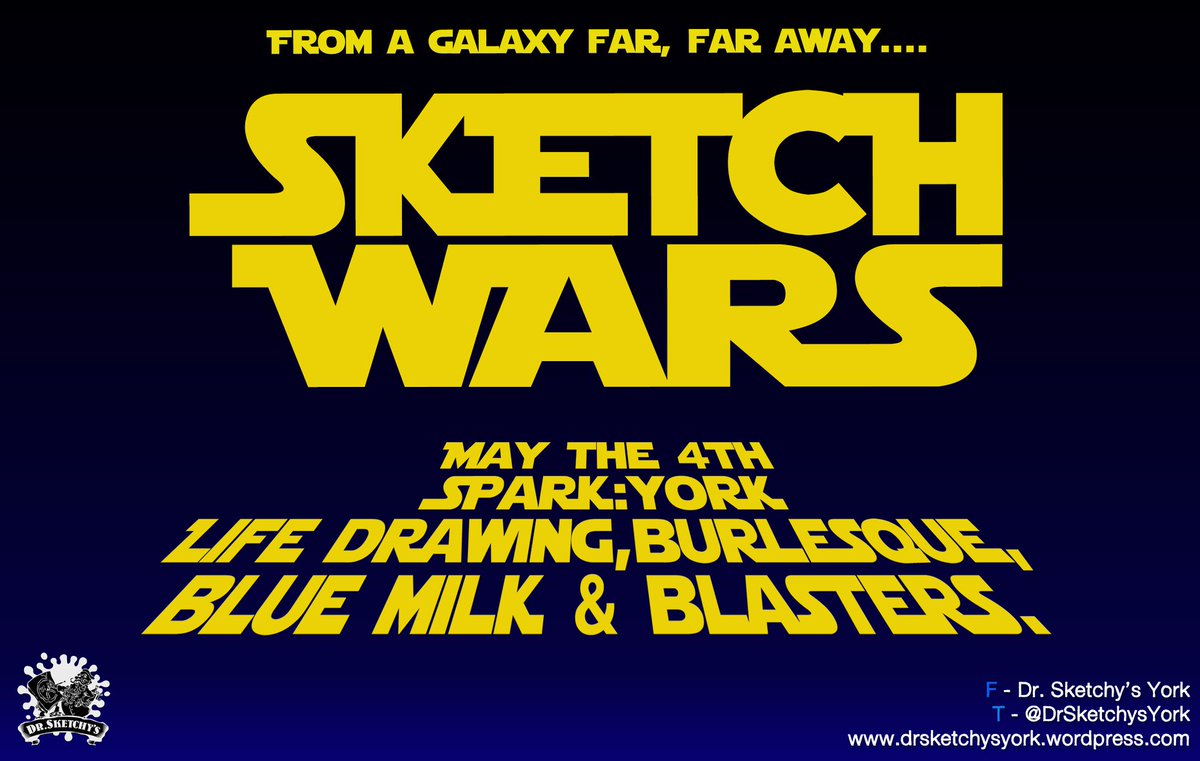 Dr Sketchys: We Did It For The Wookie
📅
Friday 4 May 2018
Venue: Spark:York
A long time ago in an art class far, far away….
Sketch Wars! - We Did It All For The Wookie!
On May the 4th we celebrate Star Wars day when The Fourth will BB-8 with us at Spark:York's un-Porg-ettable grand opening night!
We're celeb-Rey-ting the Spark community project Gungan style with a whole host of weird and wonderful characters for you to draw. Special intergalactic burlesque will be provided by our favourite scruffy-looking nerf herder, Bobby Pinn who'll get your head in a Bespin and fun Jedi themed prizes will be Obi-Wan!
Added to this, Spark will be like Mos Eisley itself, littered with crafted drinks, places to grab a Canto Bight of street food and to peruse the independent stalls. So get your First Orders at the bar before it gets Darth, don't put-up any Resistance and if you have to come Solo you never know, you might even get Wookie.
It's not a trap, you don't have to speak Bocce and no artistic skill or mind control tricks are necessary in our training academy. Master or Apprentice, Sith or Jedi, Princess, walking carpet or Ewok everyone is welcome, come along!
Tickets can be purchased on our Eventbrite, get them early before they're all Qui-Gon.
If you got all these puns then Yoda ones we want at this event.
Please check out all the awesome work Spark are doing here:
www.sparkyork.org
www.facebook.com/sparkyorkCIC
www.twitter.com/spark_york
EVENT DETAILS
- Spark:York
17-21, Piccadilly, York YO1 9PB.
- Doors: 7.30pm. We will be starting promptly at 7.45 (Feel free to arrive later, but be aware you will miss some poses as they will be over in less than twelve parsecs)
- £8 from our Eventbrite link: https://www.eventbrite.co.uk/e/dr-sketchys-we-did-it-for-the-wookie-tickets-45189392690
- Paper, pencils, and some other materials are provided, but feel free to bring your own.
- Hosted by your friendly neighbourhood Dr Sketchy's Team!
MISSION STATEMENT.
At Dr Sketchy's we seek to shake up the traditional life drawing experience– there will be no-one telling you how to draw, what to draw with or at what pace. We celebrate drawing the way you've always wanted to. We're not a serious art class, just a lot of Art Monkeys giving it a go in a relaxed atmosphere.
We love audience input and involvement. Please let us know what you think, and what themes you would like.
Take a Luke at our Twitter and Instagram, our nights R2 good to miss! Talk to us on Twitter @drsketchysyork with the tag #drsketchysyork