Laughter Class
📅
27 February - 27 November 2019
The Knavesmire Pub, Albemarle Rd York
Last Weds of the month Laughter class at 7.30pm with qualified laughter leader Anna Semlyen. Beginners welcome. We laugh with drama games and breathing. Its easy. Soon its real laughter which has outstanding health benefits.
yogainyork.co.uk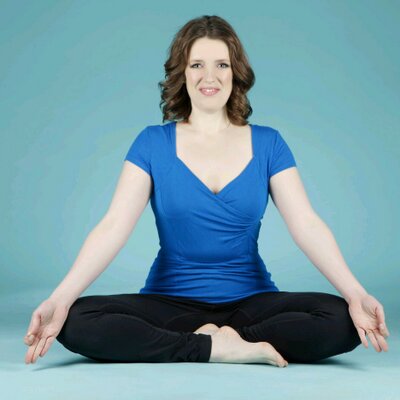 Yoga For Everyone
St Clement's Church Vestry, Off Scarcroft Road
Yoga class for all. Beginners welcome. Postures, breathing and relaxation to tone, extend and release with Anna Semlyen, insured, qualified teacher. Equipment provided.
yogainyork.co.uk
Rowntree Park Events
Christmas Wreath Making - Sat 7th December
Our ever-popular event returns! Join us to make wreaths from natural materials. There are two start times - 10am or 11am. £6 per wreath for members/£7.50 Non-Members. The event takes place on the cafe balcony. Older children welcome too. This event tends to sell out quickly, so get your tickets whilst you can!
Woods for Wellbeing
Adult mindfulness sessions - time in the outdoors learning a new craft/skill such as whittling, willow weaving, campfire cooking etc. £12 members/£15 Non-Members
Friday Sept 20th 1-2.30pm (only 3 places remaining)
Saturday 19th Oct 10-11.30am (tickets on sale now)
Monday Crafts
Our craft sessions continue every Monday 1-3pm. These are 'drop-in' and no booking needed. Focus until the end of October is on toys (Crochet and knitting). £1 donation appreciated.
Children's Events
Autumn Art - Monday 28th October
Half term fun in the park. A drop-in session of arts and crafts using natural/Autumnal materials. Think pinecones, conkers, leaves and more! No booking required. Drop-in any time in the two-hour slot and stay for as long or little as you like. 10-12pm
£2 per child members/£3 non-members.
Halloween Spooktacular - Thursday 31st October 2019
Half term fun continues with our Halloween special. Storytelling, potion making, spell casting and broom making all with a nature-based twist! 10am and 10.30am start times (staggered start) - end 12pm.
£3 a child for members (no adult ticket required) /£5 Non-Members.
'Big Kids' Forest School (age 6-12-year-olds) - 16th November
September and October sold out fast! Join us for bushcraft and outdoor exploration. A mix of activities through the months including fire-starting, campfire cooking, whittling, knots and pulleys, den making and much more!
1-2.30pm - £6 members/£7 Non-Members
Natural Christmas Decoration Making
Choose to make a range of decorations and mini wreaths from natural materials. This event will take place on the cafe balcony. Start times staggered 10am and 10.30am starts. £3 for members/£4 non-members.
Pre Schooler Forest School (age 2-5)
Our first block of Forest School for 2-5-year-olds started last week and runs for 6 weeks. These sessions sold out in just 2 days! It is likely that another set of sessions will run following this. As yet we don't have the dates but will confirm soon. Those who came to the first block of sessions are welcome to attend this second block, as are new people. Sessions are £36 for 6 weeks for members and £42 for Non-members.
If you'd like to be the first to know about our next set of forest school sessions, drop Abigail an email to be added to the priority info list - membership@rowntreepark.org.uk
Very Young Friends of Rowntree Park
Our monthly meetups for 1-5-year-olds take place the first Thursday of each month at 10am. No booking needed. Meet at the story circle in the woods. Free to members/£1 to Non-members.
❤️
rowntreeparkblog.wordpress.com
❤️
facebook
Hedgehog Talk - Hibernation Special
📅
Thursday 10 October 2019
Knapton Lane, York
A special edition of my hedgehog talk focusing on hibernation. I run a hedgehog hospital in York.
Come along and find out how to give your garden hedgehogs the best chance as we enter the hibernation period. Find out what hibernation is, what weight hedgehogs need to be and how you can give them a helping hand through the Winter.
We'll discuss the best types of hedgehog house to provide, when you should leave hedgehog food out during Winter and when hedgehogs are likely to wake up from hibernation.
Snacks provided.
This is a bookable event and costs £20 per person. To book, please email emmakatefarley@hotmail.com
Event is limited to 8 participants.
The event runs 6.30pm to 8.30pm
Queen Victoria's Marriage Proposal To Albert
📅
Tuesday 15 October 2019
Venue: York Art Gallery
Join Alison Welsh for a free 30 minute talk as we mark the 180th anniversary of Queen Victoria proposing marriage to Albert. Alison Welsh is Head of Fashion Research at Manchester Metropolitan University and is based within the Manchester Fashion Institute. She is a fashion designer and educator who additionally works with communities and museums, advocating fashion and textiles as instruments for social change.
Date: Tuesday 15th October, 12-12:30pm
'Face-ing' The Facts
📅
Monday 28 October 2019
19:30-The Phoenix Inn, 75 George Street, YO1 9PT
How good are humans at recognizing faces? It is often assumed that we are pretty good at it. After all, we can recognize the faces of our friends and family with ease. However, matching faces of people we don't know is much more difficult, yet this is the task most commonly faced by police and passport officers. In this talk we will ask, how good are humans at recognizing faces? And, are machines any better?
Dr Eilidh Noyes is a Lecturer in Cognitive Psychology, University of Huddersfield.
York Skpetics are a group dedicated to the promotion of science, rationalism and critical thinking in North Yorkshire. Every month we meet up in a friendly pub environment for a talk & Q&A from a speaker about a subject relating to science and critical thinking. Meetings take place every fourth Monday of the month at 7:30pm in The Phoenix Inn.
Halloween Tales & Treats
📅
Wednesday 30 & Thursday 31 October 2019
Trafalgar Bay Pub, 7, Nunnery Lane, York
8pm.
Join storyteller Helen at the fireside for a celebration of all things Halloween. Listen to dark ghost tales from Yorkshire, learn of Halloween customs and partake of Halloween treats.
Themed cocktails and hot drinks available from the bar (pay separately) Please ARRIVE by 745 pm.
From 945 pm there is a chance to have a mini Tarot reading on a pay as you feel basis. All proceeds from the readings will go towards Helen's chosen charity: Alzheimer's Trust. Please find booking details at yorkshirestoryteller.com. Advance booking essential.
Time For Nature
📅
31 October - 2 November 2019
Venue: St Peters School, Bootham York
Nature Matters is an annual three-day creative celebration of nature in words, music, film, photography, art and debate. Our delegates are treated to an inspiring programme of talks, readings, performances and discussions from leading voices and emerging talents, all of whom share tireless dedication to the natural world. The event is also about people, and offers a unique opportunity to meet and forge connections with like-minded individuals in a warm and informal atmosphere.
We're thrilled to be bringing Nature Matters 2019 to the historic city of York. The venue is St Peter's - one of the oldest schools in the world, with a wonderful location and beautiful presentation spaces. You can look forward to a sprinkling of northern flavour in this year's programme and a few innovations including a full length gig, a Sunday excursion, and speed-meeting sessions to boost opportunities to connect in common cause.
Colombia: Building Peace, Improving Health
📅
Wednesday 6 November 2019
Merchant Adventurers' Hall, Fossgate
The signing of the 2016 peace agreement in Colombia made international headlines, but what happened next? Join us for an evening with perspectives on how investing in people's health has become crucial to building a stable and brighter future for Colombia.
Join us for an exciting panel discussion with international scholars and artists presenting their views on how people's health and the provision of healthcare are being experienced in "post-peace agreement" Colombia, and how investing in health could keep contributing towards building sustainable peace. The event will also showcase, through interactive audio-visual displays, collaborative work led by researchers from the University of York and University of the Andes into the health impacts of the Colombian conflict, including an interactive timeline of the conflict and interviews with community health workers, government officials and ex-FARC combatants.
Free admission but by ticket only on
Tickets