Book Signing In York With Antonio Carluccio
Saturday 22 April 2017
Carluccio's, St Helen's Square, York
To celebrate the opening of Carluccio's northern flagship restaurant in the heart of York, Antonio Carluccio is visiting St. Helen's Square for an exclusive signing of his latest book Vegetables on 22nd April, 10.30 – 12.30.
Get your copy of Vegetables personally signed by the great man himself and grab a quick selfie whilst listening to Antonio share anecdotes from his 60 years of culinary adventures. Antonio will happily talk to visitors about his new recipes dedicated to glorious greens, roots and shoots, including favourites Lasagne di bietole (beetroot lasagne) and Torta rustica di patate (rustic potato cake).
Take this opportunity to explore York's latest restaurant and treat yourself to an Italian inspired breakfast ahead of the book signing, or linger a little longer for lunch and savour the new seasonal menu. Choose from vibrant spring specials such as Spaghetti Vongole (£13.95) with fresh clams, garlic, herbs and chilli; and Cod in Cartoccio (£13.50)in a paper parcel with Sicilian couscous or opt for Antonio's favourite Penne Giardiniera with courgette, chilli, garlic and fried spinach balls.
Places at Antonio Carluccio's book signing are complimentary. If you are wishing to dine and experience the new venue for yourself be sure to book a table directly with the restaurant.
Gin Masterclass with Afternoon Tea - The Grange Hotel
Pairing two of life's simple joys – gin and good food – this superb two-part experience is perfect for whiling away an indulgent afternoon together. Just a stone's throw from the historic city centre, The Grange offers a luxurious base to enjoy your experience.
You'll kick things off with a masterclass and tasting courtesy of local gin experts, Still & Heart. Highly personal, Still & Heart offer bespoke experiences to help the 'gin curious' learn and discover more about their favourite drink. Gin cocktail in hand, you'll be guided through a number of different gins, garnishes and mixers. Along the way, you'll learn a little about Britain's complicated relationship with the famous juniper infused spirit. Experiment with up to four different gins before ending the masterclass with a large G&T of your choice to take with your afternoon tea.
★ 1.30pm Arrival drink and introductions
★ 1.45pm Gin masterclass with Still and Heart (1.5 hours)
★ 3.15pm Afternoon Tea to be served
★ 5.00pm Depart
The Menu: Food - Selection of finger sandwiches: smoked salmon, ham, cheese & egg, scones with jam & cream, selection of freshly made cakes and a choice of speciality teas or coffee (Please advise of any dietary requirements if you haven't already done so).
Drinks - welcome drink (35ml), 3 x tasting gins (15 ml), final drink (35ml) - average abv 40% each.
2017 Dates Available:
April 28th
May 20th
Priced at only £37.50 per person this experience is a great gift idea.
T&C's: This experience is limited to a maximum of 20 people due to the intimate approach of the masterclass. Full prepayment is requested at time of booking and vouchers can be printed if buying for a present.
The York Makery
36 Gillygate, York, YO31 7EQ
View all classes and workshops March - June
www.theyorkmakery.co.uk
(pdf)
Cookschool Starts For The Year Ahead
Now live on the website, choose from ESSENTIALS, MEALS, FAMILY STUFF, SINGLE ISSUES and MASTER classes. Prices range from FREE to £65. Contact us to organise your own class for your group...or to have special tuition on any topic within our range. All plant based, all gluten-free.
El Piano's, 15-17 Grape Lane, York , YO1 7HU
All the classes, dates and times are on
el-piano.com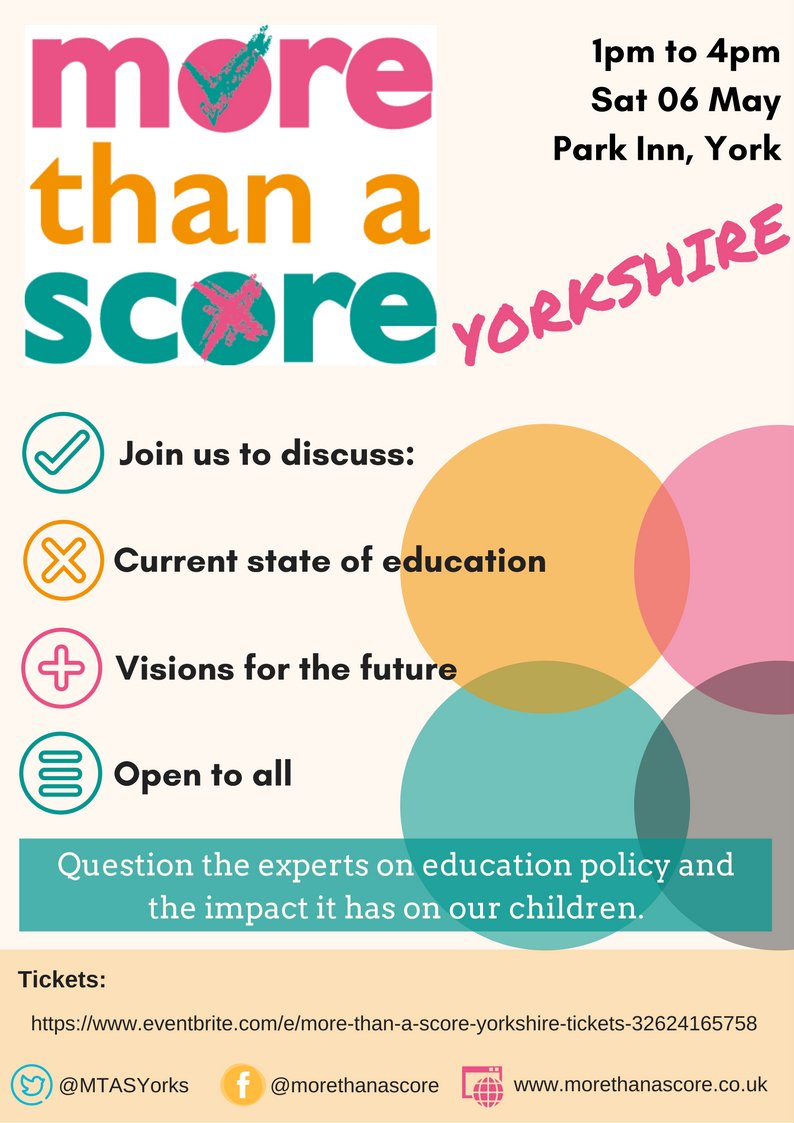 More Than A Score: Yorkshire
Saturday 6 May 2017
Park Inn, York
We are in the midst of huge changes to the way our students are taught and assessed in school. MTAS Yorkshire aims to highlight and inform parents, teachers and other interested parties in the local area about what is currently happening in education across England and how this affects the children in our society.
Everyone is welcome to attend and get involved. There will be a chance to ask questions of a range of experts and interested parties, to be part of the discussion about the impact of education and assessment in schools on our children.
Please book your free tickets in advance via Eventbrite so we can judge numbers: https://www.eventbrite.co.uk/e/more-than-a-score-yorkshire-tickets-32624165758?aff=es2
For more information visit: www.morethanascore.co.uk
Talk to us on Twitter @MTASYorks or on Facebook @morethanascore
Friends of Huntington Library Coffee Morning
Monday 8 May 2017
Huntington Library, Garth Road, York, YO32 9QJ
Join us for our regular monthly Coffee Morning.
10.30am - 12 noon
Drop in for a drink and a chat, also, find out what events are happening at Huntington Library and the wider Explore family.
We have free wi-fi too!
more..
York Piemonte Wine Dinner
Thursday 11 May 2017
Hotel Du Vin, 89 The Mount, York YO24 1AX
7-10pm
Join us this spring to enjoy a selection of wines from the Piedmont in northwestern Italy at our Piemonte Wine Dinner. Hosted by Nigel Wilkinson MS of Boutinot Wines, the evening will involve a selection of six different wines from the Piedmont region enjoyed with a four course meal crafted by our Head Chef to pair perfectly with each wine.
£59 per person, including arrival drink and a 4 course meal paired with wine.
more..
Friends of Huntington Library Coffee Morning
Monday 5 June 2017
Huntington Library, Garth Road, York, YO32 9QJ
The first Monday of every month is our regular coffee morning.
Drop in for a drink and a chat, also, find out what events are happening at Huntington Library and the wider Explore family.
We have free wi-fi too!
10.00am - Noon
Tel 01904 552669 for more information.
African/Indian Market
Saturday 10 June 2017
Clements Hall, Nunthorpe Road, York Nunthorpe Road
On the 10th June Community and Cultures Together will be holding an African/Indian Market, just like The Indian Market last year. The market has free entry but we will take donations on the door.
Jazz for Toddlers
Sunday 25 June 2017
The National Centre For Early Music
Join Dr Zapp and Dr Zamm, magical musical scientists from the future! Expect a playful and friendly atmosphere jam-packed with lots of music and movement, proving you are never too young to love jazz.
Pictures of Perfection...Make Me Sick and Wicked
Friday 14 July 2017
Fairfax House, Castlegate, York, YO1 9RN
Jane Austen & reading for lies with Emma Major
As Austen wrote to her niece Fanny Knight, whose admirer had criticized the comportment of Austen's heroines: 'Pictures of Perfection, as you know, make me sick and wicked'.
In this lecture, Dr. Emma Major looks at the ways in which Austen encourages us to be suspicious of perfection, and to become better readers of character. Indeed the case could be made that Austen's fiction offers the reader a first-rate lesson in detective skills. As P.D. James points out, detective fiction 'does not require a murder' but 'does require a mystery' – and as we'll see, Austen provides plenty of these, continuing to inspire crime fiction writers of today.
Dr. Major (University of York) investigates Austen's lifelong fascination with letters to show how Austen uses them to teach her heroines to become better readers of flawed human nature.
The event starts at 7.00pm.
Tickets are £14.00 and includes a post-lecture wine reception.
Booking is recommended. Tickets can be purchased prior to the event by visiting Fairfax House or calling (01904) 655543.
Lunch With The Author - Matt Haig
Tuesday 18 July 2017
The Grange Hotel
On July 18th Matt Haig will be hosting a literary lunch at The Grange Hotel following the launch of his novel. The bestselling author's new novel, How to stop time, will be released in July and has already had 5* reviews from many critics. The book is available to purchase on the day from Waterstones at a discounted price of £12 and you are encouraged to stay for a book signing after lunch.
This unique experience for all book lovers is available for only £29.50 per person. This includes an arrival drink, glass of wine or soft drink with lunch, 2 course lunch, with coffee petits fours (dietary alternatives are available).
www.grangehotel.co.uk