Yoga For Everyone
📅
5 February - 17 December 2019
St Clement's Church Vestry, Off Scarcroft Road
Yoga class for all. Beginners welcome. Postures, breathing and relaxation to tone, extend and release with Anna Semlyen, insured, qualified teacher.
Equipment provided.
yogainyork.co.uk
Laughter Class
📅
27 February - 27 November 2019
The Knavesmire Pub, Albemarle Rd York
Last Weds of the month Laughter class at 7.30pm with qualified laughter leader Anna Semlyen. Beginners welcome. We laugh with drama games and breathing. Its easy. Soon its real laughter which has outstanding health benefits.
yogainyork.co.uk
Yoga For Healthy Lower Bacs
📅
7 March - 18 April 2019
24 Grange St York YO10 4BH
Do you have back pain? Evidence based course taught by the author of Yoga for Healthy Lower Backs. 6 weeks every Thurs 7.15-8.30pm except 21 March
Small group tuition. Beginners welcome. All equipment provided. £100
Call 07891989310
yogainyork.co.uk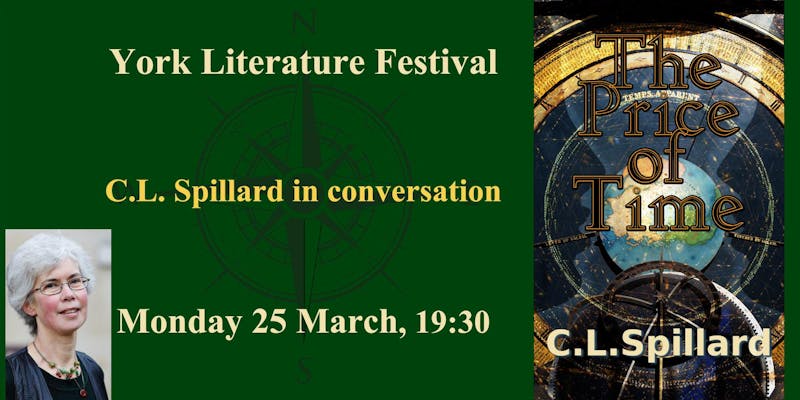 York Literature Fest: CL Spillard - In Conversation
📅
Monday 25 March 2019
Briar House, 14 Merchant's Pl, YO1 9TU
As part of York Literature Festival, former mad scientist C.L. Spillard will read from "The Price Of Time" and will be interviewed by June Tranmer about the novel and how she came to write it. She poses the question, "What sort of twisted mind would infiltrate humanity's higher echelons and cause them, using a fiendishly simple mechanism we all take for granted, to direct our species a headlong path to self-destruct?"
Hear how she survived the latest interrogation techniques, a reduction in core body temperature to 15 degrees C, and experiments in a dark Psychology lab, to find the answer!
TIME: 7:30-8:30 pm
http://www.cspillardwriter.co.uk
NB: Advance tickets are also available from June Tranmer at Briar House.
Tickets
Style Me - York Fashion Week
📅
Wednesday 27 March 2019
The Micklegate Social, 148 Micklegate, York
Ryan Swain will be hosting Style Me in The Den in Micklegate Social where you'll discover the very best male skincare, grooming and fashion York has to offer.
Professional stylist Laura Fawcett - alongside local Style Icons/Instagram stars Ben Pechey, Jack D March & Andy Boocock (very_inky_dude) - will be showing us how to embrace and explore your own style and fashion. Explore what colours to wear and how to accessorise, whilst always staying true to you!
Your journey begins with expert skincare advice followed swiftly by grooming & hair styling tips from King Koby. Why not also stop by and ask Jess how Yoga can help you both look and feel great.
The evenings 'not-on-the-High-Street' fashion comes from King Koby, Cuffsandco, Winstons of York, Clarksons, Dog and Bone Vintage, Bespoke Savannah Tailoring and Nefarious East. To complete your look we have offerings of jewellery from Blathnat, executive leather bags from Zatchels and bespoke hatter Paul Ventress.
yorkfashionweek.co.uk
The Journey Of Louis Vuitton
📅
Thursday 28 March 2019
The Principal Hotel, Station Road, York, YO24 1AA
Join the team from Louis Vuitton Leeds for an exciting glimpse into the world of Louis Vuitton. You'll hear all about the journey of this iconic fashion label, whilst enjoying a luxurious Afternoon Tea in the opulent surroundings of The Principal Hotel.
Let Joe Wilber-Moran be your tour guide, as he leads us through the stylish and colourful history of Louis Vuitton.
12:00pm - 3:00pm. Tickets - £29.50. Book - All bookings can be made directly with the hotel on 01904 688615 or by emailing yorkevents@ihg.com
Getting To Know Lisa Byrne
📅
Thursday 28 March 2019
Dean Court Hotel, Duncombe Place, York, YO1 7EF
Lisa Byrne is the tenacious ex-editor of OK Magazine, who now runs a PR company in Yorkshire.
Join us in the Dean Court Hotel for tea and cake, whilst Lisa recalls some exciting stories from throughout her career. Learn what it really took to be Editor in Chief of OK Magazine.
To book, please call Dean Court Hotel on 01904 625082.
yorkfashionweek.co.uk
Brew & Brexit
📅
Tuesday 2 April 2019
York Castle Museum
Do you think the European Union is a tired teabag ready for the bin or a perfectly blended cup of the good stuff? Either way, York Castle Museum would like to invite you to join us in our Brexit Café next month to have a friendly and lively discussion about the pros and cons of leaving or remaining in the European Union.
The event aims to help build bridges between those on either side of the emotive Brexit debate and look for common ground among the contrasting opinions.
It will be hosted by Helen Snelson from the Education Department of the University of York, with five different questions being asked at five different tables.
Guests will chat to each other and members of the York Museums Trust team, before moving onto the next area for debate.
The event is taking place from 3pm-4:30pm and is FREE to all. To book a place, go to the York Museums Trust Eventbrite
Class With Bake Off Star
📅
Saturday 20 April 2019
YORK Cookery School, Amy Johnson Way, YO30 4AG
Join Andrew Smyth (GBBO finalist) for his 'Edible Gifts' class - Bake with a Legend's first class in York! Andrew will reveal his best hints and tips to master a selection of his favourite bakes that are bitesized, and perfect to give away for a special occasion. Chocolate and Hazlenut Biscotti, Orange Madeleines and mini Meringues - we'll have all the necessary skills and techniques covered, and you're gauranteed to leave with a bundle of brilliant baked goods!
We'll start off the day with teas and coffees, before we put on our aprons and watch Andrew demonstrate all the skills required to make these indulgent treats. We'll spend around 2 hours baking & beautifully decorating our masterpieces, before tucking in to the fruits of our labour whilst hearing stories about Andrew's time on TV!
'Individual' tickets are £99 per person, whilst a 'Pair' ticket can be purchased for the discounted rate of £190.
🎟️ Go to
bakewithalegend.com
for more information and to book your place!
Silk Scarf Workshop By Meiji Designs
📅
Saturday 27 April 2019
Millers Yard, York, YO31 7EB
Learn the art of Devoré with Meiji Designs.
Spend the day in beautiful York creating a stunning silk scarf to take home.
Get creative in our Art of Devoré workshops discovering printing techniques, experimenting on silk samples and hand-printing your very own silk scarf, all under the guidance of Meiji Designs co-founders Natalie and Ruth.
Our step-by-step introduction to devoré (a technique of creating 'cut work' in fabric) is suitable for all levels of experience, and is the perfect opportunity to get creative, have fun and learn a new skill. Each workshop includes a light lunch, and participants will take home four silk samples alongside their unique, hand-dyed silk scarf.
Workshops fill up fast so please email us (info@meiji-designs.co.uk) to book your place.
£120 for the day including a light lunch.
More..