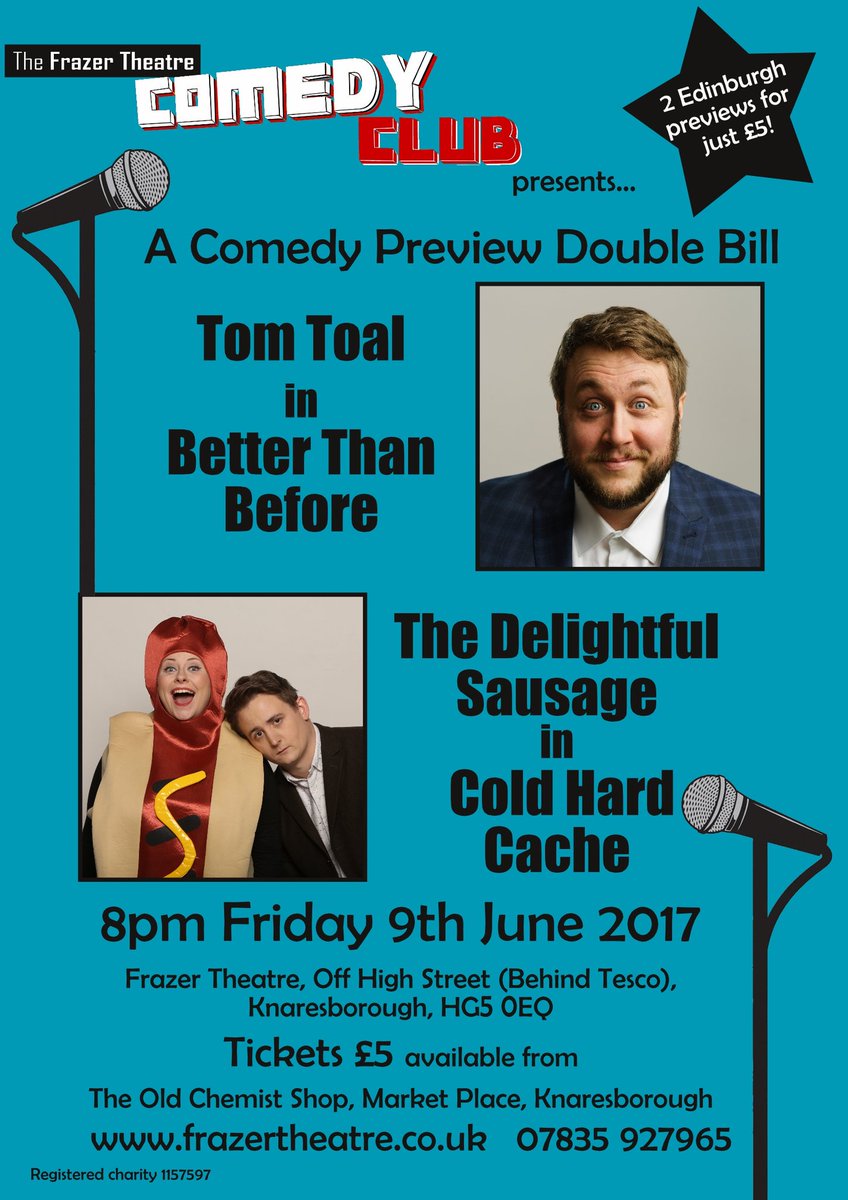 Tom Toal And The Delightful Sausage
Friday 9 June 2017
Frazer Theatre Off High St Knaresborough HG50EQ
On Friday June 9th the Edinburgh Festival comes early, and considerably further south, as the Frazer Theatre Comedy Club presents two special previews in one top value evening. We are delighted to be bringing the latest full shows which will be performed at the Fringe this year by Tom Toal and The Delightful Sausage, for the great price of just £5.
Tickets are available from our website at
www.frazertheatre.co.uk
, by calling 07835 927965 or visiting the Old Chemist Shop Knaresborough
Doors open at 7.30pm, show starts at 8pm.
TOM TOAL in Better Than Before
Amused Moose Best Show Nominee. Fresh off supporting Rob Brydon on tour, Tom Toal returns to the Frazer Theate with a brand new show.
A show about following your dreams and the cost of them, and one terrifying phone call on February 3rd 2017.
"Unique brand of narrative comedy"
– Punchline
"Eruption of Laughter"
– Chortle
THE DELIGHTFUL SAUSAGE in Cold Hard Cache
Cold Hard Cache is the debut sketch comedy adventure from oddball double act, The Delightful Sausage – aka Chris Cantrill [Ed Fest Mag, *****] and Amy Gledhill ["Silly, vivacious and very funny" Richard Herring].
Calling a truce on their bloody turf war, these lumps of gristle will take audiences on a tour of 'The Internet', asking what is it and why can't they stop looking at it on their phones whilst driving?
Lee Kyle is Burning This Place to the Ground
Saturday 17 June 2017
Frazer Theatre Off High St Knaresborough HG50EQ
On Saturday 17th June come and see Lee Kyle do his show "Lee Kyle is Burning This Place to the Ground" at the Frazer Theatre, it's good. Mind you, this is him typing this so he's bound to say that.
If you have seen him do comedy and liked it, you might like this show, if you have seen him and thought he was rubbish, this might change your mind I suppose, probably not. If you don't rate him, I'm perplexed as to why you're even reading this really.
If you've never heard of Lee, then, I don't know, it's probably worth a punt, these people liked him and he's quite a nice man:
'Top up-and-coming comedy performer' – BBC
'Quirky and original… the highlight of the night' – GiggleBeats
'Very funny' – Manchester Evening News
'Had everyone on their feet – Sublimely ridiculous' – Northern
Tickets are £8 and are available from our online box office with no booking fee at
www.frazertheatre.co.uk
or call 07835 927965
Doors open at 7.30pm and the show starts at 8pm.
Lee Kyle: What Do I Do Now
Saturday 17 June 2017
Frazer Theatre Off High St Knaresborough HG50EQ
Lee Kyle is a popular children's comedian and has been to the Frazer both as an MC for our Kid's Comedy Club during the Knaresborough Comedy Festival 2016, and with his game show "Gunge: A Show with Gunge in it". He is now touring his first full kid's comedy solo show "What Do I Do Now?" and will be performing this at the Frazer Theatre on Saturday 17th June at 2pm.
All of the leaders of the World's heads have fallen off and they've put him in charge, he needs your help because he doesn't know what to do next…
Come and laugh at the Earth's stupidest idiot.
Tickets are £5 each and are available from our online box office at
www.frazertheatre.co.uk
or 07835 927965
Doors open at 1.30pm, show starts at 2pm. Children must be accompanied by an adult.
Lee will also be performing his latest adult comedy show "Lee Kyle is Burning This Place To the Ground" at 8pm that evening.
Casablanca
Saturday 24 June 2017
Frazer Theatre Off High St Knaresborough HG50EQ
Film at the Frazer returns with two great films on Saturday 24th June, including a showing of Casablanca as part of a special 1940's event in partnership with Scarlett's Vintage Tea Rooms.
One of the most beloved all-time classics comes to the Frazer in the form of Casablanca. During World War II former lovers Rick Blaine (Humphrey Bogart) and Ilse (Ingrid Bergman) are reunited by chance in Casablanca, where he runs a nightclub and she, with her husband (Paul Henreid), is working for the French Resistance. Recriminations, rekindled desires and patriotic duty battle for primacy as Ilse's husband tries to outwit the local Nazis and escape from Morocco, whilst Rick and Ilse re-kindle their love and decide to run away together…
A special showing as part of Armed Forces Day, viewers are invited to dress in 40's outfits and celebrate the spirit of the era.
Tickets are £5 including tea and biscuits and can be purchased in advance from our online box office at www.frazertheatre.co.uk Tickets will also be available on the door.
Doors open 6.15pm, film starts at 6.45pm
From 4:30pm to 6:30pm Scarlett's Vintage Tea Rooms will be holding a 1940's themed afternoon tea. For more information please visit the tea rooms in Green Dragon Yard or contact Sarah on 07852 123139.
The Lego Batman Movie
Saturday 24 June 2017
Frazer Theatre Off High St Knaresborough HG50EQ
Film at the Frazer returns with two great films on Saturday 24th June, including one of the most popular family films of the year, The Lego Batman Movie.
In the irreverent spirit of fun that made "The LEGO Movie" a worldwide phenomenon, the self-described leading man of that ensemble – LEGO Batman – stars in his own big-screen adventure. But there are big changes brewing in Gotham, and if he wants to save the city from The Joker's hostile takeover, Batman may have to drop the lone vigilante thing, try to work with others and maybe, just maybe, learn to lighten up.
Children (and adults) are free to dress as their favourite super hero, who knows when the villains may attack!
Tickets are £3 and are available on the door or in advance from our online box office at
www.frazertheatre.co.uk
Doors open 1.30pm, film starts at 2pm.
Film at the Frazer has been made possible through a grant from Harrogate Borough Council's Small Grants Scheme with the aim of providing affordable cultural, social and intergenerational activities for the residents of Knaresborough.
Knaresborough Comedy Festival
Thursday 13 - Saturday 15 July 2017
Frazer Theatre Off High St Knaresborough HG50EQ
The Knaresborough Comedy Festival is back and running from Thursday 13th to Saturday 15th July.
In the early days of 2016, the people that bring you the monthly Frazer Theatre Comedy Club looked at a calendar, saw that the Summer looked a bit boring and decided to bring the first ever Knaresborough Comedy Festival to town because… well, why not? Three days of the very best comedy around later, the festival was over, leaving only one question-"What next?" Picking up his calendar and scrolling forwards twelve months to July 2017, one person delivered the only sane answer- "Same again, but bigger!"
The result of the next twelve months is the Knaresborough Comedy Festival 2017! Three days, five shows and very simply the absolute cream of comedy, all in the settings of Knaresborough's Frazer Theatre.
With stand-up of all shades, a panel show and even the world's only live action video game, there's something for everybody
Unless you don't like comedy. In that case, there really isn't. Sorry.
Tickets for the 8pm double bill shows are £10 each with The Dark Room and The Flannel Room at £8 each.
Multibuy ticket offers are available:
All Five Shows £35
All Three Double Bill Shows £23
Two Double Bill Shows £18
For more information and to buy tickets visit the comedy festival website www.knaresboroughcomedyfestival.com.
Tickets are also available from The Old Chemist Shop and by calling 07835 927965 (card payment will be taken over the phone).
The Festival Line Up is:
DAVE JOHNS and MATT FORDE
Thursday 13th July 8pm
A film star and a TV star on one bill! Dave Johns, a regular on the stand up circuit for many years, has found a new flush of fame with his starring role in Ken Loach's "I, Daniel Blake". Matt Forde, once a card-carrying member of the Labour party, is enjoying great success with his topical news show "Unspun with Matt Forde" on Dave. Together they form the opening night of the Knaresborough Comedy Festival 2017!
ROB ROUSE and JOHN ROBERTSON
Friday 14th July 8pm
Your Friday night line-up at the Knaresborough Comedy Festival 2017 brings two wildly contrasting, but equally talented acts. Affable everyman Rob Rouse, a veteran of TV and live comedy, has most recently been seen in prime time BBC1 sitcom Upstart Crow, where he stars alongside David Mitchell. John Robertson, a true comedic force of nature, takes no prisoners with his uniquely dark and savagely witty show.
SIMON MUNNERY and MATT RICHARDSON
Saturday 15th July 8pm
The closing night of the Knaresborough Comedy Festival 2017 features one of the top comics from the new generation rising to prominence and a certified comedy legend. Matt Richardson, as seen on "The Xtra Factor" and heard on Virgin Radio has won many plaudits despite his still relatively tender years, and is marked for even greater things in the future. Simon Munnery is "The comedian's comedian"-whenever a top act is asked for their influences, Simon is invariably one of those listed. An innovator of everything from Alan Parker-Urban Warrior, The League Against Tedium and even La Concepta, a restaurant with all the rigmarole of haute cuisine without the shame of eating, Simon is a fitting close to the funniest three days of summer!
JOHN ROBERTSON's THE DARK ROOM
Friday 14th July 10:30pm
4,000,000 YouTube hits and counting… 250,000 audience members streaming online via Twitch… 3,000 screaming people in one theatre… over 200 live performances around the world…
"The Dark Room" is the world's only live-action videogame. Interactive and insane, this is impro comedy + retro gaming fused into a deranged rock n' roll game show. This is a live comedy the whole audience doesn't just watch… it plays!
In August 2012, The Dark Room debuted at the Edinburgh Fringe, the world's largest arts festival.
Combining a screen, $5 of electronics, an innovative multimedia rig and John Robertson's manic flair for improvisation and abuse, it was THE cult hit of the Fringe, creating an exhilarating, incredible world of fun, fear, nostalgia and terrible prizes.
Since 2012, the show has grown into a touring production that's been staged in basements, 3,000 seat theatres, corporate events, gaming and sci-fi expos, Fringe and Comedy festivals and toured the UK, Europe, Australia and South-East Asia. In 2014, it was streamed on Twitch for a one-off special, garnering 250,000 players over a four-hour marathon show. It's the annual entertainment for Australia's EB Games Expo, (the largest gaming event in the Southern Hemisphere), filled its tent at MCM London Comic-Con, packed out London's Udderbelly Southbank and is the floorshow for the 2016 UK Games Expo and Insomnia Gaming Festivals.
Supporters of The Dark Room include Perrier-winning comedian Brendon Burns, games industry legend Ian Livingstone, Mark Watson & creator of Invader Zim, Jhonen Vasquez.
No two shows are the same. No other show is the same. This is THE DARK ROOM!
TOM TAYLOR's THE FLANNEL SHOW
Saturday 15th July 2pm
Northern club biscuit Tom Taylor presents his unique alternative to a panel show in the form of a panel show.
Watch the Gentlemen battle it out with the Players in a contest where there are no Gentlemen and the Players are Simon Munnery, Jo Caulfield, Matt Richardson and a bear. Expect finely tuned nonsense and 'should that sound like that' silliness in the shape of shapes, talking, uppy downy talking (singing), other assorted sounds and a brief presentation on the Life and Times of Linda Barker. Rounds may or may not include: Hackety Hack, Draw Me Like One of Your Trench Girls and Domino's Dominoes.