Traditional Jazz - Cross Keys
Traditional Jazz every Thursday afternoon with local jazz bands, 1.00pm – 3.30pm. Cross Keys pub, 32 Tadcaster Road. York YO24 1LQ, Tel: 01904 700854. Free admission, admission and parking (register your car at the bar), dog and child friendly, food (a jazz menu) available. Details on facebook: crosskeysjazz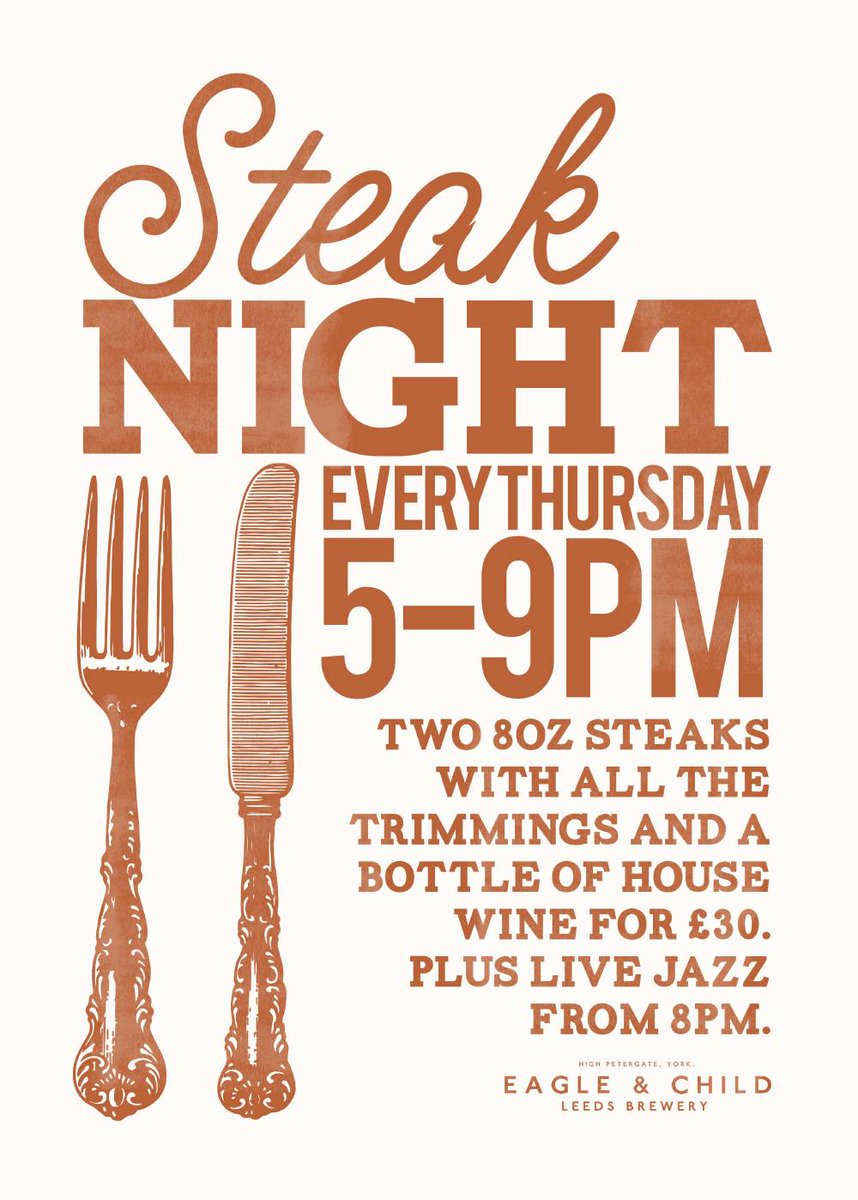 Jazz Night Every Thursday
📅
Thursday 13 September 2018
Eagle & Child, High Petergate, York YO1 7EN
Every Thursday night over at the Eagle & Child in York, they have a live jazz band performing from 8pm. In an intimate setting in the downstairs room of the pub, we guarantee you won't be able to stop your feet from tapping along.
www.eagleandchildyork.co.uk
Occasional Fridays Lunchtime Concerts
📅
Friday 14 September 2018
York Unitarian Chapel At St Saviourgate YO1 8NQ
A rare opportunity to hear a live performance of Dvorak's Cello Concerto at lunchtime. Catherine Strachan is the soloist, accompanied by Swan Chamber Players conducted by George Morton. Friday 14 September 12:30 pm at York unitarian Chapel in St Saviourgate YO1 8NQ
Tickets on the door £6/£4 concessions.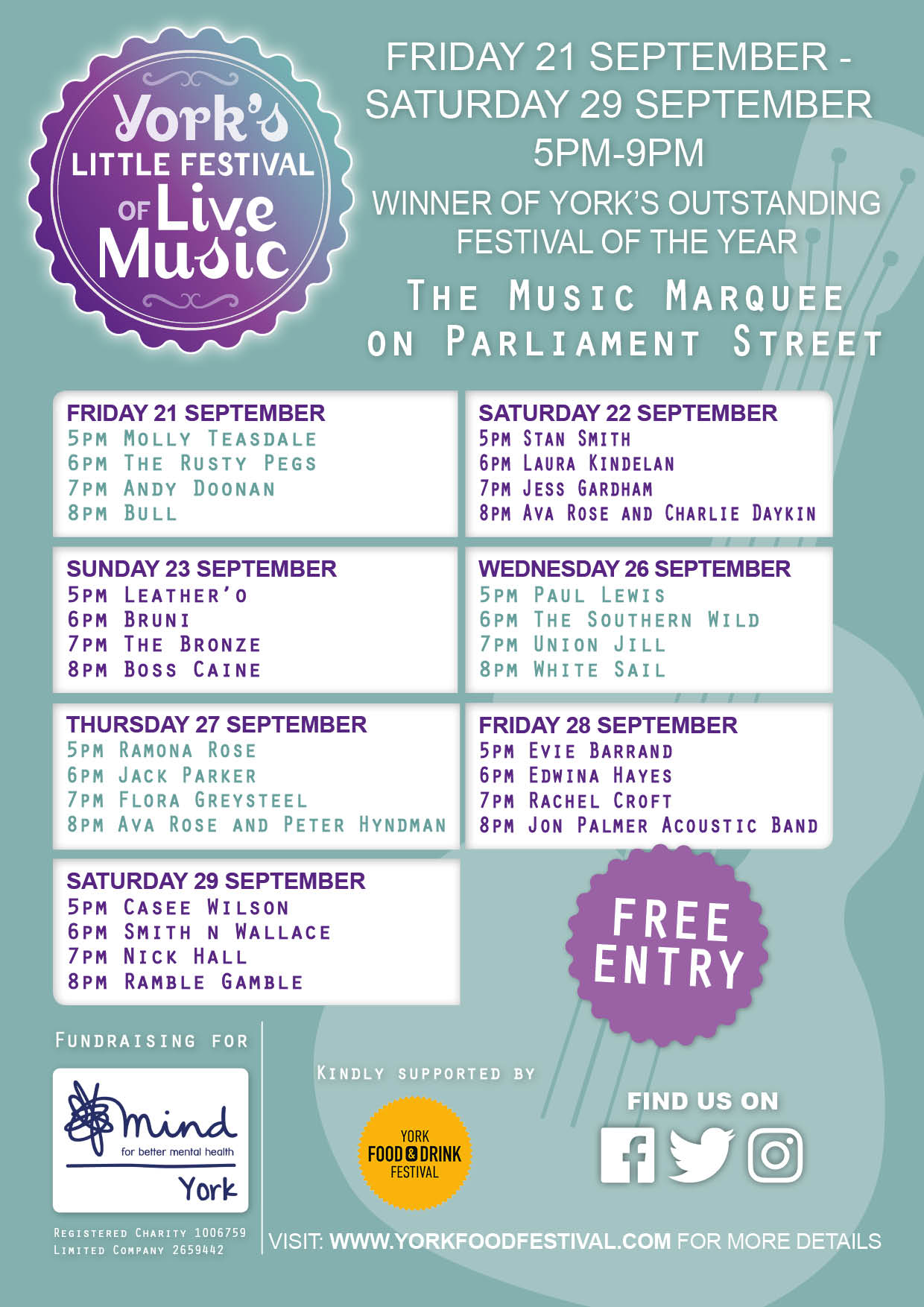 York's Little Festival of Live Music
21 - 29 September 2018
The Music Marquee, Parliament Street
Twitter
Academy Of St Olave's - Autumn Concert
📅
Saturday 22 September 2018
St Olave's Church, Marygate, York
The Academy of St Olave's is the City of York's leading chamber orchestra, based in the beautiful setting of St Olave's Church, Marygate, in York.
Our Autumn Concert will be on Saturday 22 September 2018 at 8 pm in St Olave's Church and features orchestral music by Mozart, Vaughan Williams and Nielsen.
• VAUGHAN WILLIAMS: Fantasia on Greensleeves
• NIELSEN: The Fog is Lifting
• NIELSEN: Little Suite for Strings
• MOZART: Gran Partita in B flat
• MOZART: Symphony No 32 in G major
Ticket prices are £14, £13 concessions and £5 students. Tickets are available at the door or in advance from
academyofstolaves.org.uk
and from Visit York, 1 Museum Street, York YO1 7DT, Tel: 01904 550099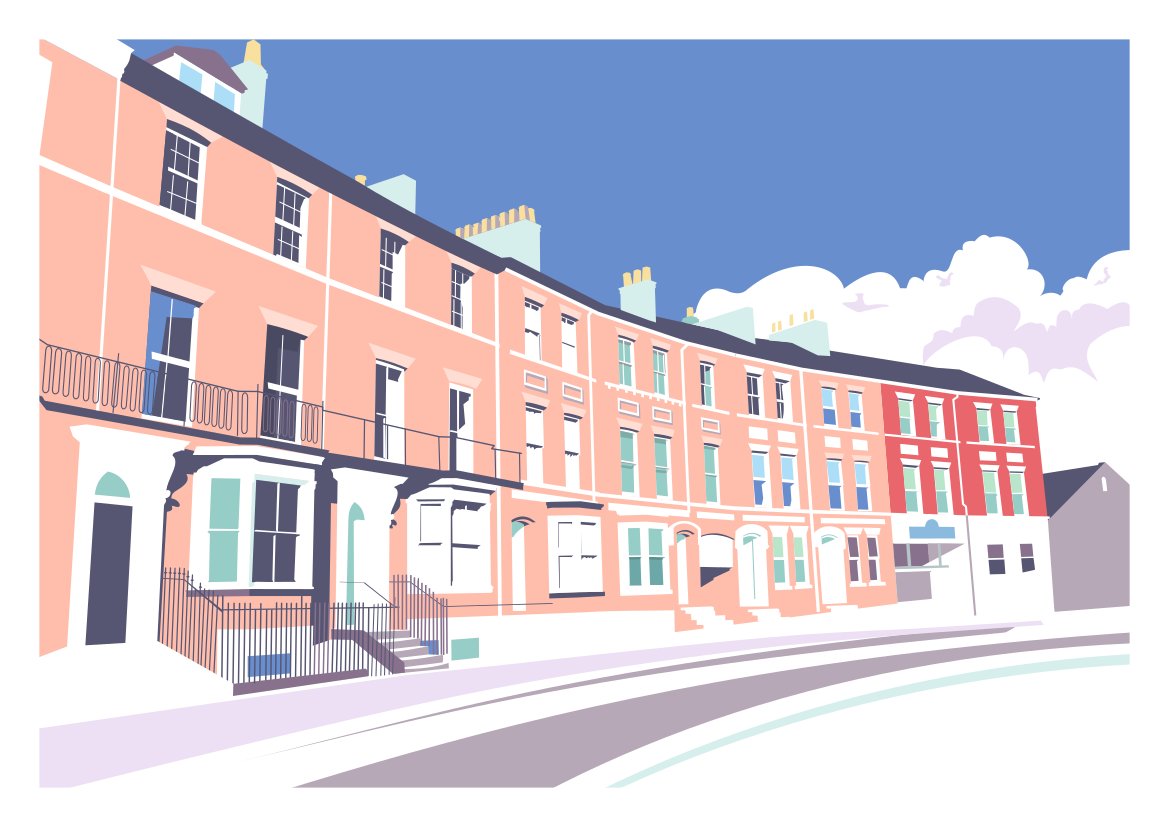 York Record & Book Fair
📅
Saturday 22 September 2018
The Crescent
YORK RECORD & BOOK FAIR THIS SAT 22nd SEPT: at the Crescent community venue, YO24 1AW 10.00am
Free Admission
Music Night Celebrates Those Red Letter Years
📅
Sunday 23 September 2018
The Joseph Rowntree Theatre, Haxby Road, YORK YO31
A wide range of popular song covering 120 years of birthdays, debuts, anniversaries and other events, all performed by talented singers and musicians from the York musical theatre scene marking many musical anniversaries. Gershwin, Bacharach, Lloyd Webber (and Kylie) plus a musical celebration of the end of the Great War.
Is it really 50 years since Judi Dench took to the stage as Sally Bowles in the UK premiere of Cabaret and Ron Moody starred as Fagin in the movie version of Oliver!?
A fund raising event for Joseph Rowntree Theatre Registered Charity.
Not In The Motte, Music Night Fundraiser
📅
Friday 28 September 2018
The Winning Post, Bishopthorpe Rd
Come and enjoy some fab live music and great company in aid of Clifford's Tower campaign legal fees. No entry charge but pay-as-you-feel donations welcome. Tombola, raffle and auction of promises. Look forward to seeing you there!
gofundme.com
A Tudor Revel
📅
Saturday 29 September 2018
St Columba's Church Priory Street
Music from the Golden Age of Sixteenth Century England.
Concert of Songs, Dances and Instrumental Music given by THE YORK WAITS
with Deborah Catterall
Saturday 29th September 7.30pm.
ADMISSION FREE, Retiring collection.
Street level access with Lift
York Concerts
For details of all events visit
york.ac.uk
Box Office 01904 322439 boxoffice@york.ac.uk
★
Programme
See also..
★
Live Music at the Black Swan Folk Club
♫
Music at York Barbican
♫
National Centre For Early Music
Come & Sing 'The Armed Man' At Selby Abbey
📅
Wednesday 10 October 2018
We warmly invite all singers and choirs to join us for the first of many 'Come and Sing' events with Prima Choral Artists. This October we commemorate the centenary of the end of World War I with a very special performance of Karl Jenkins' The Armed Man in the splendour of Selby Abbey. Directed by Ewa Salecka with York Railway Institute Band, massed voices of Prima choirs and exceptional soloists you can experience the emotional strength of this popular work performed with brass band as singer or audience member.
Concert info and Audience tickets £10/5 visit:
https://www.primachoralartists.com/events/the-armed-man-audience-tickets
DETAILS FOR SINGERS:
primachoralartists.com
Registration deadline for singers : 21st September 2018. Compulsory general rehearsal 22nd September in York. Performance 10th Oct in Selby Abbey.
World Homeless Day Fundraising Gig
📅
Wednesday 10 October 2018
The Winning Post, York
A fab evening packed with music from The Renames - Gypsy Jazz - Please see our SASH Facebook page for ticket details.
facebook.com/sashyorks/
York Guildhall Orchestra - York Barbican Centre
📅
Saturday 13 October 2018
A welcome return for Martin Roscoe sees one of this country's foremost interpreters of Beethoven perform the third piano concerto. The concert is top and tailed by Brahms, his turbulent Tragic Overture to start and the wonderful fourth symphony with the famous Passacaglia final movement to conclude the concert.
Brahms - Tragic Overture
Beethoven - Piano Concerto No.3 in C minor
Brahms - Symphony No.4 in E minor
Simon Wright - Conductor
Martin Roscoe - Piano
Fiona Love - Leader
Tickets
Christmas Rockabilly Special
📅
Saturday 22 December 2018
The Huntington Wmc
Two top ROCKABILLY bands on one bill .GENE GAMBLER and the SHUFFLERS Plus THE MEMPHIS CRUISERS Plus top dj FLASHBACK BILLY.
This a night of welsh rockabilly and Leeds rockabilly. Starts 7.30pm until 11.45pm. £10.00 on the door. telephone Dave Williamson on York
01904690311. yorkrocknroll.co.uk
Ted Fest 3
📅
Saturday 20 April 2019
The Huntington Wmc
THE TED FEST 3... A CELEBRATION OF TEDDY BOY ROCK N ROLL...…
WITH TOP TEDDY BOY BANDS....
FROM LONDON JET BLACK with ROBB STORM.
FROM ESSEX THE FANTOMS.
FROM ROBIN HOOD BAY MIKE D & THE D TONES
AND TOP DJ FROM DERBY ECHOES OF THE PAST..
ALL PLAYING BRITISH AND AMERICAN STYLE 19501S MUSIC.
ADMISSION £15.00 ON THE DOOR. STARTS AT 6PM TILL 11,45PM.
TEL DAVE 01904 690311....
yorkrocknroll.co.uk