Traditional Jazz every Thursday
Cross Keys, 32 Tadcaster Road, York YO24 1LQ
Traditional Jazz every Thursday afternoon with local jazz bands,1.00pm – 3.30pm. Cross Keys pub, 32 Tadcaster Road. York YO24 1LQ, Tel: 01904 700854. Free admission, admission and parking (register your car at the bar), dog and child friendly, food (a jazz menu) available. Details on facebook: crosskeysjazz
York Concerts
For details of all events visit
york.ac.uk
Box Office 01904 322439 boxoffice@york.ac.uk
★
Programme
See also..
★
Live Music at the Black Swan Folk Club
♫
Music at York Barbican
♫
National Centre For Early Music
Traditional Jazz
📅
15 November - 20 December 2018
Cross Keys, 32 Tadcaster Road,York, YO24 1LQ
Traditional Jazz every Thursday afternoon with local jazz bands,1.00pm – 3.30pm. Cross Keys pub, 32 Tadcaster Road. York YO24 1LQ, Tel: 01904 700854. Free admission and parking (register your car at the bar), dog and child friendly, food (a jazz menu) available. Details on facebook: crosskeysjazz
Bootham Baroque Present Music For Advent
📅
Tuesday 20 November 2018
Unitarian Chapel, St Saviourgate, York YO1 8NQ
The début performance by Bootham Baroque, York's newest period instrument ensemble! A delicious programme of music for Advent and Christmas featuring duets for two sopranos, and soprano and flute, alongside works for harpsichord and viola da gamba.
Lunchtime concert: 12 noon to 1pm
£6 / concessions £4 / under 16s free
Joshua Burnell And Band
📅
Wednesday 21 November 2018
Pocklington Arts Centre
Armed with 'The Road To Horn Fair', a brand-new album of traditional material which according to Joshua, "juxtaposes the delicacy of the English folk canon with the rawness of the early 70s hard rock movement," the band are ready to set some feet stomping on their first national tour of England.
Momentum is starting to build fast, and the event at Pocklington Arts Centre promises to be an historic night for the band as they launch the new album and the tour. They will be sharing some material from 'The Road To Horn Fair', ahead of its release in early 2019, along with some favourites from Joshua's previous albums,' Into the Green' and 'Songs From The Seasons'. Photo Credit Elly Lucas
www.joshuaburnell.co.uk
Live Music At Kennedy's
Kennedy's, Little Stonegate, York YO1 8AX
We have a live jazz band perform every Sunday from 1-4pm, a perfect accompaniment for a delicious Sunday dinner, freshly roasted by our awesome chefs!
On Sunday evenings from 9pm fantastic live bands to create a great vibe at Kennedy's to finish off your weekend.
November 2018
Sun 25th Live Jazz (1pm-4pm)
Sun 25th Ava and Charlie (5pm - 7pm)
Sun 25th The Collective (9pm)
December 2018
Sun 2nd Live Jazz (1pm-4pm)
Sun 9th Live Jazz (1pm-4pm)
Sun 16th Live Jazz (1pm-4pm)
Sun 23rd Live Jazz (1pm-4pm)
Sun 30th Live Jazz (1pm-4pm)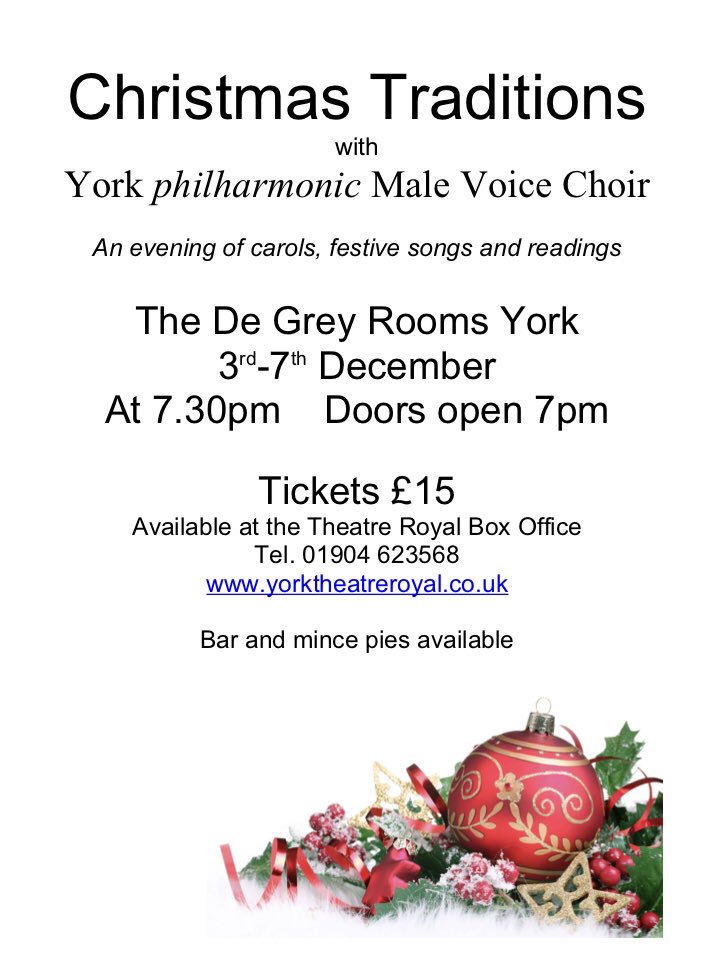 Christmas Traditions
📅
Monday 3 - Friday 7 December 2018
De Grey Rooms, St. Leonards Place, York YO1 7HD
York Philharmonic Male Voice Choir invite you to an evening carols, festive songs and readings. Perfect to get you into the Christmas spirit.
facebook.com/yorkphilchoir/
Twitter @yorkphilchoir
Sounds Of The Season By The Sounds Fun Singers
📅
Friday 7 December 2018
St Clements Church, Scarcroft Road York YO23 1NE
York women's choir the Sounds Fun Singers present "Sounds of the Season" – blending standards, show tunes and carols into a great programme for a winter's evening. Join the choir and soloists afterwards for our popular social hour. Drinks and nibbles are included in the ticket price.
Proceeds from this concert will support York young people's charity The Island.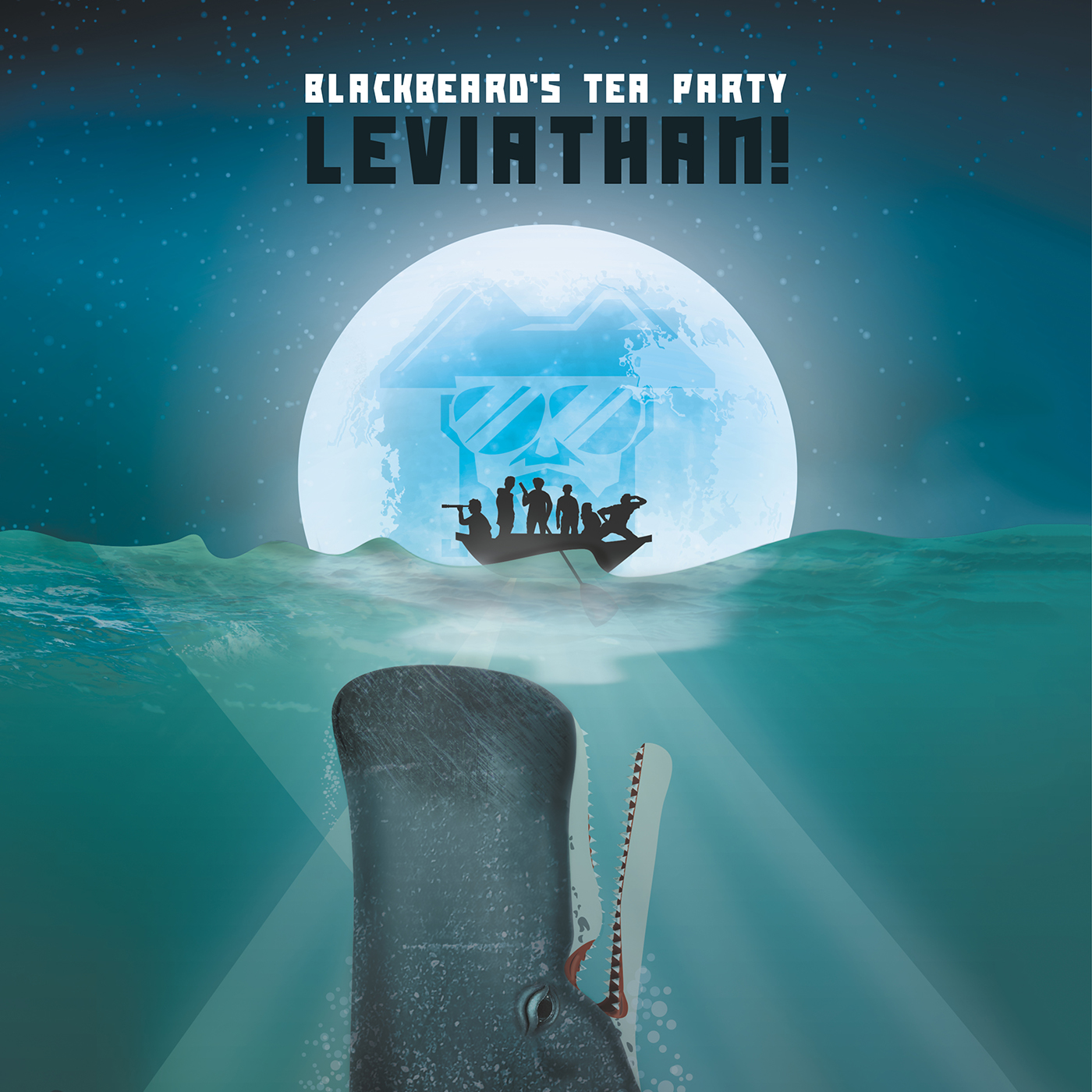 Blackbeard's Tea Party - Christmas Show!
📅
14 December 2018, 7:30pm
The Crescent York
We're happy to welcome Blackbeard's Tea Party back to The Crescent with their brand of gutsy folk rock. A mix of traditional and self-penned songs and tunes are given a heavy rock edge with playful arrangements and driving dance rhythms. This is all mixed up in an engaging, high-octane stage show that frequently leaves audiences cheering for more. This will be their annual Christmas Show so expect some festive shenanigans!
thecrescentyork.com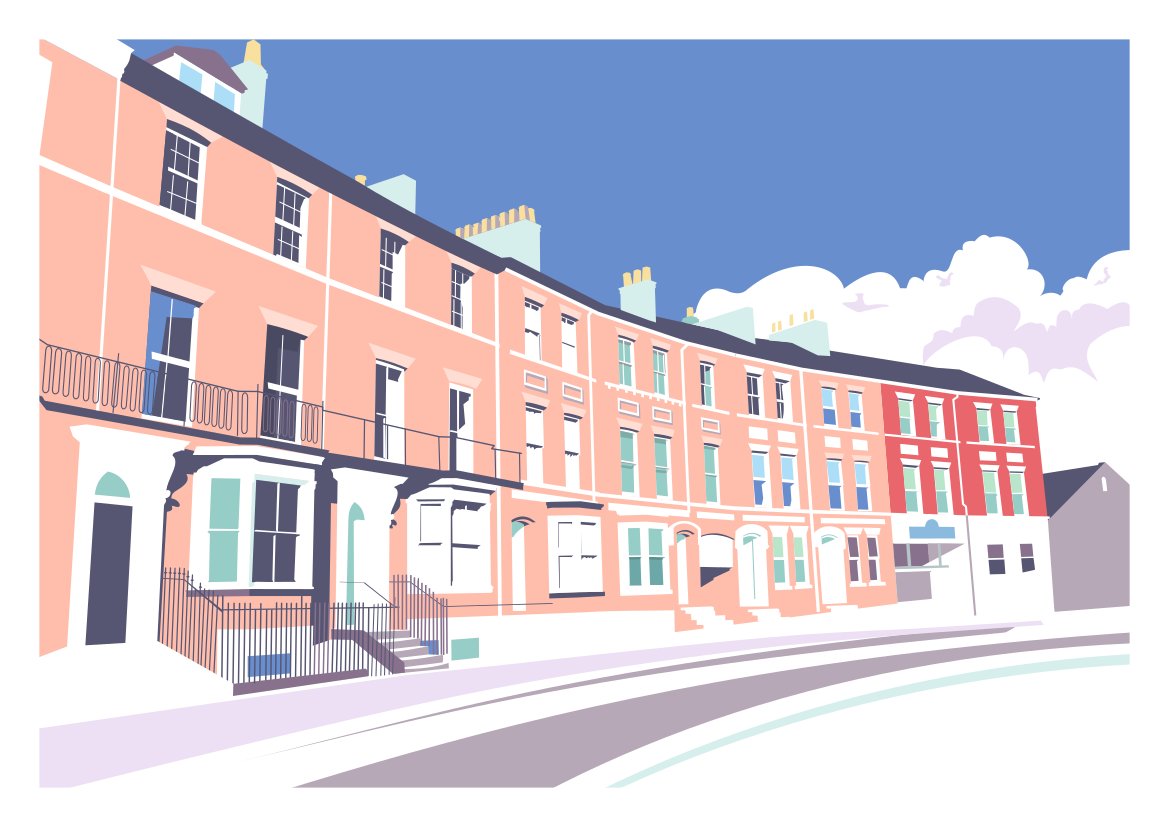 www.blackbeardsteaparty.com
Christmas Rockabilly Special
📅
Saturday 22 December 2018
The Huntington Wmc
Two top ROCKABILLY bands on one bill .GENE GAMBLER and the SHUFFLERS Plus THE MEMPHIS CRUISERS Plus top dj FLASHBACK BILLY.
This a night of welsh rockabilly and Leeds rockabilly. Starts 7.30pm until 11.45pm. £10.00 on the door. telephone Dave Williamson on York
01904690311. yorkrocknroll.co.uk
Ted Fest 3
📅
Saturday 20 April 2019
The Huntington Wmc
THE TED FEST 3... A CELEBRATION OF TEDDY BOY ROCK N ROLL...…
WITH TOP TEDDY BOY BANDS....
FROM LONDON JET BLACK with ROBB STORM.
FROM ESSEX THE FANTOMS.
FROM ROBIN HOOD BAY MIKE D & THE D TONES
AND TOP DJ FROM DERBY ECHOES OF THE PAST..
ALL PLAYING BRITISH AND AMERICAN STYLE 19501S MUSIC.
ADMISSION £15.00 ON THE DOOR. STARTS AT 6PM TILL 11,45PM.
TEL DAVE 01904 690311....
yorkrocknroll.co.uk