The Chimpanzees of Happytown
Sunday 26 March 2017
The National Centre For Early Music
The much-loved story of Chutney the Chimp is brought to life through brilliant live music and colourfully projected illustrations, presented by narrator Polly Ives and Ensemble 360.
More..
Steve Tilston & Jez Lowe
Tuesday 28 March 2017
The National Centre For Early Music
Two of the British acoustic/folk scene's finest songwriters join forces tonight for a shared concert filled with lyrics and music, chat and banter and intimate insights into their very successful approach to the writing craft. Head to head, neck and neck (guitar necks, that is!) listen in as they rekindle the spontaneity of their late-night living room song-swaps. Expect an eclectic mix of solo compositions alongside material from the brand new album of co-written songs, 'The Janus Game'. Questions, answers, anecdotes and anarchy … and a very special evening of music.
More..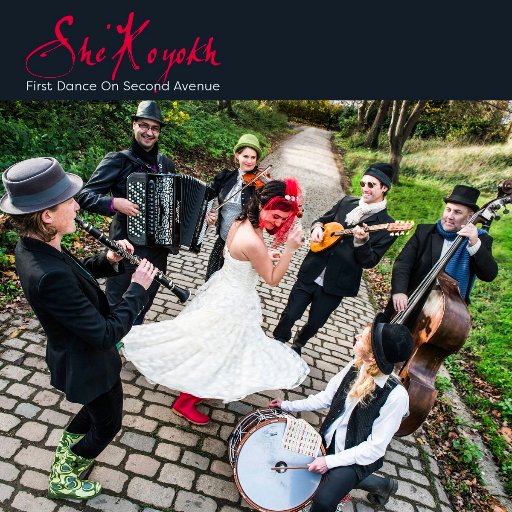 She'Koyokh
Sunday 9 April 2017
Venue: The National Centre For Early Music
We are delighted to welcome back She'Koyokh, regarded as the leading klezmer ensemble on the planet. These musicians from the UK, Serbia, Sweden and Turkey perform virtuosic toe-tapping klezmer, Gypsy music, soulful songs and the best Balkan dance tunes. To co-incide with their fourth studio album being released in 2017, the band take audiences on a journey, sampling polyphonic singing from Bulgaria, a Serbian song about a pigeon on the raspberries, a steamy quarrel between mother-in-laws in a Turkish sauna, a love song for a Gypsy girl with penetrating green eyes and a duet between a father and daughter about who she's going to marry - in the end she chooses the drunken one!
Tickets
The National Centre For Early Music
ncem.co.uk
•
map
View the Spring Brochure 2017
(issuu)
Faustus Slaves EP Tour at NCEM York
Monday 10 April 2017
National Centre For Early Music, Walmgate, York
Pioneering folk trio FAUSTUS tour the UK in April and release a brand new EP 'Slaves', hot on the heels of their acclaimed album 'Death & Other Animals', produced by Rupert Christie (Bellowhead), Faustus and Westpark Music. Death and Other Animals has just received the German Critics Award (Schallplatenkritik Bestenliste) in the Folk/Singer-Songwriter/World Music Category.
Faustus is an established name in the English folk scene made up of three of the best-known and talented English folk musicians – Paul Sartin (Bellowhead, Belshazzar's Feast), Benji Kirkpatrick (Bellowhead, Seth Lakeman Band), and Saul Rose (Waterson: Carthy, Whapeazel, War Horse).
During 2016 they were artists in residence at Halsway Manor, the National Centre for Folk Arts in Somerset, where they had access to the Manor's extensive library and where 'Death and Other Animals' was recorded.
'Slaves' EP follows on, a mix of live and recorded tracks; 'Slaves' old but still relevant words, 'Thresherman' ancient ode to the rural poor, 'One More Day' celebrates the joy and challenges of working life, and two brand new waltzes. www.faustusband.com
Photo Credit Luke Pajak.co.uk
Tickets £16/£14 conc. Tel 01904 658338
www.ncem.co.uk
Monday 10 April 2017
The National Centre For Early Music
Making their third appearance at the NCEM, Faustus comprises three more leading lights from the currently vibrant English traditional folk scene. With a plethora of experience between them, they are Saul Rose (Waterson:Carthy, War Horse), Benji Kirkpatrick (Seth Lakeman Band, Bellowhead) and Paul Sartin (Bellowhead, Belshazzar's Feast). All three of them sing and with an instrumental mix of melodeon, bouzouki, guitar, fiddle and oboe they offer a richly varied and virtuosic musical display, no doubt focusing on material from newest CD 'Death And Other Animals', researched and recorded during their 2016 year as Artists In Residence at Halsway Manor Folk Arts Centre in Somerset.
Tickets
Antonio Forcione
Friday 21 April 2017
The National Centre For Early Music
World acclaimed and multi award-winning guitar master Antonio Forcione returns to the NCEM with his vibrant and original blend of jazz, Flamenco, Soul and African sounds. Antonio takes the guitar to new levels of expression and his numerous awards around the world are a testimony to his genius. Be prepared to both laugh and be moved as he celebrates the unexpected elements in life with delicacy, humour and not least, passion. International tours have brought high critical acclaim from as far as Australia and Hong Kong to Russia, the Caribbean, USA and all over Europe. His albums have variously topped UK and international jazz charts and he has shared the stage worldwide with some of the world's most accomplished musicians.
Tickets
Iestyn Davies in Recital
Sunday 23 April 2017
Venue: National Centre For Early Music
Time: 15:00
A chance to hear the unique sound and artistry of Iestyn Davies in his home city of York. He is joined by the outstanding lutenist Thomas Dunford for an evocative and intimate programme from the golden age of the lute song.
www.ryedalefestival.com
National Centre for Early Music,
St Margaret's Church, Walmgate, York YO1 9TL
Tickets will be on sale from the ryedale festival box office:
Phone 01751 475777, email box.office@ryedalefestival.com
Calan
Wednesday 3 May 2017
The National Centre For Early Music
Fiddles, guitar, accordion, bagpipes and step dancing explode into life when this energetic young band from Wales takes the stage. Five virtuoso musicians breathe fire into the old traditions with their infectious rhythms and high voltage routines before melting into beautiful and haunting songs which explore the legends of Wales with tales of fairies and magic, myth and mischief. Calan are introducing a new generation of listeners to Welsh traditional music as they tour widely across the UK and into Europe, North America and beyond, with their musicianship and huge sense of humour making for an outstanding show. They are supported tonight by special guest, singer-songwriter Dan Wilde.