New Exhibition: 25O years of Terry's
Terry's of York was established in the city in 1767 by partners Bayldon and Berry who opened a shop in the city selling lozenges, comfits and other simple confectionary before being joined in the 19th century by unlikely apothecary, Joseph Terry. Luckily, experience in sugaring pastilles and pills meant that Mr Terry adapted easily to a career in confectionery and his scientific background made him a pioneer of new products and a precise attitude to quality.
It was this quality and innovation which made the company famous. By the 20th century Terry's had introduced the world to the boxed chocolate assortment as well as one of the world's most iconic confectionery: The Terry's Chocolate Orange!
250 Years of Terry's will open on March at York's Chocolate Story and will showcase a selection of the most interesting of the Terry's products from opium based throat sweets to some of the most beautiful and decadent chocolate boxes in history.
The exhibition will also explore the social impact on the city. Terry's has inspired Lord Mayors, horse races and iconic architecture as well as the lives of the tens of thousands of residents who have worked for the company.
Easter Activities (8th to 24th April) – free with Admission price
A Very Chocolate Easter - A fully guided tour into the Easter of York Past, uncover fun facts about the chocolatiest holiday of all including the secret of why certain children in York once got to enjoy solid Easter eggs and watch as the chocolatiers create amazing edible creations. Booking advisable at www.yorkschocolatestory.com
Attraction Admission Price, pay on the door.
Adult: £11.50, Senior / Student: £10.50, Child: £9.50 (free under 4)
★
View our illustration of Terry's Chocolate Factory
---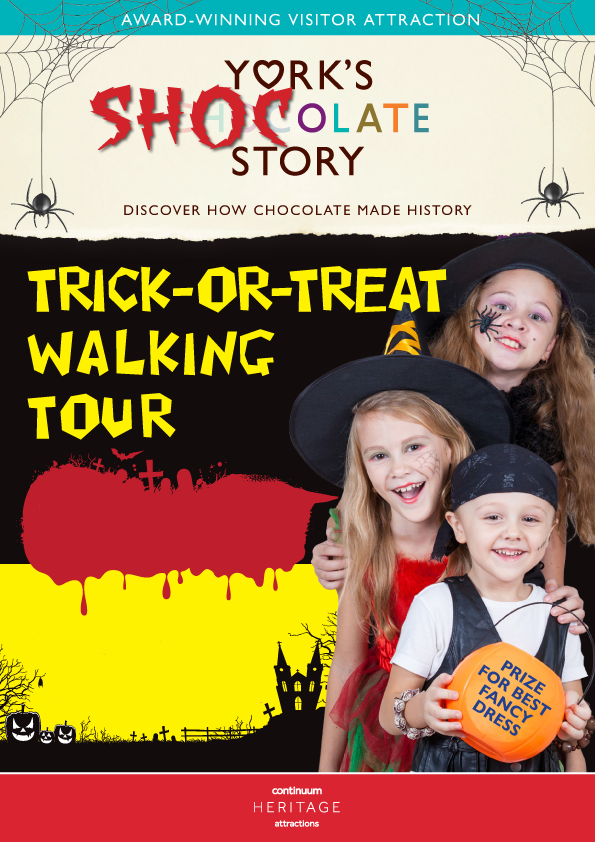 This Halloween York's Chocolate Story will be hosting York's most spook-tacular trick-or-treat tour. Courageous children can test their nerve as they are led on an eerie tour of the city centre by the unearthly 'Count Fectionery'!
The trick-or-treat tour is perfect for little ones looking for something to do this October half-term (
22 - 31 October 2016
). Full of tasty treats, ghoulish games and spooky stories as well as the history of such concoctions as 'Terry's All Ghould, 'Kit Bats' and 'Rowntree's Fright Pastilles'.
Halloween Shock-olate
22 - 31 October 2016
Test your nerve and spin the wheel of fortune to receive a tastey treat of rotten trick chocolate!
New exhibition Chocolate and the People of York
A brand new exhibition explores the contribution the people of York have made to the cities great chocolate industry. From the thousands of factory workers who manned the production lines, to the founding fathers, whose inventiveness and dedication created world famous brands still produced in the city. Explore the social history and fascinating stories of the people who made York the UK's home of chocolate.
---
While other British cities were built on steel, coal or wool, York's fame and fortune have rested on chocolate for almost 300 years. World-famous brands, including KitKat, Aero and Terry's Chocolate Orange, all originated from the historic city of York.
Address: King's Square, York YO1 7LD
York's CHOCOLATE Story is located in the heart of York in King's Square - close to the Shambles and Shambles Market.
yorkschocolatestory.com