Jack and the Beanstalk - York Theatre Royal
14 December 2017 - 3 February 2018
York Theatre Royal
St. Leonard's Place, York YO1 7HD
•
yorktheatreroyal.co.uk
• Box Office Tel: 01904 623 568
•
Photo of York Theatre Royal
•
Spring Brochure 2018
Thrill Me
Monday 15 - Thursday 18 January 2018
York Medical Society, 23 Stonegate, York
New musical Thrill Me retells "Crime of the Century"
The award-winning musical Thrill Me: The Leopold and Loeb Story is based on the true story of Nathan Leopold and Richard Loeb, the so-called "thrill killers" who murdered a young boy in 1924 in an attempt to commit the perfect crime.
Pick Me Up's York premiere stars George Stagnell and Sam Hird, who earlier this year wowed audiences at the Edinburgh Fringe with their performances of Private Peaceful and Songs From A Shropshire Lad.
Stephen Dolginoff's astonishing musical examines the relationship between the two wealthy and highly intelligent teenage Chicago law students who committed what newspapers called "the crime of the century".
Stagnell plays Loeb, who's obsessed by the philosophy of Nietzsche and believes himself a "Superman" above the law and the rest of society.
Hird plays Leopold, who's obsessed with Loeb and becomes his willing accomplice, prepared to do anything for him in return for his love and attention.
Together, they sign a contract in blood and plot the perfect murder ... for the thrill of it.
The intense and intimate two-hander focuses on the twists, turns and shifts of power in the relationship between Leopold and Loeb as it tells their story in flashback. Dolginoff says the musical is less about the murder they committed and more about what we're prepared to do for the person we love – "things we wouldn't do on our own".
The production – at the atmospheric York Medical Society on York's Stonegate – is directed by Robert Readman, and the musical director is Sam Johnson, who provided the music for the Edinburgh Fringe shows in August.
Tickets
Cilla The Musical
Monday 22 - Saturday 27 January 2018
Grand Opera House York
CILLA - THE MUSICAL is the spectacular and heart-warming musical adaptation of the critically acclaimed hit ITV television series. It tells the extraordinary story of the ordinary girl from Liverpool whose teenage dreams of stardom lead her to becoming one of Britain's best-loved entertainers of all time.
Pickup the latest programme from the box office.
Address: Cumberland Street, York YO1 9SW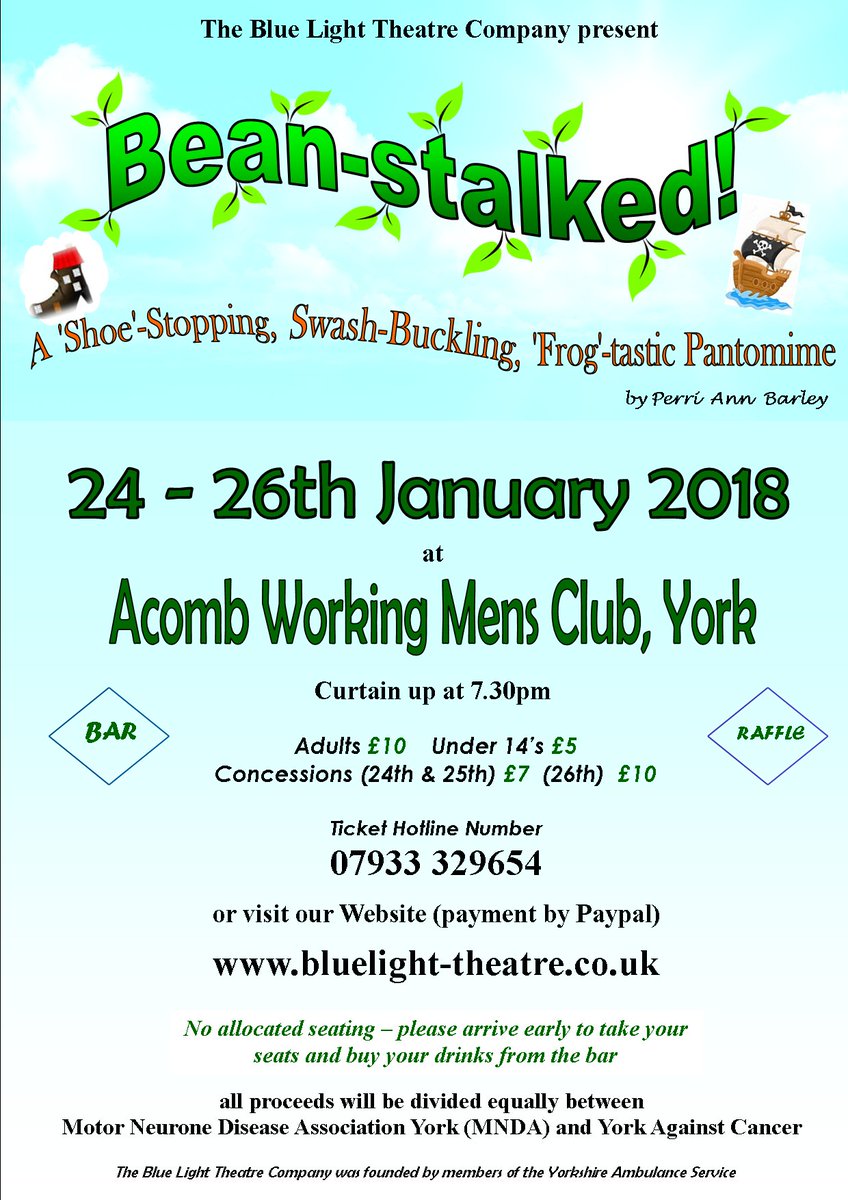 Bean-Stalked! The Panto
Wednesday 24 - Friday 26 January 2018
Acomb Working Mens Club
The Blue Light Theatre Company are back by popular demand with their latest Panto 'Bean-Stalked!'. All proceeds are to be divided between Motor Neurone Disease Association York and York Against Cancer. Packed with great songs, dances, characters and full of twists, turns and surprises - this family pantomime promises to be a great night out for all. Tickets are £10 Adult, £5 Child and £7 Concession (24th & 25th only) and are available from
www.bluelight-theatre.co.uk
or 07933 329654.
Wildgoose Theatre & Re:Verse Theatre Present
Thursday 25 - Sunday 28 January 2018
Friargate Theatre
A double-bill of York-based domestic dramas exploring class, control and the importance of the news.
A Yorkshire Tragedy
Written by William Shakespeare (or Thomas Middleton), directed by Ben Prusiner
A Jacobean domestic tragedy originally assigned to Shakespeare but causing hot debate for centuries, A Yorkshire Tragedy is a verse re-telling of the true crime scandal of the murderous gambler Walter Calverley.
The Tasker's Trials
Written by Bill Hodson, directed by Andrew Love
Contemporary Yorkshire family the Taskers are struggling to keep their heads above water in the aftermath of a devastating accident. Joy-racing in an uninsured car, their eldest son runs over a young woman, leaving her in a coma. What can they do to keep their family from falling apart?
Poster
The Producers
Thursday 8 - Saturday 10 February 2018
The Joseph Rowntree Theatre, Haxby Road, York
The hilarious musical comedy by acclaimed writer and director Mel Brooks, which took Broadway and the West End by storm, winning a record breaking 12 Tony Awards and 3 Olivier Awards.
Failing Broadway producer Max Bialystock and his mild mannered accountant Leo Bloom scheme to get rich from Broadway's biggest scam. Planning to capitalise on a "flop" show, the twosome secure "the worst play ever written" and "the worst director in town", to open on Broadway with the gloriously offensive and decadently inappropriate Springtime for Hitler.
Come and find out about the chaos that ensues as they cope with how this fool-proof flop actually turns out right!
The Producers keenly mocks Broadway traditions and takes no prisoners, proudly proclaiming itself "an equal opportunities offender!"
Suggested age 12+ Some swearing and probably not for the easily offended.
www..josephrowntreetheatre.co.uk
Heads Up
Thursday 22 February 2018
Venue: York Theatre Royal
2016 THE SCOTSMAN FRINGE FIRST AWARD WINNER | 2017 CATS BEST NEW PLAY AWARD WINNER
A city. Just like this. Right now. A teenage girl boils up in rage in a toilet cubicle. A finance worker preaches doom in a busy train station. An absurd coke-addled celebrity races through town on a mission. A paranoid stoner stares blankly at the endless disasters on the TV news. In just one moment, all their worlds will end.
Multi award-winner KIERAN HURLEY weaves a picture of a familiar city at its moment of destruction, asking what would we do if we found ourselves at the end of our world as we know it.
'Superb storytelling theatre'
★★★★ The Guardian
'Acutely observed yet ferociously powerful storytelling… an absolute highlight of the Edinburgh Fringe'
★★★★ The Independent
'Urgent, compelling, beautiful writing… confirms Hurley's status as one of the most powerful writers to emerge in British theatre this decade'
★★★★ The Scotsman
'Excellent, hypnotic, apocalyptic solo show'
★★★★ The Times
'Hurley infuses this brilliant show with prophetic intensity and brooding soulfulness'
★★★★ Evening Standard
High School Musical
Thursday 22 - Saturday 24 March 2018
The Joseph Rowntree Theatre, York
Flying Ducks Youth Theatre present the colourful and lively production of High School Musical.
Tickets are priced at £8-£12
Haxby Road. YO31 8TA
Show on Map
Joseph Rowntree Theatre Box Office 01904 501935
www..josephrowntreetheatre.co.uk