York Theatre Royal
St. Leonard's Place, York YO1 7HD
•
Autumn / Winter Brochure 2017
•
yorktheatreroyal.co.uk
• Box Office Tel: 01904 623 568
•
Photo of York Theatre Royal
The Lion, The Witch And The Wardrobe
Wednesday 15 to Saturday 18 November 2017
Joseph Rowntree Theatre, Haxby Road
C. S. Lewis's fantastic tale of the Lion, the Witch and the Wardrobe is a magical musical adventure which will take you on a journey you will never forget.
NE Musicals York invite you to enter the magical land of Narnia. A land that lies behind the wardrobe door where animals talk, trees can walk, and a White Witch covers the landscape with snow, bewitching you with Turkish Delight.
Haxby Road. YO31 8TA
Show on Map
Joseph Rowntree Theatre Box Office 01904 501935
www..josephrowntreetheatre.co.uk
THEFT By Eric Chappell (a Comedy)
Thursday 16 - Saturday 18 November 2017
The Village Hall, Escrick
John Miles is successful, determined and wealthy. When he returns from dinner out with wife Barbara and best friends Trevor and Jenny to find his house has been burgled, he's furious, particularly as the burglar may still be in the house.
And when the local copper appears from nowhere, John assumes they have found their bumbling burglar, Spriggs.
But as Spriggs starts to expertly manipulate, cajole and corrupt them, we begin to wonder if he's much, much cleverer than they think. With a hidden safe, childhood rivalries, guilty secrets and everything to lose, five very different people play an escalating and hilarious game of cat and mouse...
16th, 17th and 18th November 2017 at 7.30pm
The Village Hall, Escrick
Tickets £7 available from:
Monday Players Members
01904 728303
tickets@mondayplayers.com
Further details on the production are available on our website:
www.mondayplayers.com
Seaside Terror - A Puppet Horror
Sunday 19 November 2017
31 Hospital Fields Rd, Fulford, York YO10 4FS
Odd Doll take a trip to the seaside, where they find more than they bargained for. The only other inhabitant of the dilapidated pier is a rather sinister ice cream man. And he's got some very strange stories to tell…
His mind-boggling collection of hysterical horrors includes Evil Seagulls, Zombie Donkeys, and Bingo Hairballs. But will anyone who experiences it live to describe it?
Stuffed with fun frights and ice cream chills, Seaside Terror is a celebration of the British horror and British holidays of the 1970s. Funny, nostalgic and visually stunning, Odd Doll use their trademark brew of puppetry, clown and specially composed music to fill the stage with nerve-shattering shocks. Suitable for ages 12+
www.odddoll.co.uk/dates/
My Fair Lady
Monday 20 - Saturday 25 November 2017
Grand Opera House, York
Pick Me Up's second classic musical for 2017 is the glorious My Fair Lady - the story of irascible Henry Higgins and Cockney flower girl Eliza Doolittle, who he bets he can transform into a duchess.
Based on George Bernard Shaw's Pygmalion, it features one of musical theatre's greatest scores - by Alan Jay Lerner and Frederick Loewe. The wonderful songs include Wouldn't It Be Loverly?, With a Little Bit of Luck, The Rain in Spain, I Could Have Danced All Night, On the Street Where You Live, Get Me to the Church on Time, and I've Grown Accustomed to Her Face.
Pickup the latest programme from the box office.
Address: Cumberland Street, York YO1 9SW
Ebor Players Panto - Rapunzel
4 - 9 December 2017
Bishopthorpe Village Hall
Attention Panto Lovers! Tickets for Rapunzel go on sale at the Ebor this Sunday, 15 October, and online from Monday.
Ebor Players are an amateur drama company based in Bishopthorpe.
www.ticketsource.co.uk/ebor-players
The Magic Hatter's Christmas Cracker 2017
The HIVE Studios, Manor Academy, York, YO26 6PA
York's festive family magic show returns for the 7th magical year! Third show added to meet demand!
Saturday 9th December
3.30 til 5.00pm
Sunday 10th December
10.30 til 12 noon AND 3.30 til 5.00pm
The HIVE Studios, Manor Academy, York
Adults £9, Children £8, Family of Four £30
York's Christmas magic show is back bigger and better than EVER!
MORE magic, MORE comedy, MORE seasonal surprises...a SLEIGH-LOAD of FUN!
Join The Magic Hatter and special guests Frostbite the Penguin, Aunty Madge Hatter plus SANTA CLAUS HIMSELF!
Festive fun for all the family, ages 3 to 103...'yule' love it. Shows usually sell out early, so early booking is strongly recommended!
All tickets must be pre-booked, and can be booked online with PayPal or any major debit or credit card. To book, click the snowman at www.magichatter.co.uk
Follow at facebook.com/magichatter for more details
Ho-ho-hope to see you there!
"We've just booked, we are looking forward to our third show! It's definitely the highlight of our Christmas each year for our kiddies!"
A. Malone
"A superb alternative to a Christmas panto. We were sat on the front row and our boys haven't stopped talking about the show!"
P. Martin
"...it has sort of has become part of our Christmas routine. My little girls eyes were so filled with wonder, I nearly cried. Well done and thank you very much for everything including keeping it affordable."
C. Thomas and family
"They were mesmerised. It's the longest time I've seen both children sit still and stay engaged! Excellent value for money."
D. Wakefield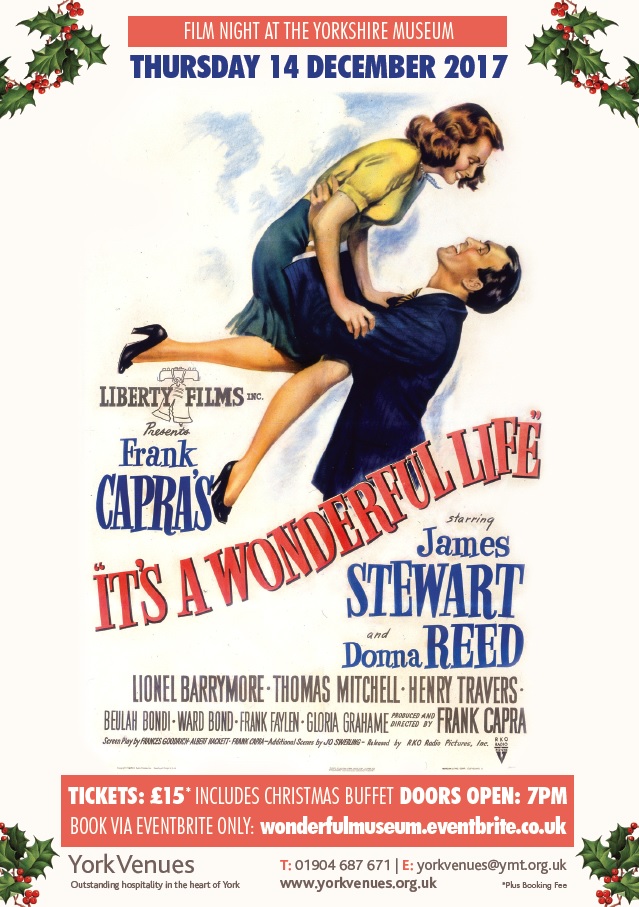 It's A Wonderful Life
Thursday 14 December 2017
Venue: Yorkshire Museum
Join us for our seasonal night film at the Yorkshire Museum to get you into the Christmas spirit! Enjoy a delicious finger buffet and drink before watching the festive family favourite 'It's a Wonderful Life' on our big screen.
The event starts at 7pm, with tickets costing £15 including the buffet and mulled cider. Book ahead online (tickets will be on sale until 9am on 12 December 2017).
Jack and the Beanstalk
14 December 2017 - 3 February 2018
York Theatre Royal
Tickets for this year's York Theatre Royal Pantomime, Jack and the Beanstalk, go on sale on March 1 in person only. Box Office open from 9am. Phone sales open March 2 from 10am.
Box Office Tel. 01904 623568
yorktheatreroyal.co.uk
Panto - Beauty and the Beast
15 Dec 2017 - 7 Jan 2018
Grand Opera House York
Starring iconic boy band Blue's ANTONY COSTA, Home & Away's LYNNE Mc GRANGER, Coronation Street's KEN MORLEY and returning by popular demand the one and only DEBBIE McGEE, Emmerdale's STUART WADE and Britain's classiest dame STEVE WICKENDEN! This classic magical story features a Handsome Prince, a Beautiful Girl, a Fearful Beast and a very Wicked Witch. Heroic deeds, abundant adventure, true love, crazy comedy, glittering costumes, mayhem and make-believe, plus dazzling special effects.
Robin Hood And The Babes In The Wood
Thursday 21 - Sunday 31 December 2017
York Barbican
Shane Lynch from the multi-million selling band Boyzone will team up with stars from EastEnders, Corrie, and pop, for the spectacular family pantomime, Robin Hood And The Babes In The Wood.
In the city's biggest ever line up of stars, Shane will be joined by an array of celebrity pop talent, including Ben Adams from BRIT Award winning band A1, in the title role. EastEnders' Fatboy Ricky Norwood, and star of Coronation Street, Brookside and The Royal, Michael Starke, join the cast as comic and dame.
90's singing sensations Lolly, aka Anna Kumble (Hey Mickey) plays the fairy, and Ben Ofoedu from Phats and Small (Turn Around) plays Little John, along with The Voice star Jaz Ellington as Friar Tuck, completing the star studded cast. A fabulous live band, and stunning sets and costumes will all feature in this spectacular production.
York Barbican •
map
•
yorkbarbican.co.uk