BANFF Ocean Film Festival 2019
Thurs 26 Sept 2019
The Ocean Film Festival UK & Ireland Tour is back for 2019, bringing a brand-new collection of the world's most mesmerising ocean films to a big screen near you!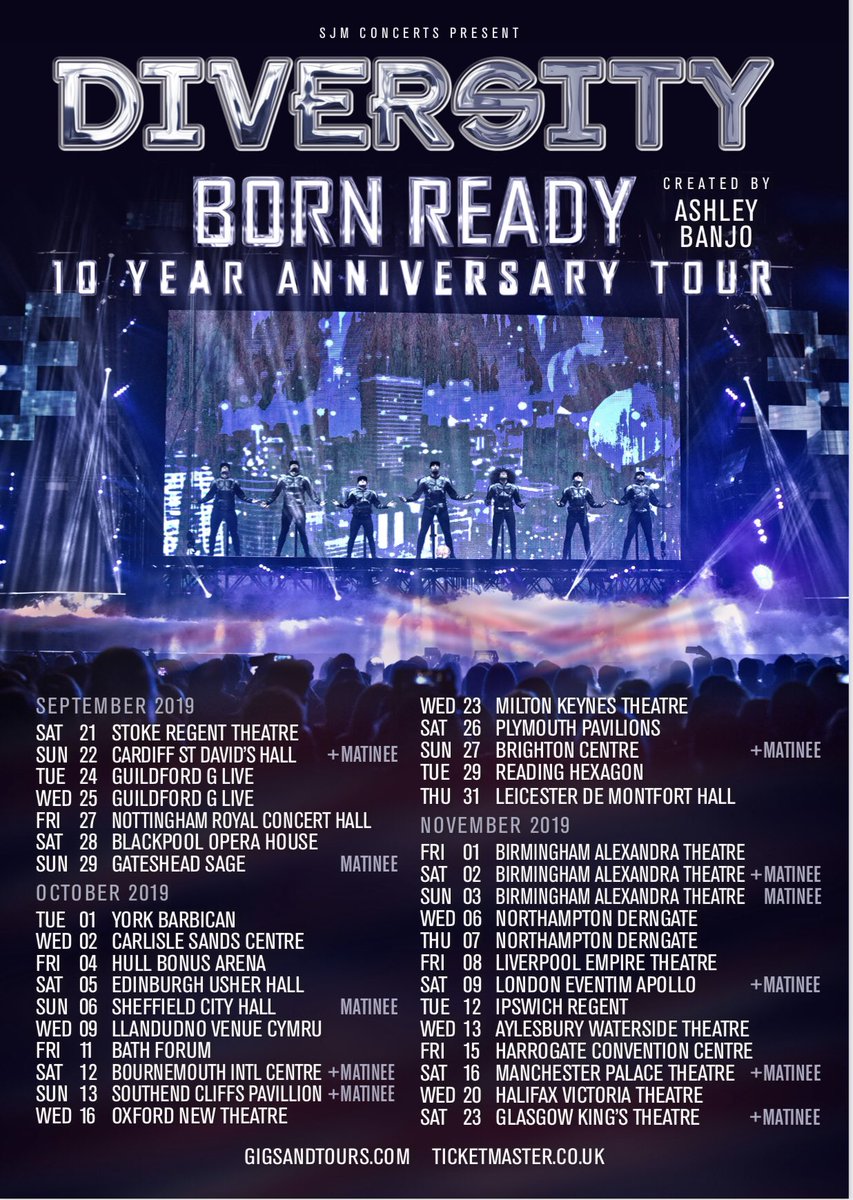 Diversity
Tues 1 Oct 2019
Diversity are a British street dance troupe formed in 2007 and based in London, best known for winning the 3rd series of Britain's Got Talent in 2009.
Josh Widdicombe: A Bit Much…
Thurs 3 Oct 2019
The guy everyone can do an impression of is back with a brand new stand up tour, with a show that will change your life and how you perceive your place in the world.
Fri 4 Oct 2019
Jonathan Pie: The Fake News Tour
Jonathan Pie is the comedy sensation who satirises the world of politics and the media. A frustrated news reporter known for venting his spleen in unguarded "off-camera" rants, his online videos have been viewed by millions worldwide.
Fri 11 Oct 2019
Laugh Out Loud Comedy Club
Bringing the best live stand-up to York, featuring comedians from shows such as Mock The Week, 8 Out of 10 Cats, and many more.
Fri 11 Oct 2019
Daniel O'Donnell: Gold Hits Tour
The affable and unassuming international singing star Daniel O'Donnell, one of Ireland's best known performers, has continued to push out the boundaries of his career both on stage and TV in 2018 and looks to do the same in 2019.
Mon 14 Oct 2019
Ben Elton
The Godfather of modern stand-up returns! Ben Elton is back on the road with an all new stand-up show.
Scottish Fiddle Orchestra
Saturday 26 October 2019
The legendary Scottish Fiddle Orchestra is delighted to be returning to York Barbican for the first time since 2013 for a magical evening of Scottish music, ranging from lively, rhythmic toe-tapping jigs to well-known songs and moving slow airs.
♫ York Barbican •
map
🎫
yorkbarbican.co.uk
•
StayCity Hotel next door
John Mayall's 85th Anniversary Tour
📅
Wednesday 6 November 2019
York Barbican
For over 50 years, John Mayall has served as a pioneer of blues music, rightly earning him the title, 'The Godfather of British Blues' an OBE & a Hall of Fame induction.
John's early band John Mayall and The Bluesbreakers counted amongst its members Eric Clapton, Peter Green, John McVie & Mick Fleetwood (Fleetwood Mac), Andy Fraser (Free) Mick Taylor (The Stones) Still a prolific writer and performer, he has recently released the album 'Nobody Told Me' that also features Todd Rundgren & Joe Bonamassa.
Born in 1933 near Manchester, England from an early age John was a fan of Jazz and Blues, passionate about the Boogie Woogie piano giants, learning to play the piano, guitar and harmonica in his teens whilst at Manchester Junior School of Art. Sometime after National Service in the South Of England & Korea, John Moved to London in the swinging 60's where he formed The Bluesbreakers and provided backing for some of the Blues Greats such as John Lee Hooker, T Bone Walker, Eddie Boyd and Sonny Boy Williamson on their first English club tours.
Eric Clapton joined John & The Bluesbreakers after quitting The Yardbirds and they created the classic album 'John Mayall's Bluesbreakers featuring Eric Clapton'. Due to his increasing popularity Stateside, John moved to Laurel Canyon, LA in the early 70's and enjoyed a revered music career throughout the decades that followed. John has also collaborated over the years with the likes of Billy Gibbons (ZZ Top) Steve Miller, Gary Moore, Jeff Healey, Mavis Staples, Greg Rzab (Black Crowes) and many respected Blues musicians.
John's current live band are: John Mayall, Greg Rzab, Jay Davenport & Texas blues guitarist Carolyn Wonderland.
Almighty Fighting Championship 14
📅
Saturday 9 November 2019
York Barbican
Almighty Fighting Championship 14 brings you some of the best up and coming stars in UK MMA. An action packed show which delivers excitement from start to finish with up to 30 fights.
🎟️
Tickets