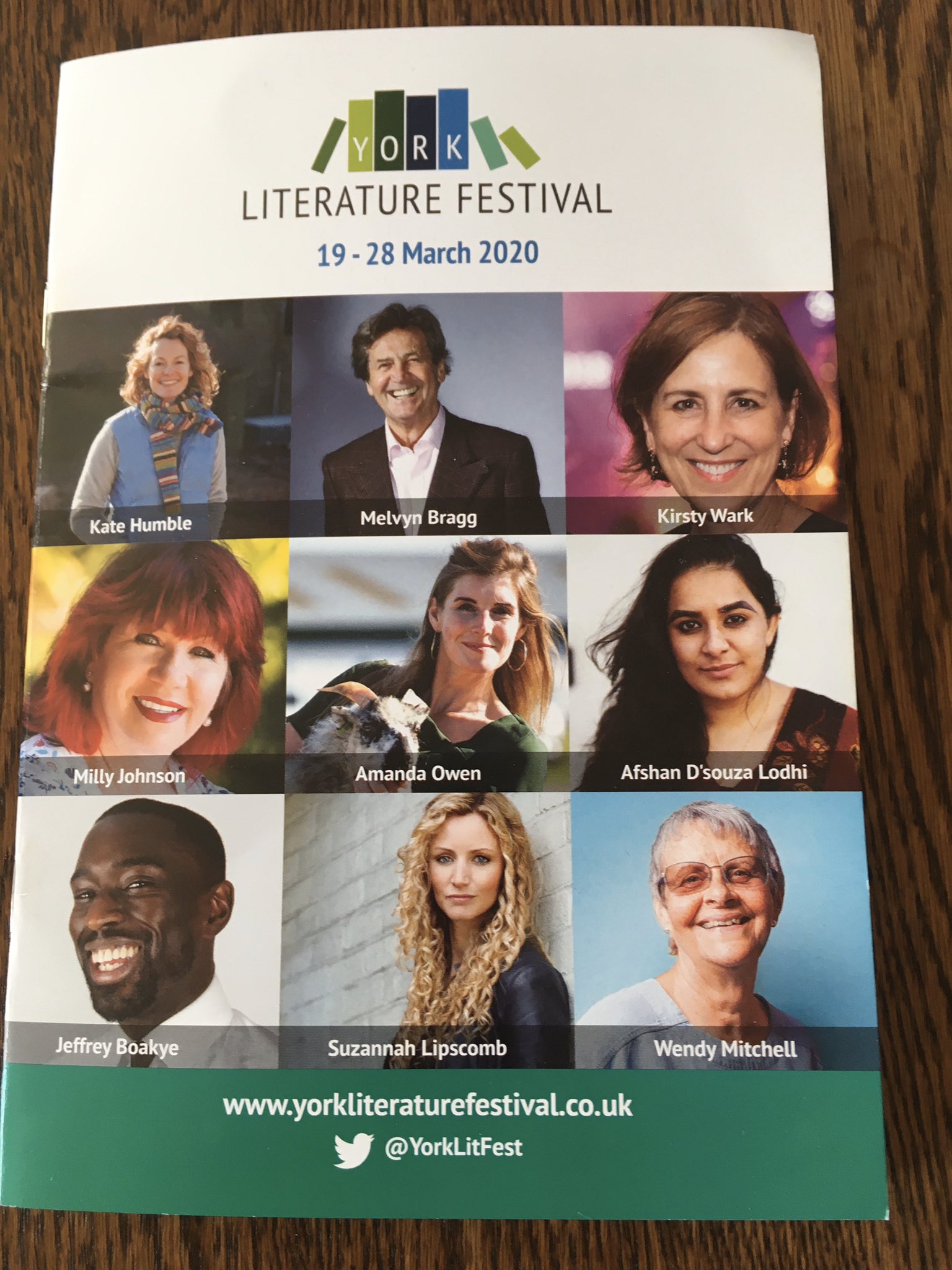 We have taken the decision to postpone the upcoming York Literature Festival until later this year. We are currently aiming to reschedule a festival for later in the year and will release more details on this as soon as we are able. Please stay in touch via our mailing list, website and social media for all our latest news!
York Literature Festival 2020
19 - 28 March 2020
York Literature Festival is back with its annual celebration of the written and spoken word. Starting on 19 March 2020, we run for a ten-day period packed with over 50 events featuring well-known personalities, authors, poetry, history, politics and a special day devoted to the writing of crime.
We've already let you know about our fabulous line-up of top performers which includes cultural icon Melvyn Bragg, The Yorkshire Shepherdess Amanda Owen, TV presenter Kate Humble, romantic novelist Milly Johnson, journalist and broadcaster Kirsty Wark and renowned TV historian Suzannah Lipscomb.
"Once again we've been able to attract some household names to come and speak in York on a wide range of topics,"
says Festival Director Nick David. "But the 2020 festival isn't just about them. This year, thanks to a package of Arts Council funding, we've been able to be more diverse than ever with events such as: Polari Literary Studio; the return of Poetry for All; a special event presented by Dialogue Books with writers Jeffrey Boakye and Okey Nzelu; poets Seni Seneviratne and Afshan D'souza-Lodhi reading from their latest collections; and "Street Stories" left in public places around York from Found Fiction. Alongside our Crime Writing Day and Big History Weekend, we'll also be running some 2pm Matinées so there's a show on almost every daytime. And when you take our Children's Day into account, we think we have something for everyone."
Detailed information and ticket links can now be obtained through the Festival website. Or you can pick up a brochure from York Theatre Royal Box Office, the Visitor Centre at Make It York or York Explore Library and Archives.
yorkliteraturefestival.co.uk
In a series of announcements regarding YLF2020, we're delighted to be able to tell you that Melvyn Bragg will be headlining the 2020 festival by appearing at St Peter's School on Saturday 21st March at 7pm.
Best known for The South Bank Show and In Our Time on BBC Radio 4, Melvyn is also an accomplished novelist and his works have twice been longlisted for the Man Booker Prize. In Love Without End, Bragg brings the 12th-century into the 21st as he breathes fresh life into one of history's most remarkable and enduring love stories. Heloise arrives in Paris bent on entering its masculine world of learning. The brilliant, radical philosopher, Peter Abelard, consents to be her tutor but what starts out as a meeting of minds turns into a passionate, dangerous love affair which sends shockwaves throughout the country and incurs terrible retribution.
"Bragg brilliantly re-imagines the legendary love story of Heloise and Abelard, uniting the middle ages and today in this thrilling novel."
Antonia Fraser.