Toy Stories
York Castle Museum, York, YO1 9RY
Open daily 9:30am - 5pm.
Take a trip back to your childhood and rediscover some of your favourite toys in this special exhibition. Bikes, bath toys, computer games, Lego and beautiful handmade dolls are among the toys on show from the last 150 years so you can pick out your favourites and share stories with family and friends.
Play together in our exciting Castle inspired play area or head off on the teddy bear trail for children around the exhibition.
yorkcastlemuseum.org.uk
Capital of the North
Yorkshire Museum, York Museum Gardens, YO1 7FR
Open daily 10am - 5pm.
In the medieval kingdoms of Britain, the north was ruled from York. Anglian kings were baptised in its churches, Viking warriors plotted their southern raids and the Normans cruelly stamped their authority on the masses. From the ravages of war the city went on to flourish in a golden age of innovation, religion and trade.
Featuring some of the most prestigious and significant medieval objects ever found in Britain and exploring the lives of some of the most powerful people of the period, this new exhibition will tell the extraordinary story of how great swathes of the country were once ruled from within York's walls.
yorkshiremuseum.org.uk
1914: When the World Changed Forever
Venue: York Castle Museum
The terror of total war and its revolutionary impact on life around the world will be explored in this major new exhibition marking the centenary of the First World War.
From the pre-war golden age of peace and prosperity visitors will be sent to the recruitment office and travel via train to the horrors of the frontline - from rats to foot rot, shell shock to gas warfare. Back home, daily life in Britain was changing beyond recognition while around the world millions would die as Europe's empires clashed in the first truly global conflict.
New technology and research will be combined with the museum's extensive military, costume and social history collections to tell the fascinating and often moving stories of the Yorkshire people who lived and died during the war that they said would end all wars.
The exhibition is the central part of a £1.7 million project at the museum, with the majority of the funding from the Heritage Lottery Fund (HLF).
It is planned to open on June 28 – 100 years to the day that Archduke Franz Ferdinand was assassinated, which then sparked a chain of events which led to the outbreak of war. www.yorkcastlemuseum.org.uk
The Sixties
York Castle Museum, York, YO1 9RY
Open daily 9:30am - 5pm.
The Sixties exhibition aims to recreate the spirit of this exciting decade which saw momentous change in so many areas of public and private life.
The gallery uses fascinating and iconic objects from the social history, art, fashion, military and astronomy collections to bring back the atmosphere of change which swept over the country during the 1960s. Highlights include a Lambretta scooter, a Dansette record player, Beatles singles and fashion by Mary Quant.
yorkcastlemuseum.org.uk
Shaping the Body - Food, Fashion & Life
York Castle Museum, York, YO1 9RY
Open daily
From 18th century bum rolls, through to the Victorian hour glass figure, the punks of the Seventies and the perms of the Eighties, see how our bodies have been shaped and designed through the choices we make and the consequences of our lifestyles. Meet the people who have pushed their bodies to the limits to gain the look they crave and find out about dangerous fashions such as the women who wore extra tight corsets, high heels and even poisonous dresses!
yorkcastlemuseum.org.uk
Chocolate: York's Sweet Past
1 April 2017 - 5 January 2018
York Castle Museum
Delve into the delicious history of some of the world's most iconic chocolates and sweets this Easter as York Castle Museum takes you on a chocolatey tour of sweets galore.
Start your chocolate journey from the museum's Period Rooms to discover how the Georgians, Victorians and the Jacobeans satisfied their sweet tooth.
Then follow the steps to find a spectacular whizzing and fizzing sweet making machine in the Toy Gallery. Follow your nose to find out what's cooking in our working Chocolate Factory where you can explore what it was like to work in York's famous factories. At special times of year you can also enjoy tasting sessions and expert workshops.
Next, take to our world-famous Victorian cobbled street to find a traditional scrumptious sweet shop brimming with chocolates and sweets from days gone by. Discover the worldwide household favourites that were first created right here in York.
Then it's the swinging Sixties gallery with its new shop displaying some of the most iconic chocolate brands to come from York.
See original adverts, packaging and more alongside the stories of those who took York's life-long love of confectionary to the world in this family-friendly, interactive tour through York's history of chocolate and sweets.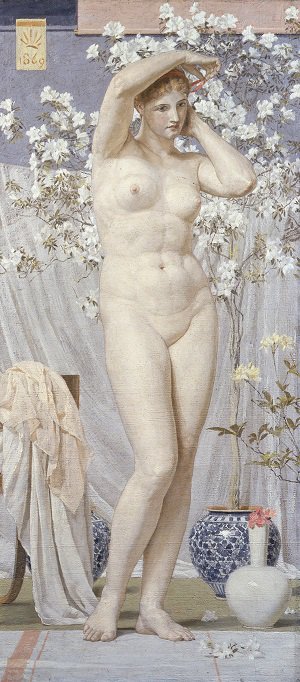 Albert Moore: Of Beauty and Aesthetics
7 April - 1 October 2017
York Art Gallery presents the first monographic exhibition of York born artist Albert Joseph Moore since the artist's death in 1893.
Featuring more than 20 paintings and watercolours, it will highlight the beautiful and classical women for which the artist is most famous and demonstrate the modernity of Moore's approach.
Albert Moore was one of the leading artists of the Aesthetic movement who prioritised mood, colour harmony and beauty of form over subject matter to create 'art for art's sake'. The exhibition will explore Albert Moore's career and body of work using the latest research into his work by leading experts. It will include examples of Moore's youthful Pre-Raphaelite works as well as the hauntingly beautiful classical figures of his mature style.
Organised by York Museums Trust and Museum De Buitenplaats, in Eelde, Netherlands, the exhibition features the stunning and ambitious 'Midsummer', 1887, from the Russell-Cotes Art Gallery, Bournemouth alongside other key works from public and private collections across the UK.
The exhibition will run at the Museum De Buitenplaats from 10 December 2016 - 19 March 2017 before coming to York.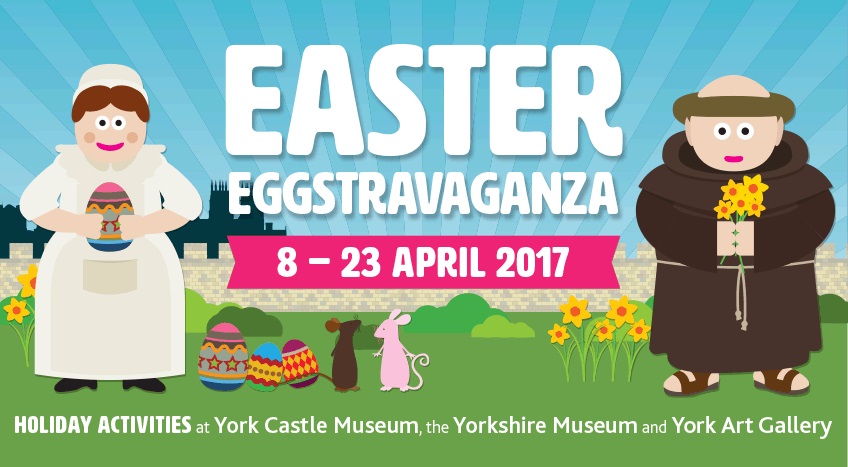 Easter Eggstravaganza
Saturday 8 - Sunday 23 April 2017
York Castle Museum
See how Easter Eggs are made and try a sample in The Chocolate Factory, then make your own Easter basket to take home as part of our new experience Chocolate: York's Sweet Past.
Chocolate Eggs
Daily, 10am – 4pm
Visit the new 'Chocolate Factory' to discover more about the history of chocolate and enjoy demonstrations using chocolate to produce moulded eggs – you might even get to try some!
Easter Baskets
Daily, 10am – 4pm
Self-led activity in the Workhouse. Try your hand at making a paper Easter basket to take home.
Activities are FREE with museum admission unless stated otherwise. No booking required.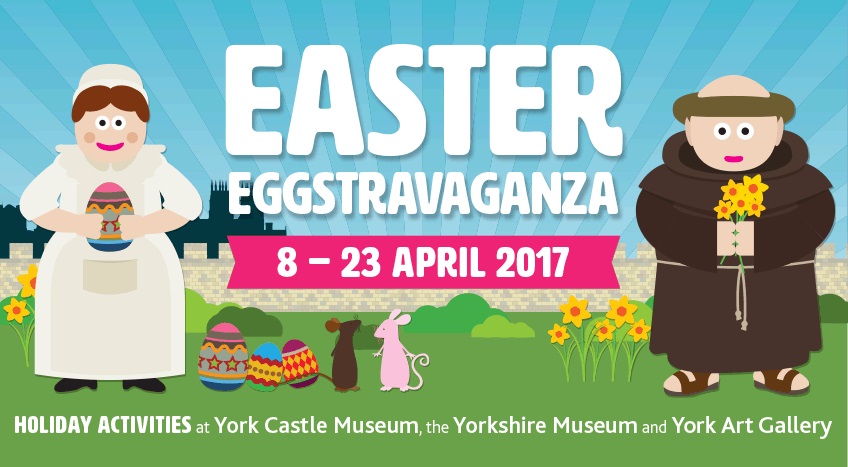 Easter Eggstravaganza - Medieval Marvels
Saturday 8 - Sunday 23 April 2017
Yorkshire Museum
Meet a medieval character to learn about life behind the walls of St Mary's Abbey, create stunning 'stained glass windows' and discover the history behind medieval feasts.
Medieval Monks
Daily, 11am – 1pm & 2pm – 4pm
Meet a 'monk' or a 'medieval lady' to find out about life as a Monk and become a scribe colouring in illuminated letter designs.
Feasts and Foods
Daily, 11am – 1pm & 2pm – 4pm
Set the tables to find out about foods of the medieval period.
Stunning Stained Glass
Daily, 11am – 1pm & 2pm – 4pm
St Mary's Abbey in York Museum Gardens once had colourful stained glass windows. Take inspiration from stained glass designs to make your own 'stained glass' using coloured cellophane.
Activities are FREE with museum admission unless stated otherwise. No booking required.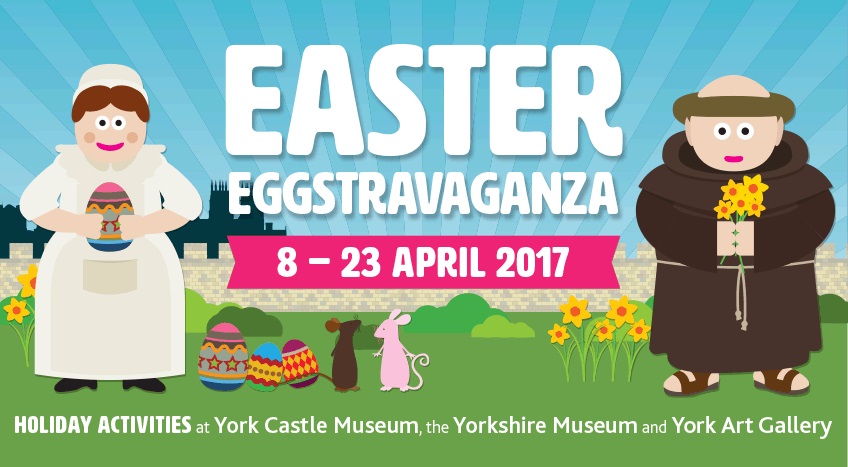 Easter Eggstravaganza - Picture Perfect
Saturday 8 - Sunday 23 April 2017
York Art Gallery
Dress up in the costumes of characters in our paintings and follow a trail to find them in the award-winning York Art Gallery.
Who Wears What?
Daily, 10am – 5pm
Follow a trail to find the people and characters in the artworks on display by looking at what they wear. Complete the trail and collect a sticker. 50p per trail.
A Wardrobe of Characters
10 – 21 April, 11am – 1pm & 2pm – 4pm
Come to the Studio to dress up as your favourite art gallery character. Create a story about them to illustrate and take home.
Activities are FREE with gallery admission unless stated otherwise. No booking required.
Viking: Rediscover the Legend
19 May - 5 November 2017
Yorkshire Museum
Two of the most significant and internationally recognised collections of Viking Age treasure in Britain will be brought together for the first time in a major new exhibition at the Yorkshire Museum in 2017.
Featuring some of the most exciting Anglo-Saxon and Viking discoveries ever made, the exhibition will explore how the Vikings transformed life in Britain.
Star objects from the British Museum will feature alongside the Yorkshire Museum's world class collections and will be interpreted in new ways to give a fresh perspective on how Vikings shaped every aspect of life in Britain.
It will also feature ground-breaking research by archaeologists and new discoveries by metal-detectorists which will challenge our perceptions of what it means to be Viking.
The exhibition will open at the Yorkshire Museum and then tour to the University of Nottingham Museum, The Atkinson, Southport, Aberdeen Art Gallery and Norwich Castle Museum, dates to be announced shortly.