ParkRun York
Saturdays 9am Start
Show on the map
Double check the latest dates on
facebook
and
parkrun.org.uk
.
★
View our illustration of York Racecourse
★
New Parkrun at Heslington
(Started January 2018)
parkrun.org.uk
Festival Of Vintage
Saturday 21 & Sunday 22 April 2018
The Festival of Vintage is back for the 8th year in York at York Racecourse on April 21st & 22nd. It's a fun and nostalgic weekend attracting thousands of visitors, giving a feeling of being transported back in time! Enjoy a packed programme including hair stylists/barbers, make do & mend craft workshops, fashion parades, classic vehicles & displays across both days.
Festival organiser Keeley Harris said "I am so excited with the line-up this year, it is going to be bigger and better than ever before, and am really looking forward to seeing everyone dressed in their vintage finery. For me the best part about the event is all the dancing, when I get a chance, I love to watch everybody jiving & swinging on the dance-floor to some brilliant bands"
New for this year is the Vintage Dance Hall with Free Dance Lessons and the UK Vintage Dance Competition.
With over 200 hand-picked vintage dealers from across the UK selling fashion and home-wares from 1930's-1960's as well as 50 top quality Repro Brands, this event is a honey pot for vintage collectors and enthusiasts. Be it fashion, home-wares, music, jewellery – there is something here for everyone.
Get into the spirit of things by dressing in your favourite era making it a truly nostalgic day out for the whole family. Enter the Best Dressed contest and strut your stuff down the catwalk to wow the judges and win cash prizes.
Advance tickets are on-sale now via the website or can be bought on the door priced at £12 per adult per day & accompanied children under 16 years are FREE
★
Dante Festival
Tattersalls Musidora Wednesday 16 May 2018
Betfred Dante Thursday 17 May 2018
Yorkshire Cup Friday 18 May 2018
Ticket Helpline: 01904 620911
Show on map
---
Paloma Faith
With her acclaimed Number 1 album 'The Architect' riding high in the charts and a BRIT nomination for Best British Female, Paloma Faith, has been announced as the headline act for the Summer Music Saturday at York Racecourse on the
30th June 2018
.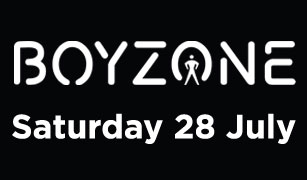 Boyzone
Music Showcase Weekend
Saturday 28 July 2018
BEVA President's Challenge Cycle Sportive
Sunday June 3rd 2018 - 91Mile | 66Mile | 30Mile
The BEVA (British Equine Veterinary Association) President Jonathan Pycock, a Yorkshireman and accomplished sportivist has laid down a challenge route to suit all abilities over the same roads used by the famous Ron Kitching ride from years past.
All routes start and finish at
York Racecourse
following the classic route. The Medium and Long route head up on to the Yorkshire Moors, with the long ride also including the infamous Rosedale Chimney.
We will offer a ride for all abilities, with a total of 3 distances and a family ride on the Saturday June 2nd afternoon, prior to the opening of registration.
wheelsinwheels.com
York Racecourse Antiques Fair
Friday 8 & Saturday 9 June 2018
The Rose Antiques Fairs York Racecourse Antiques Decorative and Fine Art fair is a high quality fully stand fitted fair held over two floors with dealers exhibiting antiques and objects of virtue ranging from the middle ages to the modern day. There will literally be something for everyone.
The fair will be open between 10am and 5pm on both Saturday and Sunday. There will be talks and exhibitions along with free parking, disabled access and catering.
Entry is £5 per person on the door or see our web page for pre-booked ticket offers. www.roseantiquesfairs.co.uk
Macmillan Cancer 'Hopes & Dreams' CharityBall 2018
Saturday 9 June 2018
York Racecourse
Book Now for the Third Annual Macmillan Cancer Support
'Hopes & Dreams' Charity Ball at York Racecourse
on Saturday 9th June 2018
Tickets are selling out fast with only 1/4 of our tickets left!
Tickets Just £42.00 Per Person
This Carnival Style Event is an evening full of fun, laughter, entertainment and all about Macmillan Cancer!!
🚕 arrive to an Oscar style arrival
♫ carnival entertainment on arrival
♫ fizz reception
♫ live drinks reception entertainment from Maria Kelly
♫ scrumptious dinner
♫ Live dinner Entertainment from Rob King in Manchester, Maria ♫ Kelly, and from the Xfactor Tom Bleasby
♫ York's Magic Ball Man will be doing Table entertainment
♫ Photographers by Harvey Cooper in Doncaster
♫ Goodie Bag for all guests
♫ 'Make a Wish' Blessing & Remembrance
♫ Live and Silent Auction
♫ The Nurses Auction - *New for 2018*
♫ Wishing Tree Raffle
🎸 Live Band 'The Duvets' from Bishopethorpe
💿 Top Club DJ 'Mr PJ Gardner' From Leeds
🍿 Midnight Nibbles
🚕 Carrages at 01.30am
🎟 Book Now Direct Or Online ...
☎️ 07733833710
💻 matt.ascough@yorkracecoursehospitality.co.uk
or 💻 info@hopesanddreamsball.com
🎫
Tickets
The Family History Show York
Saturday 23 June 2018
York Racecourse
One of the largest family history shows in the UK
With exhibitors from all over the UK and Ireland, this is probably the largest event of its kind in England. Many family history societies and companies attend each year. There is lots of local history from the York area too.
You don't have to have Yorkshire Ancestors to come to this fair - they can be from anywhere at all! Everyone is very welcome and there is lots to see. There is plenty of parking and refreshments are available all day. There are several lifts to take you to the upper levels, and the whole place is wheelchair friendly.
Do you really know who you are? Come and find out - you may be surprised!
thefamilyhistoryshow.com/york/