ParkRun York Racecourse
Saturdays 9am Start
Show on the map
Double check the latest dates on
facebook
and
parkrun.org.uk
.
★
View our illustration of York Racecourse
★
Parkrun at Heslington
(Started January 2018)
parkrun.org.uk
★
Parkrun at New Earswick
(Started 2018)
parkrun.org.uk
York Races 2018
John Smith's Meeting Fri 13 & Sat 14 July 2018
Music Showcase Weekend Friday 27 July 2018 - Tom Jones
Music Showcase Weekend Saturday 28 July 2018 - Boyzone
Welcome to Yorkshire Ebor Festival Wed 22 - Sat 25 August 2018
September Sunday 9 September 2018
October Finale Fri 12 & Sat 13 October 2018
Show on map
---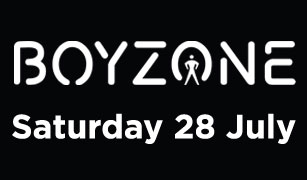 Boyzone
Music Showcase Weekend
Saturday 28 July 2018
Paws For A Cause
Sunday 2 September 2018
York Knavesmire
Calling all the pooches out there... grab your leads, drag along your owners and join us for the annual 'Paws for a Cause' sponsored Dog Walk! This year Paws will be double the fun, running alongside our annual It's a Knockout tournament!
You'll receive a certificate for your kennel and a goody bag with bandana just for taking part. If you think your owner needs a bit of exercise then choose our 4 mile route. If you're a puppy or have young handlers, then why not opt for the gentler 1 mile route.
Registration starts at 9:15am for the 4 mile route, with the walk beginning at 10am. Registration for the shorter 1 mile route starts at 10:45am with an 11:15am departure time.
Strut your stuff in one of the Fun Dog Classes which start at 12:30pm; Cutest Canine, Scruffiest Mutt, Waggiest Tail, Best Veteran (7 years +), Favourite Family (2 Dogs minimum from same family, 14 Legs maximum). There will also be lots of stalls and games.
Entry costs £7 for the walk, with classes at £2 each. All proceeds go to St Leonard's Hospice.
Register by Monday 27th August
to guarantee your goody bag and bandana. Why not set up a fundraising page to boost your sponsorship? Alternatively, if you'd prefer a sponsor form, get in touch and we will post one out to you.
For further details or help registering, please call Helen on 01904 777 777.
stleonardshospice.org.uk
★
York National Book Fair 2018
September 2018
Gin & Vodka Festival
Saturday 20 October 2018
York Racecourse
Friends of Gin & Friends of Vodka are teaming up in YORK to bring you a festival you and your friends can enjoy together. Arriving at the Ebor Suite, York Racecourse in October.
With one ticket you can choose from 80 Gins and 40 Vodkas, be entertained with live music, meet distillers from both crafts, food available to buy, chat to other Friends of Gin & Vodka and much more.
When you find your new favourite, you can purchase it at our festival* or our online shop. With gins that save Penguins & Elephants to vodkas distilled from milk & rye, you are sure to find something new for your cabinet.
For more information go to
www.friendsofgin.com
www.friendsofvodka.com
DATE & SESSIONS
SATURDAY 29th SEPTEMBER
12:30 - 16:30 - 18:00 - 22:30
TICKETS £10 includes a glass, guide & badge