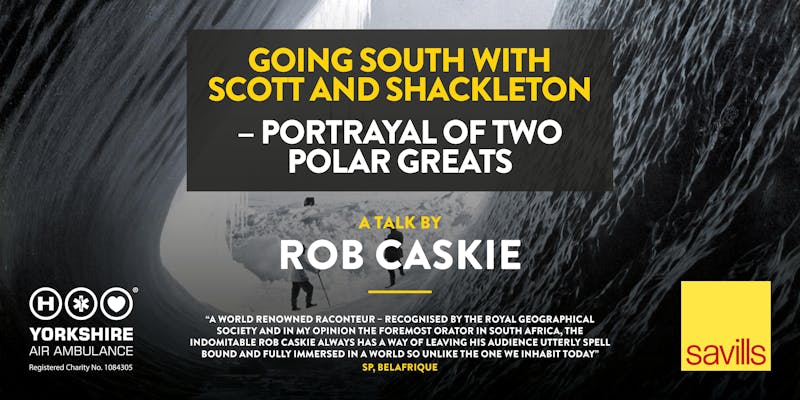 Going South With Scott & Shackleton
📅
Monday 1 October 2018
Spring Lane Lecture Theatre, University Of York
A fundraising event for Yorkshire Air Ambulance.
Rob Caskie, professional raconteur, will deliver a talk about the remarkable story of Scott and Shackleton - two polar greats, that will motivate and captivate the audience. 🎫
Tickets
Dear Mrs Pennyman
📅
Wednesday 14 November 2018
Room PZA/103 Piazza Building Campus East YO10 5GW
Dear Mrs Pennyman: Women's letters from the First World War by Dr Roisin Higgins. 18:30 - 19:30.
In 2012 a group of National Trust volunteers stumbled upon letters written to Mary Pennyman from wives and mothers of men who were missing or killed during the First World War. Pennyman had been secretary of the King's Own Scottish Borderers Widows and Orphans Fund. Through their letters, we encounter women at a moment of profound sadness. Most try to manage their grief through religious belief and a sense of patriotic duty but occasionally fear, sorrow and anger seep into the correspondence.
Bessie Walker, from Dringhouses, York, wrote, 'There are no children, as we had only been married 6 weeks, so ours was a short lived happiness together. I try to be a comfort to his poor old Dad & Mother, they feel it dreadful. Perhaps its wicked to say so, but I sometimes wish I could be old with them, as life feels rather empty at times.'
A public history project, funded by the Heritage Lottery, digitised the letters and set out to trace what had happened to their authors. This event will include readings from the letters and stories of the women who wrote them.