Sleeping Beauty
Sat 7 December 2019 - Sat 25 January 2020
York Theatre Royal, St. Leonard's Place.
York's much-loved pantomime family returns with Martin Barrass, Suzy Cooper, A.J Powell and the dastardly David Leonard in a spectacular new show for the whole family. Join us again this year for what promises to be a magical Christmas treat, spinning together hilarious gags, stunning costumes, sparkling sets, thrilling choreography and foot-tapping songs.
The first ever Christmas pantomime here was Sleeping Beauty in 1862 and we return to that title for this year's all-singing, all-dancing, all-laughter show. Booking is now open with an early bird offer
York Theatre Royal
St. Leonard's Place, York YO1 7HD
★
yorktheatreroyal.co.uk
Box Office Tel: 01904 623 568
★
Photo of York Theatre Royal
Latest 2020 Brochure
Haxby Road. YO31 8TA
Joseph Rowntree Theatre Box Office 01904 501935
Show on Map
www.josephrowntreetheatre.co.uk
The Goat Or Who Is Sylvia?
Tuesday 25 - Saturday 29 February 2020
John Cooper Studio Theatre, 41 Monkgate, York
World-famous American architect Martin Gray would appear to have it all. He's at the peak of his profession; he's happily married to Stevie, the only woman he's ever loved; their gay son Billy is close to them, and together they make a perfect family.
And Martin can always rely on his lifelong best friend Ross, a TV personality who's coming round to record an interview to mark Martin's 50th birthday.
But everything changes when Martin confesses to Ross that he's having an affair ... with a goat.
Edward Albee's The Goat, or Who Is Sylvia? was a big hit with audiences when it opened on Broadway in 2002 – and went on to win the Tony Award for Best Play, 40 years after Albee won the same award for Who's Afraid of Virginia Woolf?
The play moves from laugh-out-loud comedy to Greek tragedy as Stevie, Billy and Ross struggle to deal with Martin's revelations.
Albee said: "The play is about love, and loss, the limits of our tolerance and who, indeed, we really are. All I ask of an audience is that they leave their prejudices in the cloakroom ... and later — at home — imagine themselves as being in the predicament the play examines and coming up with useful, if not necessarily comfortable, responses."
Mark Thomas: 50 Things About Us
Wednesday 4 March 2020
The Crescent, 8 The Crescent, York, YO24 1AW
Mark uses his trademark style of storytelling, stand-up, subversion and really, really, well researched material to try and find out how the hell we ended up in the middle of this shit show.
50 Things About Us is a show about songs, gongs, loot, tradition, wigs, nicking, statues, art and identity. A sort of funny national edition of Who Do You Think You Are?
Tickets
Tel: 01904 622510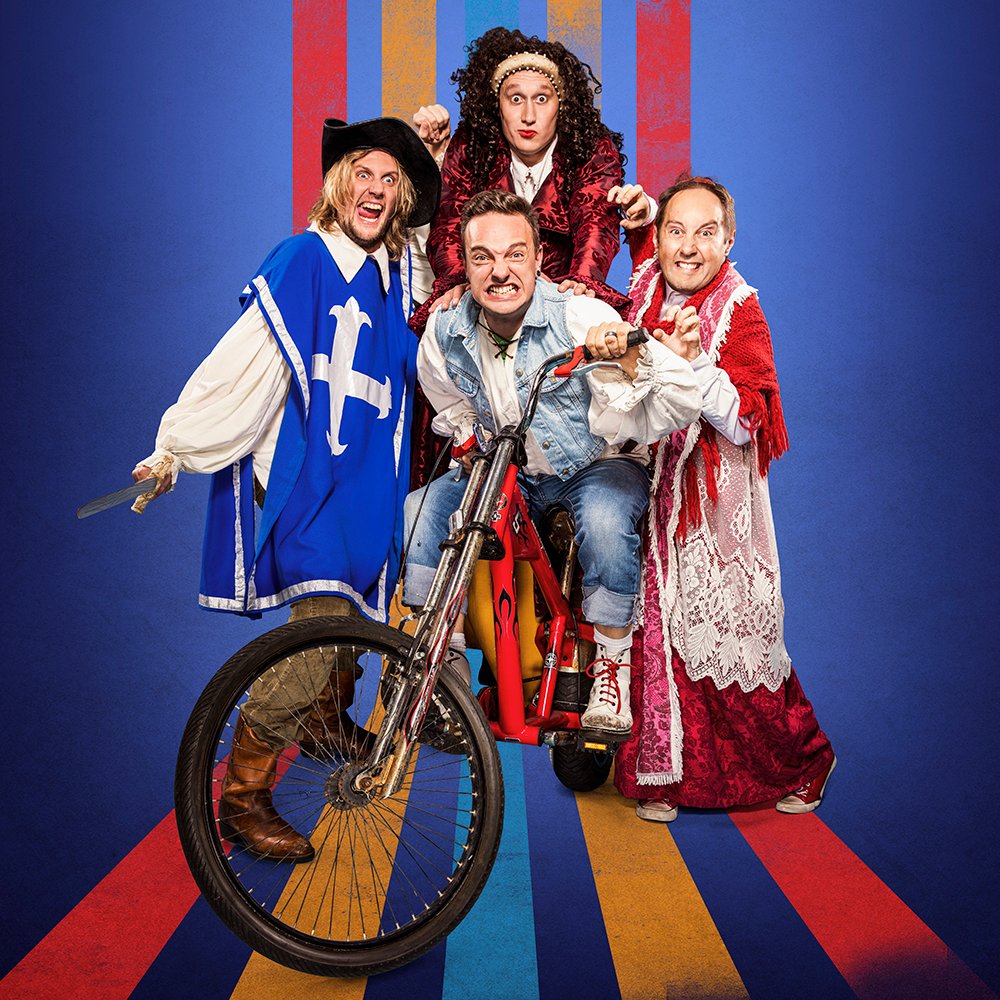 The Three Musketeers: A Comedy Adventure
📅
7 March - 8 February 2020
York Theatre Royal
From Le Navet Bete, award-winning creators of smash-hit shows Dracula: The Bloody Truth and Dick Tracy, comes a hilarious new comedy adventure that will have you rolling with laughter from here to the French countryside.
Armed only with a baguette and his questionable steed, join hot-headed D'Artagnan as he travels to Paris full of childish excitement and misplaced bravado to become a Musketeer. Will things go to plan? It's unlikely. With four actors and over 30 characters this will be their most hilariously chaotic adventure yet!
Supported by a top notch band of brothers including long-time co-conspirator (and funny man director) John Nicholson (Peepolykus, BBC Radio 4) internationally renowned choreographer Lea Anderson MBE (The Cholmondeleys) and critically acclaimed set designer Ti Green (Touching the Void) this show is the company's biggest and most riotous to date.
Tickets