Latest 2020 Brochure
Haxby Road. YO31 8TA
Joseph Rowntree Theatre Box Office 01904 501935
Show on Map
www.josephrowntreetheatre.co.uk
Tom's Midnight Garden
Friday 13 - Saturday 21 March 2020
John Cooper Studio Theatre, 41 Monkgate, York
Pick Me Up brings Tom's Midnight Garden to York
Pick Me Up Theatre is delighted to present the magical stage version of Tom's Midnight Garden – the award-winning children's classic by Philippa Pearce.
When his brother catches the measles, Tom is sent to stay with his Aunt Gwen and Uncle Alan in their upstairs flat in a big house.
Tom isn't allowed out to play, in case he is infectious, but it wouldn't matter much anyway – the big house has no garden any more, having been sold for building land.
Tom is lonely and bored with little to do until one night he hears the grandfather clock in the hallway strike thirteen.
He creeps downstairs to investigate, throws open the back door, and where there used to be just a small yard he discovers a large and beautiful garden.
Clearly, something strange is happening; every time the clock strikes thirteen Tom is transported back in time to the secret garden where he befriends an unhappy Victorian orphan, Hatty, and they have a series of adventures. But just what is the secret behind the magical midnight garden?
Bring the whole family to this wonderful production @41Monkgate, March 13-21. 🎟️ Tickets and info
Tickets
Tickets also available in person from York Gin 12, Pavement, and York Theatre Royal Box Office, 01904 623568.
Sondheim 90: A Birthday Concert
Sunday 22 March 2020
John Cooper Studio Theatre, 41 Monkgate, York
Pick Me Up Theatre has produced a string of highly acclaimed productions of Stephen Sondheim's musicals – Into The Woods, Assassins, Sweeney Todd, Follies – so on the evening of the great man's 90th birthday we'll be paying tribute to him with a special concert of his songs.
​
More than 20 Pick Me Up performers will come together to perform a programme that covers his entire incredible career:
​
SONGS:
INTRODUCTION - The Frogs - ANDREW ISHERWOOD & ALAN PARK
THE TWO OF YOU - Kukla, Fran & Ollie - JENNIE WOGAN
TAKE ME TO THE WORLD - Evening Primrose - DARREN LUMBY & EMMA LOUISE DICKINSON
THEY ASK ME WHY I BELIEVE IN YOU - I Believe In You - DAVID RADFORD
EVERYBODY SAYS DON'T - Anyone Can Whistle - SUSANNAH BAINES
SATURDAY NIGHT - Saturday Night - ANDREW ROBERTS, ED ATKIN, FRANKIE BOUNDS, ANDREW ISHERWOOD & COMPANY
SO MANY PEOPLE - Saturday Night - NATALIE WALKER & ADAM PRICE
THE BEST THING THAT HAS HAPPENED - Road Show - SAM HIRD & ADAM PRICE
LOVE I HEAR - A Funny Thing Happened On To The Way To The Forum - FRANKIE BOUNDS
BRING ME MY BRIDE - A Funny Thing Happened On The Way To The Forum - MARK HIRD
RAIN ON THE ROOF - Follies - ANDREW ROBERTS & CATHERINE FOSTER
YOU COULD DRIVE A PERSON CRAZY - Company - ALEX MATHER, EMMA LOUISE DICKINSON & MAYA TETHER
GETTING MARRIED TODAY - Company - FLO POSKITT
AGONY - Into The Woods - DARREN LUMBY & SAM HIRD
MOVE ON - Sunday In The Park With George - EMMA LOUISE DICKINSON & ADAM PRICE
THE LADIES WHO LUNCH - Company - JULIET WATERS
GOODBYE FOR NOW - Reds - DARREN LUMBY
LIVE ALONE AND LIKE IT - Dick Tracy - DAVID RADFORD
MORE - Dick Tracy - MAYA TETHER
NOT A DAY GOES BY - Merrily We Roll Along - ALEX MATHER
FEAR NO MORE - The Frogs - SAM HIRD
CHILDREN WILL LISTEN - Into The Woods - SUSANNAH BAINES & COMPANY
OUR TIME - Merrily We Roll Along - FULL COMPANY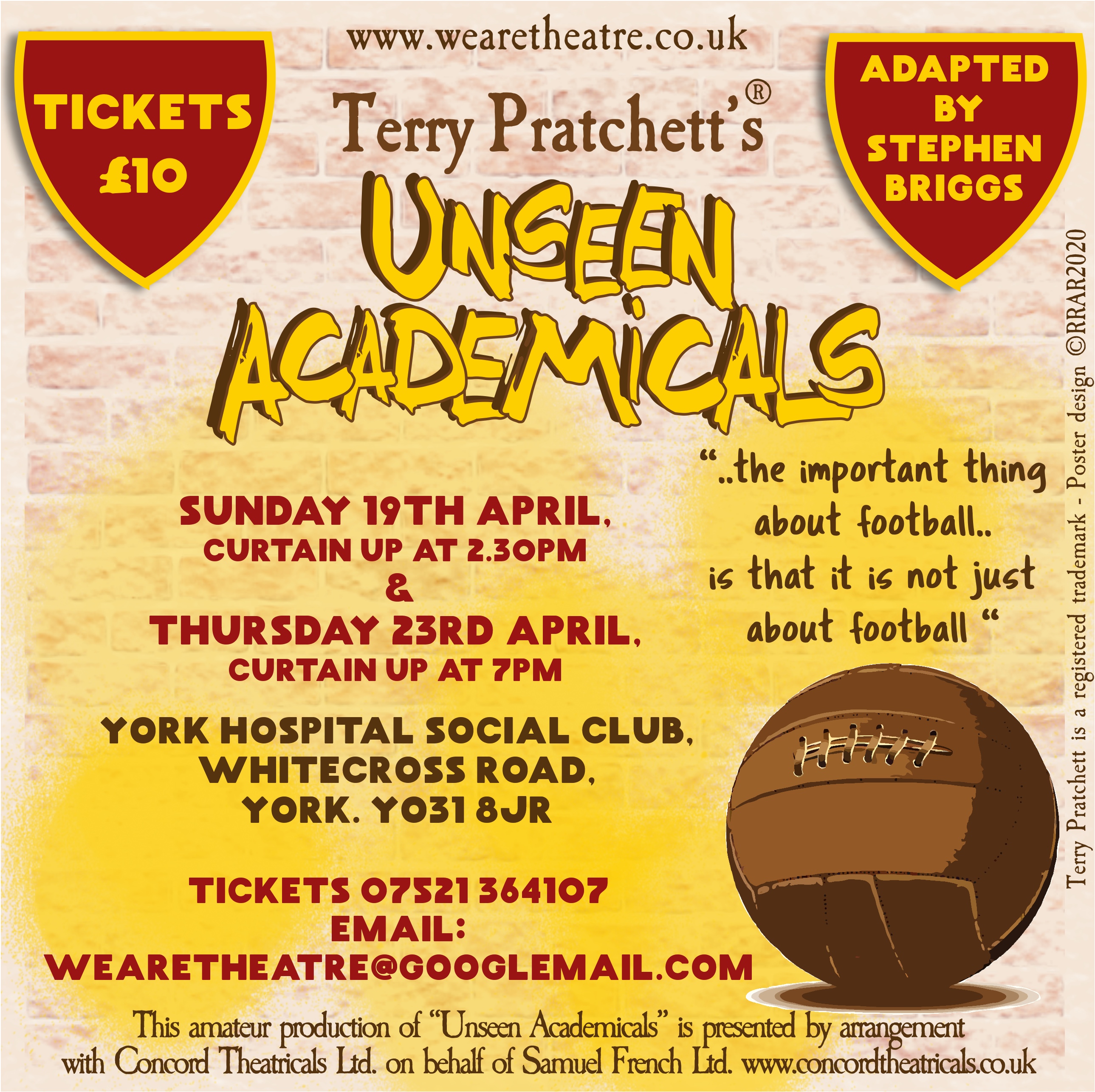 Unseen Academicals
Sunday 19 - Thursday 23 April 2020
Venue: York Hospital Social Club
Based on the Discworld Novel by Terry Pratchett and adapted by Stephen Briggs. "Football has come to the ancient city of Ankh-Morpork – not the old fashioned, grubby pushing and shoving, but the new, fast football with pointy hats for goalposts and balls that go gloing when you drop them. And now, the wizards of Unseen University must win a football match, without using magic, so they're in the mood for trying everything else.
The prospect of the Big Match draws in a likely lad with a wonderful talent for kicking a tin can, a maker of jolly good pies, a dim but beautiful young woman who might just turn out to be the greatest fashion model there has ever been, and the mysterious Mr Nutt. (No one knows anything much about Mr Nutt, not even Mr Nutt, which worries him, too.)
As the match approaches, four lives are entangled and changed for ever. Because the thing about football – the important thing about football – is that it is not just about football.
Here we go! Here we go! Here we go!"
Performances Sunday 19th April 2.30pm and Thursday 23rd April 7pm. All tickets 10.00
Booking via wearetheatre@googlemail.com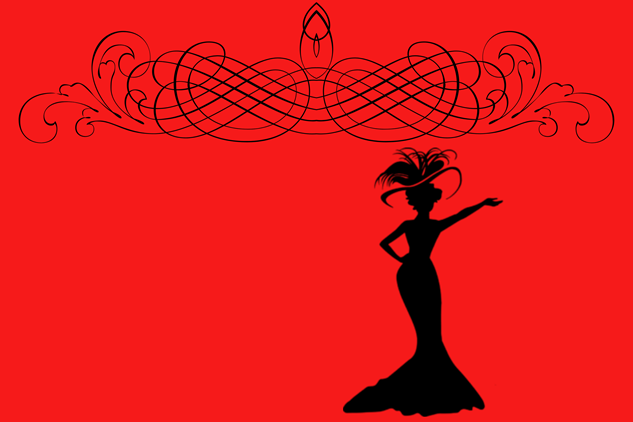 Hello, Dolly!
Wednesday 20 - Saturday 23 May 2020
The Joseph Rowntree Theatre
New York's glamorous and meddlesome match-maker, the irresistible Dolly Levi, is back, making the most significant match of her career! Bright, sassy and classy, Hello, Dolly! is dripping in glamour, money and extravagance and bursting with a fabulous Jerry Herman score, with songs including Put On Your Sunday Clothes, Before the Parade Passes By and the famous title song, Hello, Dolly. So put on your Sunday clothes and don't let this musical parade pass you by – the greatest show in town!
Tickets
Back To The 80s - Joseph Rowntree Theatre
Tuesday 16 - Wednesday 17 June 2020
Come back with us to the 80's and re-live some of the fabulous songs, including 'Nothing's Gonna Stop Us Now', 'Walking on Sunshine', 'The Time of My Life', and many more.
Performances on Tuesday 16th and Wednesday 17th June 7.30pm
Tickets from
josephrowntreetheatre.co.uk
The Jungle Book - Joseph Rowntree Theatre
Friday 19 - Saturday 20 June 2020
A new musical based on the stories by Rudyard Kipling. Come with us on an adventure to the Indian Jungle and meet lots of amazing characters including Baloo the Bear, Shere Khan the Tiger and of course, Mowgil, the child raised by wolves.
Performances on Friday 19th June 7.30pm and Saturday 20th June 2.30pm and 7.30pm
Tickets from
Tickets