Michael Lyons: Ancient And Modern
📅
25 May 2019 - 3 April 2020
York Art Gallery
Large scale sculpture by internationally acclaimed artist Michael Lyons will be displayed in a major new outside exhibition in York this spring.
Ancient and Modern will include nine sculptures inspired by nature, myth and ancient cultures. Based in nearby Cawood, this is Lyons' first major exhibition in York.
They will be displayed in the unique setting of York Art Gallery's Artists Garden, with the central space dominated by Amphitrite (1993), a large painted steel structure.
Becky Gee, curator of art at York Art Gallery, said: "Michael Lyons has shown his incredible work around the world and in some of the most respected art institutions here in the UK, but not on this scale in his home city before.
"His works will bring a new dimension to the setting of The Artists Garden, complementing and contrasting with the ancient walls of St Mary's Abbey and the more rustic landscapes of the Edible Wood.
"Amphitrite is one of Lyons' most ambitious creations and we hope it will excite and spark debate for those who come to see it as they explore this wonderful corner of the city centre."
Michael said: "'To my knowledge this is the first time such a large exhibition of outdoor sculpture has been shown in York – certainly for many years. It is a great pleasure to make a contribution to the cultural life of York in this way and I hope that the exhibition will help to make sculpture a more integral part of the city."
★ York Art Gallery -
Show on map
★
Photo of York Art Gallery
★
www.yorkartgallery.org.uk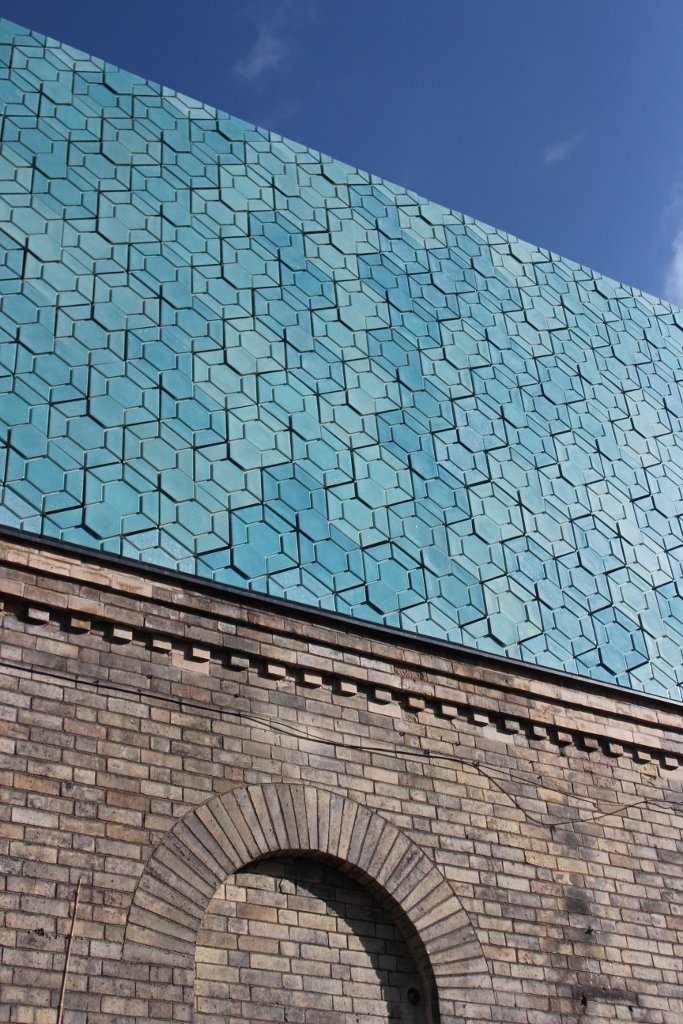 Sounds Like Her
📅
13 July - 15 September 2019
York Art Gallery
Woman artists from culturally diverse backgrounds explore sound as a subject and a medium in a ground-breaking exhibition at York Art Gallery this summer.
Curated by Christine Eyene, known for her enquiry into feminist art and her research on sound art from an African perspective – Sounds Like Her sets out to broaden exist-ing approaches to sound art and challenge the Eurocentric and patriarchal frameworks that have informed the discourse on sound art practice and continue to dominate the mainstream today.
The project brings together six women artists, each exploring sound as a medium or subject matter: Ain Bailey, Sonia Boyce OBE RA, Linda O'Keeffe, Christine Sun Kim, Madeleine Mbida and Magda Stawarska-Beavan.
Collectively the selected works represent sound in the broadest sense, exploring voice, noise, organic and synthetic sounds, rhythmic patterns, sonic structures and visual materialisation of sound. The result is a varied exhibition of mixed media bringing to-gether audio, immersive installation, painting, print, drawing and video.
The exhibition is on loan from New Art Exchange.

The Triumph Of Pan
📅
13 July - 22 September 2019
York Art Gallery
Nicolas Poussin's The Triumph of Pan, one of the National Gallery's most significant works, will be the centrepiece of a new exhibition at York Art Gallery this summer.
The work depicts a mythical celebration of nymphs and satyrs revelling before a statue of Pan, Greek god of the wild.
Works from York Art Gallery's collections will complement the painting, exploring the themes within the work and Poussin's significant influence on generations of other artists.
The Masterpiece Tour is part of the National Gallery's commitment to promote the understanding, knowledge, and appreciation of Old Master paintings to as wide an audience as possible. This opportunity is being made possible by the generous support of Christie's.
As well as York Art Gallery, the painting has been shown at the Victoria Art Gallery, Bath and after York will head to Auckland Castle, part of The Auckland Project, County Durham.

'How Curious Are The Evils Caused By Wine's Vapour
📅
Wednesday 18 September 2019
York Art Gallery
Nina Cahill, McCrindle Curatorial Fellow of Paintings 1600–1800 at the National Gallery, London will talk about Nicolas Poussin's exuberant Bacchanal that will be on display at York Art Gallery as part of the National Gallery Masterpiece Tour 2019. Today's viewers might be surprised to learn that this scene of drunken revelry was painted for a cardinal's palace.
The painting was commissioned by the French Minister of State, Cardinal Richelieu to form part of the Cabinet du Roi in his newly built Château Richelieu at Poitou. Together with its companion piece, The Triumph of Bacchus (The Nelson-Atkins Museum of Art, Kansas City), it was shipped from Poussin's studio in Rome to Paris in May 1636.
Nina will take a close look at the painting and the context of the commission and its reception in order to shed some light on this complex picture and its possible meanings.

Making A Masterpiece: Bouts And Beyond
📅
11 October 2019 - 26 January 2020
York Art Gallery
The imagination, science and sublime skill behind the creation of an iconic artwork will be the focus of the major new exhibition at York Art Gallery this autumn.
The exhibition takes its inspiration from a late fifteenth-century painting by the Dieric Bouts workshop, Saint Luke Drawing the Virgin and Child, on loan from the Bowes Museum. This vibrant painting thematises artistic creation as both divine inspiration and study of the world, and sparks three interconnected themes exploring how artists create images, ranging in time period from the northern Renaissance to the present day.
The displays – featuring significant loans from a wide range of national and regional collections, works drawn from York Art Gallery's own rich collection as well as new commissions – will consider how artists make images both materially and conceptually, and how they project ideas about their practices back out to the world.
Extending across the Gallery's three temporary exhibition spaces, this show will take the visitor on a journey through time, discovering the ways that artists design their artworks to affect viewers. The first section will include paintings, drawings and prints by influential past masters such as Dieric Bouts, Hans Memling and Lucas Van Leyden to illuminate artistic creation in Early Netherlandish art. Meanwhile, the second section takes the Saint Luke painting as an archetype for later representations of artists at work in the studio. It will feature works by more modern artists including Lawrence Alma-Tadema, Leonard Rosoman and Rosalba Carriera. Drawing liberally upon the Gallery's own collections, the third section examines artworks from the so-called 'Golden Age' of Dutch and Flemish art, and juxtaposes them with new works they have inspired by contemporary artist Christopher Cook.
The exhibition and accompanying programme are part of an innovative partnership with the Bowes Museum, Bristol Museum & Art Gallery and the National Gallery.
Queen Victoria's Marriage Proposal To Albert
📅
Tuesday 15 October 2019
Venue: York Art Gallery
Join Alison Welsh for a free 30 minute talk as we mark the 180th anniversary of Queen Victoria proposing marriage to Albert. Alison Welsh is Head of Fashion Research at Manchester Metropolitan University and is based within the Manchester Fashion Institute. She is a fashion designer and educator who additionally works with communities and museums, advocating fashion and textiles as instruments for social change.
Date: Tuesday 15th October, 12-12:30pm