Michael Lyons: Ancient And Modern
📅
25 May 2019 - 3 April 2020
York Art Gallery
Large scale sculpture by internationally acclaimed artist Michael Lyons will be displayed in a major new outside exhibition in York this spring.
Ancient and Modern will include nine sculptures inspired by nature, myth and ancient cultures. Based in nearby Cawood, this is Lyons' first major exhibition in York.
They will be displayed in the unique setting of York Art Gallery's Artists Garden, with the central space dominated by Amphitrite (1993), a large painted steel structure.
Becky Gee, curator of art at York Art Gallery, said: "Michael Lyons has shown his incredible work around the world and in some of the most respected art institutions here in the UK, but not on this scale in his home city before.
"His works will bring a new dimension to the setting of The Artists Garden, complementing and contrasting with the ancient walls of St Mary's Abbey and the more rustic landscapes of the Edible Wood.
"Amphitrite is one of Lyons' most ambitious creations and we hope it will excite and spark debate for those who come to see it as they explore this wonderful corner of the city centre."
Michael said: "'To my knowledge this is the first time such a large exhibition of outdoor sculpture has been shown in York – certainly for many years. It is a great pleasure to make a contribution to the cultural life of York in this way and I hope that the exhibition will help to make sculpture a more integral part of the city."
★ York Art Gallery -
Show on map
★
Photo of York Art Gallery
★
www.yorkartgallery.org.uk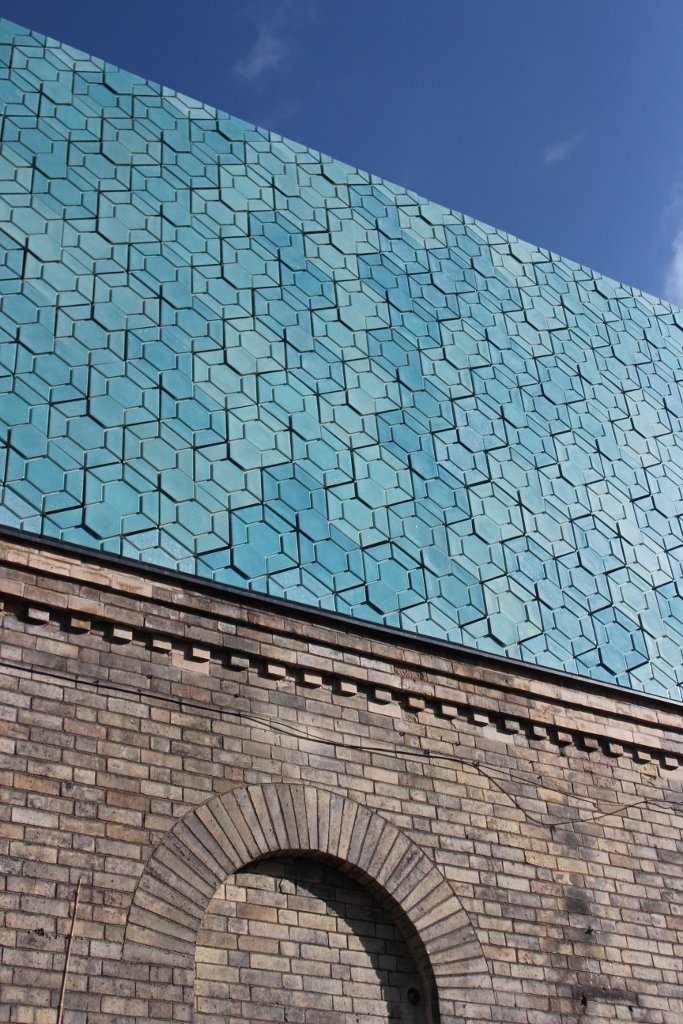 Making A Masterpiece: Bouts And Beyond
📅
11 October 2019 - 26 January 2020
York Art Gallery
The imagination, science and sublime skill behind the creation of an iconic artwork will be the focus of the major new exhibition at York Art Gallery this autumn.
The exhibition takes its inspiration from a late fifteenth-century painting by the Dieric Bouts workshop, Saint Luke Drawing the Virgin and Child, on loan from the Bowes Museum. This vibrant painting thematises artistic creation as both divine inspiration and study of the world, and sparks three interconnected themes exploring how artists create images, ranging in time period from the northern Renaissance to the present day.
The displays – featuring significant loans from a wide range of national and regional collections, works drawn from York Art Gallery's own rich collection as well as new commissions – will consider how artists make images both materially and conceptually, and how they project ideas about their practices back out to the world.
Extending across the Gallery's three temporary exhibition spaces, this show will take the visitor on a journey through time, discovering the ways that artists design their artworks to affect viewers. The first section will include paintings, drawings and prints by influential past masters such as Dieric Bouts, Hans Memling and Lucas Van Leyden to illuminate artistic creation in Early Netherlandish art. Meanwhile, the second section takes the Saint Luke painting as an archetype for later representations of artists at work in the studio. It will feature works by more modern artists including Lawrence Alma-Tadema, Leonard Rosoman and Rosalba Carriera. Drawing liberally upon the Gallery's own collections, the third section examines artworks from the so-called 'Golden Age' of Dutch and Flemish art, and juxtaposes them with new works they have inspired by contemporary artist Christopher Cook.
The exhibition and accompanying programme are part of an innovative partnership with the Bowes Museum, Bristol Museum & Art Gallery and the National Gallery.

Days Of Clay
📅
Saturday 23 - Sunday 24 November 2019
Join York Art Gallery, home to the most significant collection of British Studio Ceramics in the UK, for the annual Days of Clay, in collaboration with the York Ceramics Fair at the Hospitium in York Museum Gardens.
This year's event has been extended to a whole weekend of hands-on opportunities, workshops, talks and performance art.
On Saturday 23 November, renowned potter Susan Hall is in residence creating her beautiful clay rabbits. Work alongside Susan to create your own artwork to go on public display in the CoCA galleries.
On Sunday 24 November, discover more about working with clay alongside renowned artists and potters as we invite you to #RethinkCeramics.
DON'T MISS the 2019 Annual CoCA Lecture with Alison Britton OBE on 23 November 2019, 6 – 7pm. Alison Britton is a leading British potter with an international reputation. A significant figure among the generation of innovative British ceramicists that emerged during the 1970s, she is widely recognised for her work as a curator, writer and lecturer. In her lecture, Britton will reflect on being part of an emergence of a radical abstract expressionist style of ceramic work. Tickets can be purchased online for £10 per person.
Gillian Lowndes: At The Edge
📅
Saturday 23 November 2019
York Art Gallery
See the ground-breaking works of Gillian Lowndes (1936-2010), the most radical ceramicist of the twentieth century, in the new exhibition Gillian Lowndes: On the Edge, showcased in the Centre of Ceramic Arts (CoCA) at York Art Gallery.
From the 1970s onwards, artist Gillian Lowndes was at the forefront of a new style of contemporary ceramics which explored the materiality of clay. Her abstract expressionist way of working brought together a range of materials and found objects which she recycled to create new sculptural work she called collages. This exhibition showcases over 40 artworks drawn from CoCA's collection alongside loans from Anthony Shaw's – many of which have never been on public display. Accompanying the exhibition will be further displays featuring new acquisitions by artists including Kate Malone, Emmanuel Cooper and David Seeger.
www.yorkartgallery.org.uk
Grayson Perry: The Pre-Therapy Years
📅
12 June - 20 September 2020
York Art Gallery
A major new exhibition featuring the earliest works and "lost pots" off one of Britain's most well known artists is coming to York next summer.
Grayson Perry: The Pre-Therapy Years will be showcased from 12 June - 20 September 2020 at the Centre of Ceramic Art (CoCA).
The touring exhibition, developed by the Holburne Museum in Bath, is the first to celebrate Grayson Perry's earliest forays into the art world and will re-introduce the explosive and creative works he made between 1982 and 1994.
The remarkable 70 works included in the exhibition have been crowd-sourced following a national public appeal. These 'lost' pots will be on display together for the first time since they were made.
Dr Helen Walsh, curator of ceramics, said:
"We are delighted to be showcasing the ground-breaking early works of such a renowned and influential artist.
"It is fascinating to see how his craft has progressed and evolved since he began working as an artist. His early ceramic works show that the distinctive style, themes and characters have always been central in his decoration.
"To be able to bring these works together for public display, many of which are usually hidden away in private collections, is absolutely thrilling.
"We are very much looking forward to seeing Grayson Perry's ceramic works displayed in the beautiful Centre of Ceramic Art at York Art Gallery alongside our own collection of Britsih Studio Ceramics."
Grayson Perry: The Pre-Therapy Years
The exhibition will shine a light on Perry's experimentation and exploration of the potential of pottery to address radical issues and human stories. For art lovers, Grayson Perry: The Pre-Therapy Years represents a unique opportunity to enjoy the artist's clever, playful and politically-engaged perspective on the world through a number of pieces, many of which have not been seen in public since they were first exhibited. Often challenging and explicit, these works reveal the early development of Perry's distinctive voice that has established him as one of the most compelling commentators on contemporary society.
Explaining how the exhibition came together, its Curator Catrin Jones said: 'When we proposed the exhibition, Grayson responded really positively because, he said, "no one knows where those works are". So, we asked the public and were absolutely overwhelmed by the response. What followed was an extraordinary process of rediscovery as we were contacted by collectors, enthusiasts and friends, who collectively held over 150 of his early works. Our first task was processing photos of the wonderful pots, plates and drawings which arrived in our inbox, and asking all sorts of questions about the works and where they came from. We logged all the pottery marks and provenance information, as well as the wonderful stories of how their owner came to have a genuine Grayson Perry.'
Catrin and her team then sat down with Perry to look through the extraordinary and varied selection of artworks and it was during this process that Grayson remarked that seeing the works again was a powerful reminder of his "pre-therapy years."
The exhibition begins with Perry's early collaged sketchbooks, experimental films and sculptures, capturing his move into using ceramics as his primary medium. From his first plate, Kinky Sex (1983), to his early vases made in the mid-80s, Perry riffed on British vernacular traditions to create a language of his own. The themes of his later work - fetishism, gender, class, his home county of Essex, and the vagaries of the art world - appear in works of explosive energy. Although the majority of his output consisted of vases and plates, Perry's early experiments with form demonstrate the variety of shapes he produced: Toby jugs, perfume bottles, porringers, funeral urns and gargoyle heads.
Grayson Perry: The Pre-Therapy Years begins in 1982, when Perry was first working as an artist and then charts his progress to the mid-90s, when he became established in the mainstream London art scene. The exhibition provides a snapshot of a very British time and place, and reveals the transition of Grayson's style from playful riffs on historic art, such as old Staffordshire pottery, along with crowns (the mixed-media Crown of Penii, 1982) and thrones (Saint Diana, let them eat shit, 1984 – inspired by his fascination with Princess Diana) into a style that is patently his own: plates and vases rich with detail that tell tales of our times and experiences, such as 1989's Cocktail Party.
Much of the iconography of Perry's output has an angry, post-punk, deeply ironic leaning, combining cosy imagery with shocking sexual or political content.
Many of the works displayed in the Pre-Therapy Years tell a very personal story, particularly in the evolution of Claire, who first appeared in the early 80's inspired by such powerful women as television newsreaders and Princess Diana, rather than the exuberant child-like figure Perry created after her 'coming out' party in 2000.
Accompanying the remarkable rediscovery of Perry's artworks, The Holburne Museum will illustrate the exhibition with photos and snapshots of the era, again sharing hitherto unseen glimpses of Perry as he journeyed from angry, ironic young artist to one of British art's best-loved figures.
After completing his art degree at Portsmouth in 1982, Perry moved to London and lived in a Camden squat with Marilyn and the Welsh conceptual artist, Cerith Wyn Evans, collectively enjoying creative freedom while sharing limited resources. During these early years, Grayson encountered the Neo Naturists, a group of freewheeling performance artists, whose visual and creative approach would have a profound impact.
Grayson Perry notes, "This show has been such a joy to put together, I am really looking forward to seeing these early works again many of which I have not seen since the eighties. It is as near as I will ever get to meeting myself as a young man, an angrier, priapic me with huge energy but a much smaller wardrobe."