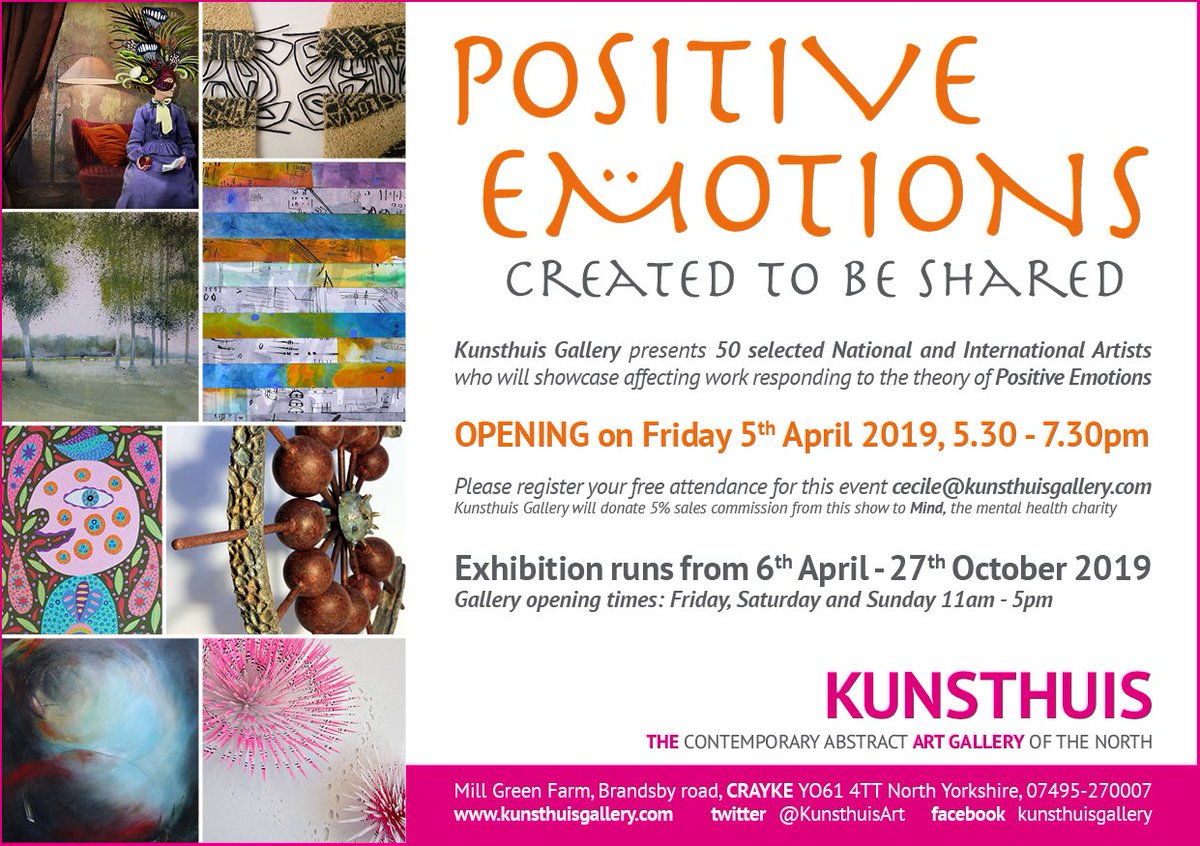 Kunsthuis Gallery - Positive Emotions
Friday 5 April - 27 October 2019
Kunsthuis Gallery presents 50 selected National and International Artists who will showcase affecting work responding to the theory of Positive Emotions. Kunsthuis Gallery will donate 5% sales commission from this show to York Mind, for better mental health (registered charity nr 1006759).
Kunsthuis Gallery is open: every Friday, Saturday and Sunday, 11am - 5pm
Mill green farm, Crayke, YO61 4TT, North Yorkshire
Located on the road between Crayke and Brandsby
kunsthuisgallery.com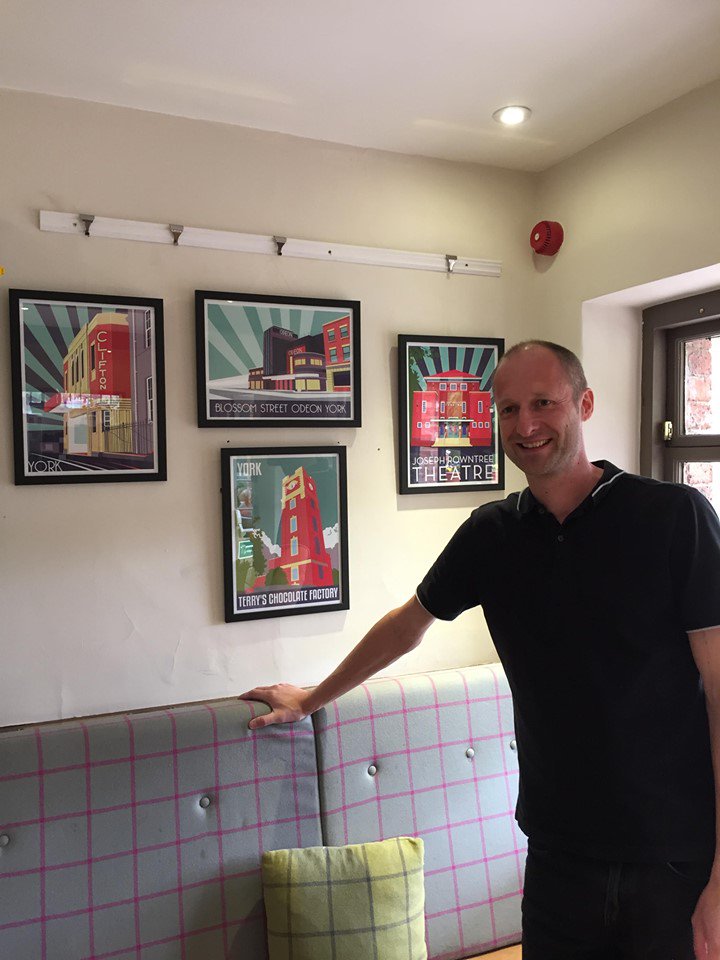 Art in the Park!
📅
17 May - July 2019
Rowntree Park Reading Cafe
Art in the Park! We now have the amazing work of Elliot Harrison on display at Rowntree Park Reading Café. Southbank resident and Friend of the Park, Elliot's illustrations show some of York's most iconic buildings and views.
Pop in a see Elliot's work soon!
★
eharrisonprints.etsy.com
★ Instagram
Elliot Harrison
If you are a Friend of the Park and want to find out more about displaying your art then contact us at info@rowntreepark.org.uk and we will send the application form.
Mike Leach Exhibition Of Abstract Paintings
📅
18 May - 21 July 2019
Pyramid Gallery, 43 Stonegate, York
York artist Mike Leach is a contemporary, abstract painter influenced by the textures, colours, shapes and decay found within the modern-urban landscape.
Mick works mainly with acrylics mixed with French chalk powder, applying paint with palette knives in order to gain the textured, layered effect that he finds so aesthetically pleasing. He then adds various colours and media to enhance the layers and textures in order to recreate the memory and feeling of the places that he finds most inspiring.
Pyramid Gallery, 43 Stonegate, York YO1 8AW
Samantha Somers Exhibition Art For Dance
📅
Saturday 18 - Sunday 26 May 2019
Pyramid Gallery, 43 Stonegate, York
Original artworks and limited edition prints of dancers rehearsing for The Northern Ballet's production of Jane Eyre & English National Ballet's Giselle.
Samantha's work involves continuous drawing to capture a pure line of motion, or working to 'clad the bone' with more presence and muscle. Whilst at the same time attempting to capture the energy of the motion and the artists reaction to it. Samantha has prioritised a style of painting and drawing which avoids being overly 'finished' or concerned with dressings and costume, so much as it is with the beautiful human form, sense of movement and the intellect in choreography.
Art for Dance will be one of four collections, created to raise support by donating a percentage to dance companies in a way that engages with the people who love dance.
Bootham Park Hospital Exhibition
📅
Monday 20 - Friday 31 May 2019
City Of York Council, West Offices, York, YO1 6GA
An exhibition to celebrate the history and achievements of Bootham Park Hospital, opened in 1777 and designed by John Carr.
Admire the architecture and interiors of the former hospital all captured by the images on display.
The exhibition is free to view from 10am daily at City of York Council, West Offices, York, YO1 6GA
Partners - A Contemporary Glass Exhibition
📅
29 May - 21 July 2019
Pyramid Gallery, 43 Stonegate, York
Partners - A Contemporary Glass Exhibition features some thirty pieces of work by Peter Layton, alongside some very special pieces by his team at London Glassblowing, who are Jochen Ott, Cathryn Shilling, Laura McKinley, Layne Rowe, Louis Thompson, Bruce Marks, Elliott Walker, Tim Rawlinson, Hanne Enemark and Anthony Scala.
This special exhibition marks 25 years since Terry Brett took over Pyramid Gallery in Stonegate. His very first sale was a beautiful white glass flask made by Peter Layton and sold to a German collector. Terry's passion for this art form was born on that day and since then Pyramid has continuously shown the work of Peter Layton and artists at London Glassblowing.
Pyramid is known to London Glassblowing as a 'Partner' gallery, a status that Terry regards as a privilege and denotes a special bond with the UK's premier studio for glass artists. This exhibition is called 'Partners' to celebrate a remarkable relationship traversing 25 years.
York Art Society Exhibition
📅
29 May - 1 June 2019
Central Methodist Church, St Saviorgate York YO18NQ
Exhibition of original paintings, prints, and cards for display and sale see flyer. free admission.
Giuliana Lazzeriini Solo Exhibition
📅
8 June - 27 July 2019
Blue Tree Gallery, 23 Bootham, York, YO30 7BW
"Giuliana Lazzerini Solo Exhibition" at the blue tree gallery in York.
Saturday 8th June till 27th July 2019. Original new paintings and original limited edition linocuts by Giuliana Lazzerini.
A warm welcome to our new exhibition which is by our artist in residence, Giuliana Lazzerini.
"I will be exhibiting a wonderful range of new paintings, full of colour, expression and vitality on the themes of Yorkshire and Tuscany. Also a range of new original limited edition linocuts. An exhibition I hope you will enjoy this summer here in York."
23 Bootham, York. YO30 7BW
bluetreegallery.co.uk
Wild About Stoats & Weasels: An Artist's Perspective
📅
15 June - 7 July 2019
The Robert Fuller Gallery Ltd
Find out all about the secret lives of stoats and weasels at this fascinating wildlife art exhibition. A comprehensive collection of fine art paintings, photographs and short films, this event challenges everything you thought you knew about Britain's most secretive mammals.
Artist Robert E Fuller, whose intense stoat studies are due to feature on TV in a new BBC Natural World Series, devoted five years to following the daily lives of wild weasels and stoats in his Yorkshire garden.
His new paintings feature weasel kits tumbling in play and stoat mothers gently tending to their young. Displayed alongside photographs and rare footage filmed inside their nests, the event defies common misconceptions about these little understood mammals.
Small, swift and deeply secretive, stoats and weasels have a reputation for cunning brutality. But until now, no one has actually studied their behaviour in any detail.
Robert Fuller deployed more than 60 surveillance cameras in his garden, getting to know six generations of the same stoat family. His discoveries reveal the extent of their tenacity as hunters whilst at the same time uncovering the cuddlier side to these remarkable mammals.
The exhibition includes live cameras offering visitors a direct view of weasels and stoats as they clamber over dry stone walls and disappear into their underground nests.
There will also be screens displaying the best of Robert's footage; including films of stoats swimming with the competence of mini-otters in tiny ponds!
Storyboards detailing the story behind this fascinating research project and introducing visitors to the individual stoat and weasel characters will also be on display.
Please go to our blog at the address below to find out more details:
robertefuller.com
The Flourish Of Liberty
📅
16 June - 31 August 2019
Shandy Hall Gallery, Coxwold, York YO61 4AD
A new exhibition at Shandy Hall, 'The Flourish of Liberty', opens on 16 June.
The exhibition features the work of 102 internationally acclaimed and award-winning artists, writers and composers including Lemony Snicket, Steven Isserlis, Nancy Campbell, Glen Baxter, Maura Dooley, Norman Akroyd, Martin Rowson and Alison Turnbull.
Shandy Hall, Coxwold, in the North York Moors is the former home of Laurence Sterne, whose masterpiece The Life and Opinions of Tristram Shandy was written there in the 18th century.
All the artworks will be auctioned during the period of the exhibition, though the works will be exhibited anonymously – leaving the viewer to guess which artist produced which work.
All artworks will be available to view online, and bids will be taken until the online auction ends on 30 September.
'The Flourish of Liberty' runs 16 June - 31 August at Shandy Hall, Coxwold.
Open 11am - 4.30pm every day except Saturday. Entry to the exhibition is free. Gardens (every day except Saturday): £3. House (Wednesday and Sunday, by tour only, 2.45 and 3.45): £5.
Van Gogh: The Immersive Experience
📅
5 July 2019 - 5 January 2020
York St Mary's, Castlegate YO1 9RN
The multimedia experience tells Van Gogh's life and his creations through projections, recreations and interactive elements of his artworks around the historic exhibition space. Over 200 of his works are featured, but rather than remaining static, the huge projections of paintings come alive with digital animation and an emotive soundtrack, to create a world where the visitor sees through the eyes of Vincent Van Gogh for a 35 minute, fully immersive 360 degree experience.
York St Mary's is located in Castlegate, with easy access from the Coppergate Centre, adjacent to JORVIK Viking Centre.
🎟️ For more information, tickets visit
vangoghexpo.co.uk