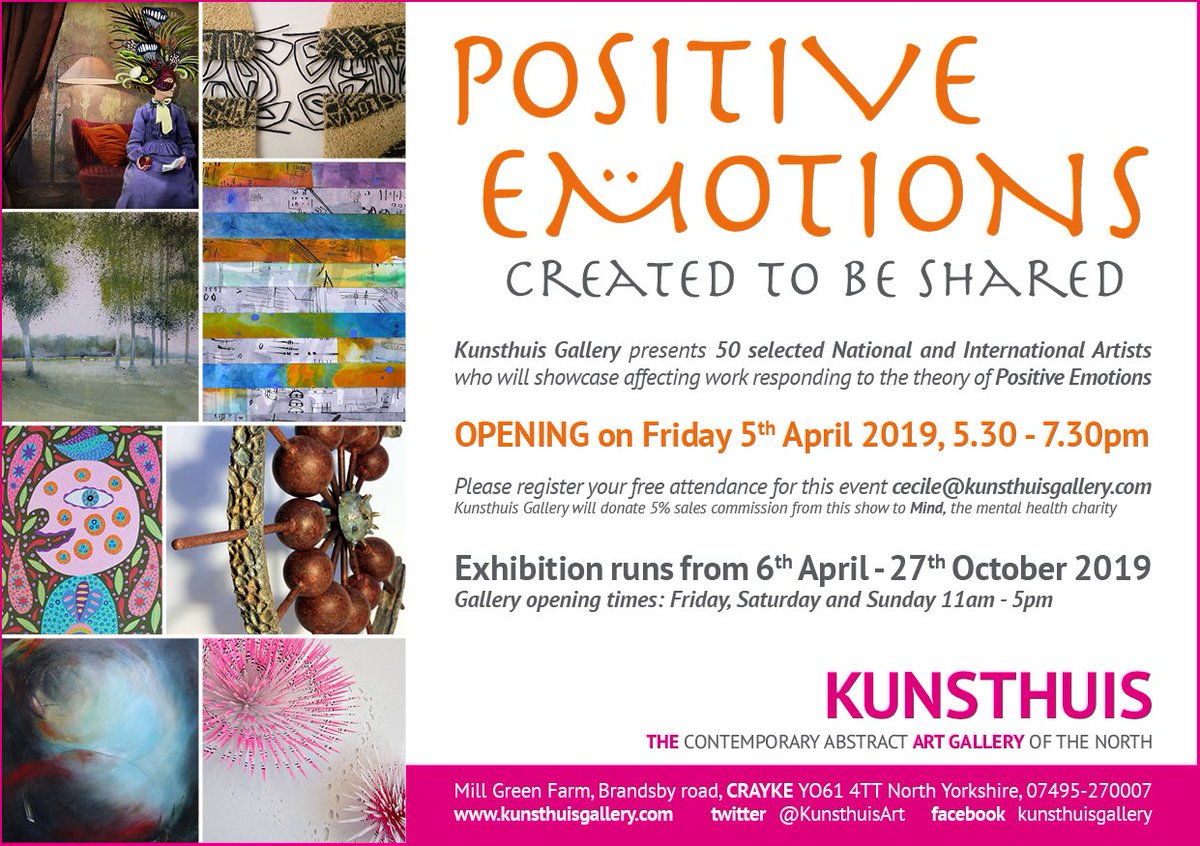 Kunsthuis Gallery - Positive Emotions
Friday 5 April - 27 October 2019
Kunsthuis Gallery presents 50 selected National and International Artists who will showcase affecting work responding to the theory of Positive Emotions. Kunsthuis Gallery will donate 5% sales commission from this show to York Mind, for better mental health (registered charity nr 1006759).
Kunsthuis Gallery is open: every Friday, Saturday and Sunday, 11am - 5pm
Mill green farm, Crayke, YO61 4TT, North Yorkshire
Located on the road between Crayke and Brandsby
kunsthuisgallery.com
The Flourish Of Liberty
📅
16 June - 31 August 2019
Shandy Hall Gallery, Coxwold, York YO61 4AD
A new exhibition at Shandy Hall, 'The Flourish of Liberty'
The exhibition features the work of 102 internationally acclaimed and award-winning artists, writers and composers including Lemony Snicket, Steven Isserlis, Nancy Campbell, Glen Baxter, Maura Dooley, Norman Akroyd, Martin Rowson and Alison Turnbull.
Shandy Hall, Coxwold, in the North York Moors is the former home of Laurence Sterne, whose masterpiece The Life and Opinions of Tristram Shandy was written there in the 18th century.
All the artworks will be auctioned during the period of the exhibition, though the works will be exhibited anonymously – leaving the viewer to guess which artist produced which work.
All artworks will be available to view online, and bids will be taken until the online auction ends at 17:00 GMT on Monday 9 September.
Open 11am - 4.30pm every day except Saturday. Entry to the exhibition is free. Gardens (every day except Saturday): £3. House (Wednesday and Sunday, by tour only, 2.45 and 3.45): £5.
Van Gogh: The Immersive Experience
📅
5 July 2019 - 5 January 2020
York St Mary's, Castlegate YO1 9RN
The multimedia experience tells Van Gogh's life and his creations through projections, recreations and interactive elements of his artworks around the historic exhibition space. Over 200 of his works are featured, but rather than remaining static, the huge projections of paintings come alive with digital animation and an emotive soundtrack, to create a world where the visitor sees through the eyes of Vincent Van Gogh for a 35 minute, fully immersive 360 degree experience.
York St Mary's is located in Castlegate, with easy access from the Coppergate Centre, adjacent to JORVIK Viking Centre.
🎟️ For more information, tickets visit
vangoghexpo.co.uk
THE YORKSHIRE SUMMER SHOW
Exhibition showcasing Yorkshire artists
27 July - 2 September 2019
Please join us at the exhibition opening and meet some of the artists whilst enjoying a glass of wine or soft drink.
What better way to continue 'Terry's 25th Year at Pyramid' celebrations, than to showcase the exceptional talent that we have right here on our doorstep. All featured artists are based in Yorkshire and include, ceramics by Katie Braida, Ben Arnup, Ilona Sulikova, Chiu-i Wu, Loretta Braganza, Harriett McKenzie, glass by Rachel Welford, felt work by Lindsey Tyson, paintings by Don Lodge, Pamela Knight and Steve Huison and mixed media wall art by Linda Combi, Judy Burnett, Reini Schühle, Brian Lewis, Jo Walton, and Lynne Roebuck.
There will also be etchings and paintings by Piers Browne as part of a Tree promotion involving the York community organisation 'Treemendous' who have sponsored a children's art activity.
Pyramid Gallery, 43 Stonegate, York YO1 8AW
Landmarks Art Exhibition
📅
7 August - 14 September 2019
Blue Tree Gallery, 23 Bootham, York, YO30 7BW
Introducing our new exhibition 'Landmarks' running from Saturday the 3rd of August to the 14th of September! Original, exclusive new paintings from artists' Judith Appleby, Stephen Heward and Peter Park! All three artists have given us a strong, bold and dynamic view of the north.
23 Bootham, York. YO30 7BW
bluetreegallery.co.uk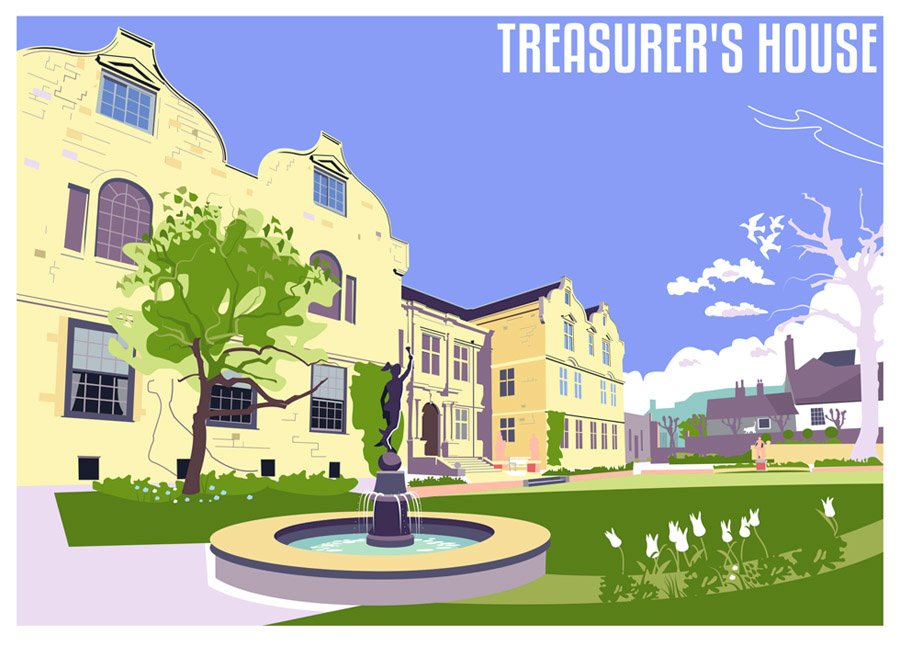 Exhibition: York Artist Elliot Harrison
19 August - 30 September 2019
The Winning Post pub, Bishopthorpe Rd
Illustrations of York's iconic buildings and views. Posters and prints using vibrant colours. Located in the dining area of the pub.
★ Instagram
Elliot Harrison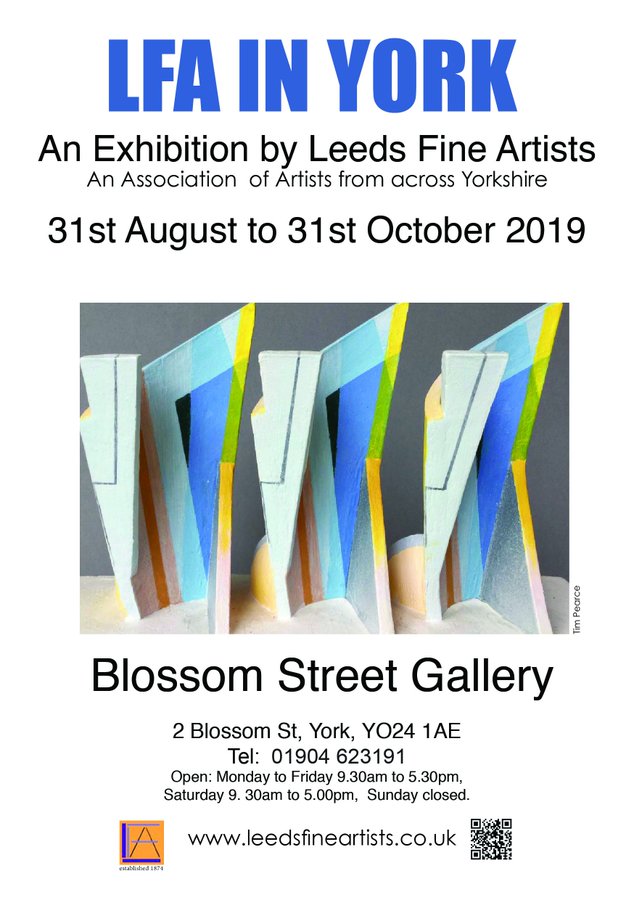 An Exhibition By Leeds Fine Arts
📅
31 August - 31 October 2019
Blossom Street Gallery, York
An Association of artists from across Yorkshire.
Blossom Street Gallery
2 Blossom Street, York YO24 1AE
www.blossomstreet.co.uk/
York Printmakers Autumn Print Fair
21 & 22 September 2019
10am-5pm FREE ENTRY
York Printmakers are a diverse group of local printmakers sharing a passion for original print. Members use a variety of printmaking techniques, including lino and wood cuts, collagraphs, screen printing and etching. We produce original limited edition prints, covering
a wide range of subject matter, the style varying from illustrative to abstract. This is our 3rd Print Fair in York; we are excited to share our recent work and look forward to welcoming
you at the cemetery this autumn.
www.yorkprintmakers.org.uk