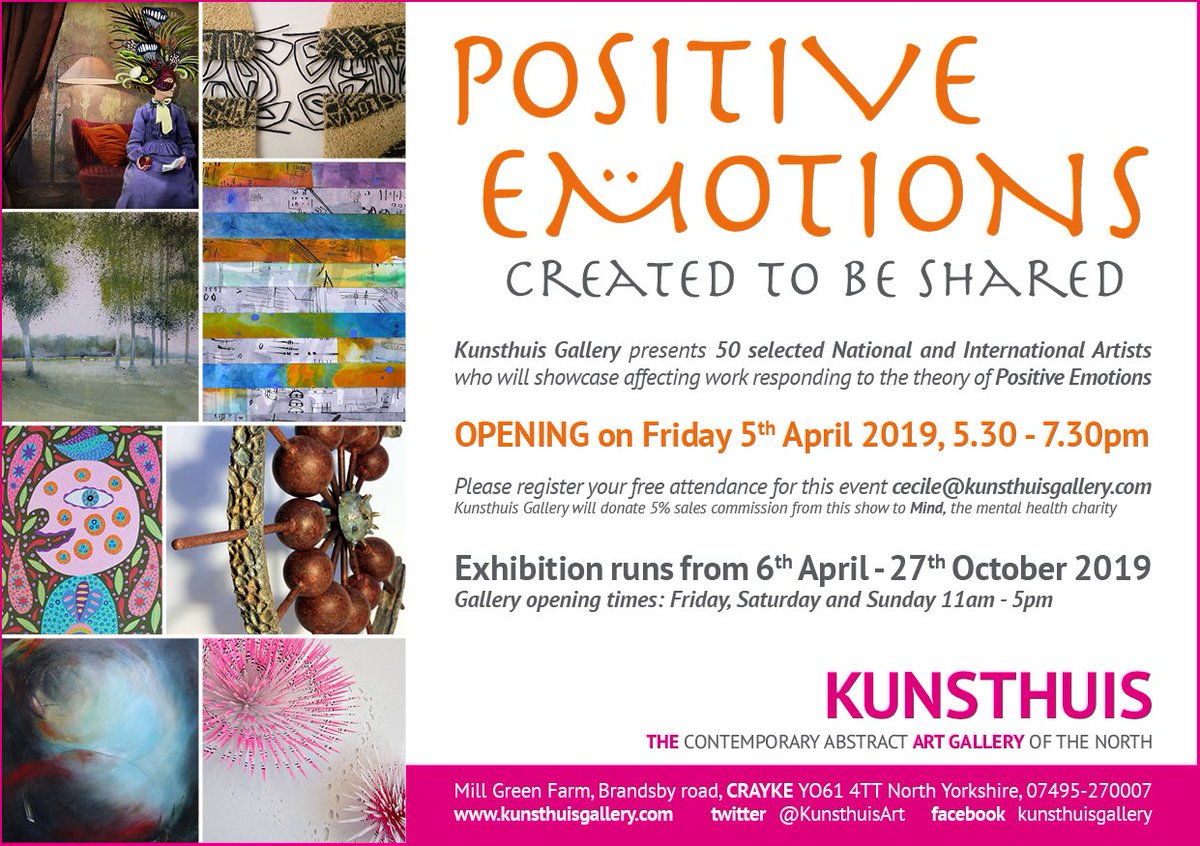 Kunsthuis Gallery - Positive Emotions
Friday 5 April - 27 October 2019
Kunsthuis Gallery presents 50 selected National and International Artists who will showcase affecting work responding to the theory of Positive Emotions. Kunsthuis Gallery will donate 5% sales commission from this show to York Mind, for better mental health (registered charity nr 1006759).
Kunsthuis Gallery is open: every Friday, Saturday and Sunday, 11am - 5pm
Mill green farm, Crayke, YO61 4TT, North Yorkshire
Located on the road between Crayke and Brandsby
kunsthuisgallery.com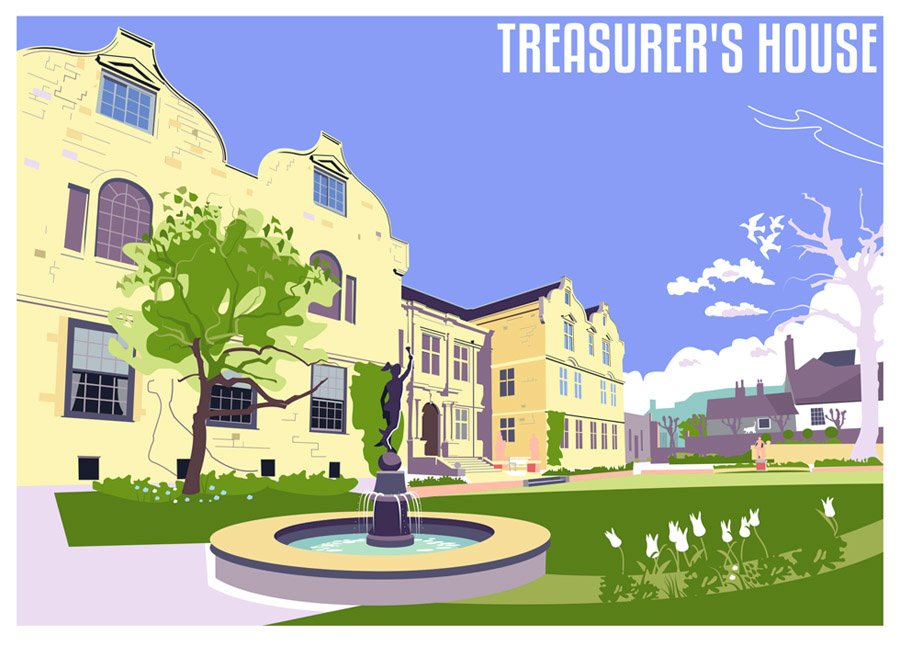 Exhibition: York Artist Elliot Harrison
The Winning Post pub, Bishopthorpe Rd
Illustrations of York's iconic buildings and views. Posters and prints using vibrant colours. Located in the dining area of the pub.
★ Instagram
Elliot Harrison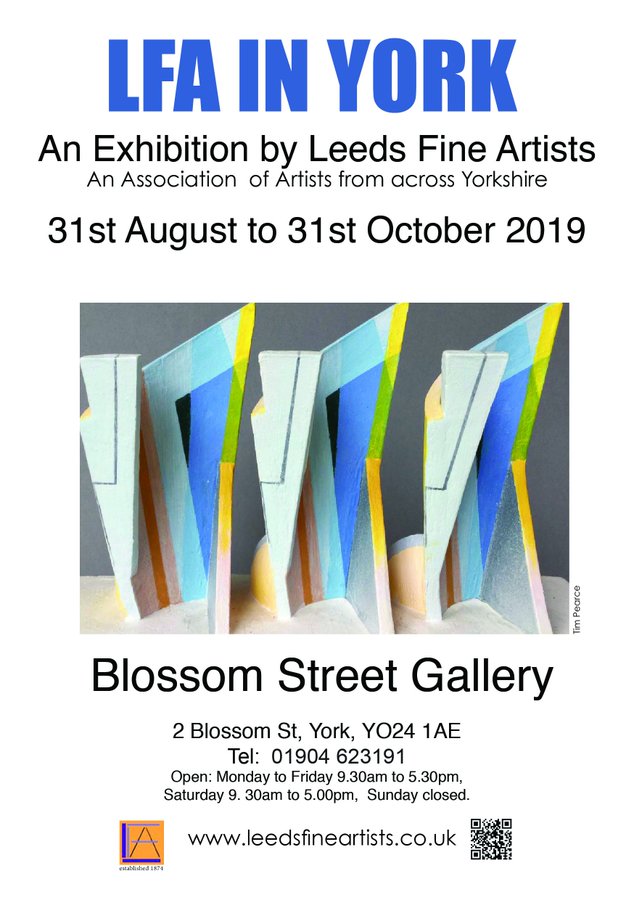 An Exhibition By Leeds Fine Arts
📅
31 August - 31 October 2019
Blossom Street Gallery, York
An Association of artists from across Yorkshire.
Blossom Street Gallery
2 Blossom Street, York YO24 1AE
www.blossomstreet.co.uk
Natural Treasures: The Best Of British Wildlife
📅
9 November - 1 December 2019
The Robert Fuller Gallery
See paintings, photographs and short films of stags, owls, foxes and more at this exquisite art and photography exhibition celebrating the very best of British wildlife.
Artist Robert E Fuller is one of Britain's foremost wildlife. He uses fine brushstrokes to create exquisite, detailed works of art that extol the beauty of commonplace creatures like owls, foxes, hares, kestrels, stoats and squirrels.
"People travel abroad to watch wildlife and yet we have stunning animals right here in Britain,"
says Robert.
"This exhibition celebrates the very best of our wildlife. I hope by giving my favourite wild creatures a place in the spotlight this will encourage people to treasure it."
It includes a startlingly lifelike collection of paintings and limited edition prints of wildlife watched across the UK.
There are renditions of red stags spotted in Scotland, buzzards seen in Wales, and kestrels, stoats and owls observed in the artist's own garden in Thixendale.
"People travel abroad to watch wildlife and yet we have stunning animals right here in Britain," says Robert.
"This exhibition celebrates the very best of these natural treasures."
Robert, who paints mainly in oils and acrylics, goes to extraordinary lengths to study animals in their natural habitat in order to capture the essence of his wildlife characters.
Among the animals featured in his new collection is a red squirrel scampering across a tree branch, a badger cubs tumbling along beside their mother, and a robin perched amidst glistening hawthorn berries.
Wildlife Film & Photography
The event inlcudes Robert's exceptional photographic and film studies. Robert has twice won recognition in the British Wildlife Photography Awards and his wildlife films have earned him more than 26k subscribers on his YouTube channel.
Live Nest Cameras
The event includes live video feeds from cameras hidden throughout his garden offering visitors the opportunity to glimpse owls, kestrels, weasels and stoats as they go about their secret lives.
These live streams, which in winter time reveal nail-biting territorial battles between owls and kestrels, offer an experience akin to being on the set of Springwatch.
Wildlife Stories
Storyboards detailing Robert's research into animal behaviour are also part of the display. They tell the story of how the artist gets up close to creatures in the wild and the behaviour that he observes. Many of these tales are also shared on his blog, which to date has more than 65k readers.
Choose your own natural treasure
Visitors to the event will be encouraged to choose their favourite wild creature from Robert's artworks. The best of a shortlist of 25 will be 'Crowned for Christmas' and remain on show until Christmas Day.
Open studio
Robert's studio will be open throughout the exhibition so that visitors can see how translates his photographs and video into stunning artwork. He will also be on hand to talk about his work and some lucky visitors may even get to watch him at work.
About the artist
Known for the depth of study that goes in to his highly detailed paintings, Robert Fuller is also widely recognised in scientific circles for his ground-breaking discoveries on animal behaviour.
He regularly appears on TV , including BBC Springwatch and BBC Countryfile, to talk about his research and is due to feature in a new BBC documentary by BBC Natural World all about his studies into the behaviour of stoats.
A regular contributor to newspapers and magazines, his latest studies of stoats featured in BBC Wildlife Magazine and BBC Countryfile Magazine.
Refreshments: Enjoy a complimentary cup of coffee or a glass of spiced mulled wine as you browse!
Gift Shop: Take the opportunity to do a spot of Christmas shopping whilst you visit. Robert's original paintings, limited edition prints and bronze sculpture are all available to buy. There is also a wide range of luxury gifts and greeting cards featuring his most popular prints.
About the venue
The Robert Fuller Gallery ranks top of a TripAdvisor guide to the 10 best art galleries in Yorkshire. Located in elegantly restored farm buildings on the outskirts of the traditional village of Thixendale on the Yorkshire Wolds.
The exhibition is free to visit and the venue is wheelchair accessible and has accessible facilities.
robertefuller.com
Edward Hersey & Gordon Lees Exhibition 2019
📅
15 November - 15 December 2019
York Fine Arts, 83 Low Petergate, York, YO1 7HY
York Fine Arts is delighted to announce its eagerly anticipated annual Edward Hersey and Gordon Lees exhibition. Bringing together an exclusive collection of original paintings and signed limited edition prints from two of the gallery's most popular and recognised landscape artists, the exhibition celebrates a body of work that captures and preserves the classic charm of the country's most beloved towns and landscapes. From Edward Hersey's tranquil, idyllic farmhouses to Gordon Lees' softly lit village scenes, each piece gracefully explores the memory and emotions so tightly bound to Britain's traditional way of life.
Renowned for his distinct style and attention to the details of the British countryside, Edward Hersey has forged a loyal international following. Painting a fine line between realist and idealist, Hersey's work reflects the rustic beauty of pastoral life with simultaneous subtlety and finesse. His application of mood and lighting has made him one of the most highly sought after traditional painters of his generation.
Nostalgically capturing the beauty of British landscapes and towns, Gordon Lees is an established international investment favourite. His romantic style enables him to capture the idyllic atmosphere of Britain's towns and villages, and to reflect the traditional values of a rural England now so sadly missed. It is believed that Gordon's work was the inspiration for the trademark village scenes of Thomas Kinkade, one of America's most prolific artists, who recognised Gordon as 'The Original Master of Light'. Following Kinkade's passing in 2012, Gordon Lees' work has shown a surge in transatlantic sales.
An exciting opportunity for enthusiastic collectors and first-time buyers alike, the exhibition features a variety of paintings to suit a range of budgets and tastes. Paintings in the exhibition are available to purchase and range from £440 to £24,885, including the magnificent, specially commissioned 'Riverside Farm' by Edward Hersey. A selection of signed limited edition prints by both artists is also available from £88.
The exhibition opens on Friday, 15 November and runs until Sunday, 15 December 2019. Due to expected high volume of interest, an early viewing is recommended.
Inspired Annual Christmas Show
📅
Saturday 23 - Sunday 24 November 2019
York Cemetery Chapel Cemetery Road York YO10 5AJ
Ten York artists and designers invite you to their annual Christmas selling exhibition in the beautiful space of York Cemetery Chapel.
Over two days, there will be a fabulous mix of furniture, jewellery, pottery, printmaking, painting and textiles for sale. Wonderful gifts for your friends, yourself and your home. Come and meet the artists, and shop local and Independent this Christmas!
York's Etsy Made Local Christmas Fair
Saturday 30th November & Sunday 1st of December 2019
St Sampson's Church, Church Street, York
10 am to 5pm both days. Our venue is St Sampson's Church on Church Street, near the Shambles Market and St Sampson's Square.
More than 30 local creative businesses will be appearing at York's Etsy Made Local Christmas Market.
Etsy Made Local will see some of the region's finest designers, makers, crafters and artists converge on York city centre to sell their unique wares. At the event – which is free and open to the public – shoppers will be able to browse a wide range of handcrafted, vintage and locally-made items and craft supplies. From handmade chocolates to quirky ceramics, bespoke art work and illustrations to practical and beautiful textile pieces, or eye-catching fashion accessories to stylish handmade baby apparel, there's something for everyone at York's Etsy Made Local Christmas Market.
With so much on offer, shoppers are sure to find festive gifts to suit all ages, for even the hardest-to-buy-for – or perhaps just some lovely treats for themselves. What's more, they can discover items they wouldn't usually find on the high street, while also supporting small independent businesses based in York.