St Leonard's Challenge Walk
Saturday 7 May 2022
Join us on a 20 mile walk set in stunning Bronte Country in the South Pennines. Now in its 32nd year, the event has raised vital funds for St Leonard's Hospice, including our Hospice@Home service which cares for patients in their own homes, often in rural settings similar to the route of this established walk.
The route: You will mainly follow bridleways around the Haworth area, including sections of the Pennine Way. The beautiful countryside varies from woodland to open moorland, and passes some fine examples of industrial architecture. Please note this is a Challenge Walk and you need to have experience of walking in excess of 10 miles across varied terrain. You will also need an Ordnance Survey Map of the area to use on the day.
Please see below the link to get booked onto this great challenge, or call us on 01904 777 777.
stleonardshospice.org.uk
St Leonard's Hospice Plant Sale
Sunday 22 May 2022
St Leonard's Hospice, 185 Tadcaster Road, YO24 1GL
Come along to the Plant Sale 11am until 2pm, pick up a bedding plant, perennial, fruit or veg! Enjoy plant shopping to the music of Kenny Trombone and relax with a cuppa and cake, all in support of St Leonard's Hospice.
Limited parking is available on site.
St Leonard's Jubilee Walk
Sat 18 June 2022
7:30PM
Get your crowns, corgis, tiaras and tutus at the ready to celebrate this very special royal year with our Jubilee Walk.
We want to turn the streets of York red, white and blue so wave your union jack flags, and don't forget your glow sticks, as we join Ben Fry from York Mix and 'Sir' Thomas Clubbercise for a right royal knees up!
The walk is approximately 7 miles and is open to everyone. Gather your little princes and princesses, or royal work pals, for a night to remember. Your support and sponsorship will be the jewel in the crown, ensuring St Leonard's can continue to provide excellent care and support to local patients and families who need us.
Enter Here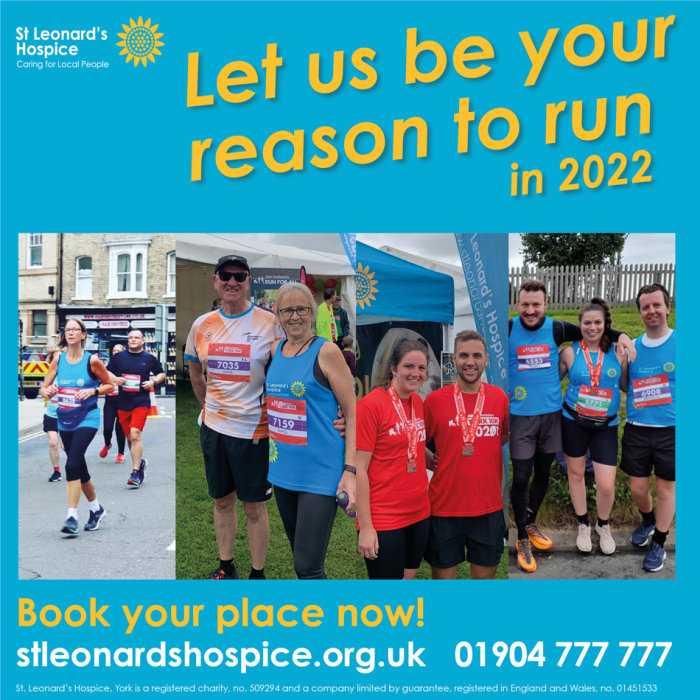 York 10K For St Leonard's Hospice
Sunday 7 August 2022
York Knavesmire
Join team St Leonard's and run the 10k around the lovely city of York. Places are available to purchase through the Hospice.
Venue York Racecourse, starting at 9.30am
Contact Sarah Atkinson on 01904 777777 or email sarah.atkinson@stleonardshospice.nhs.uk for further details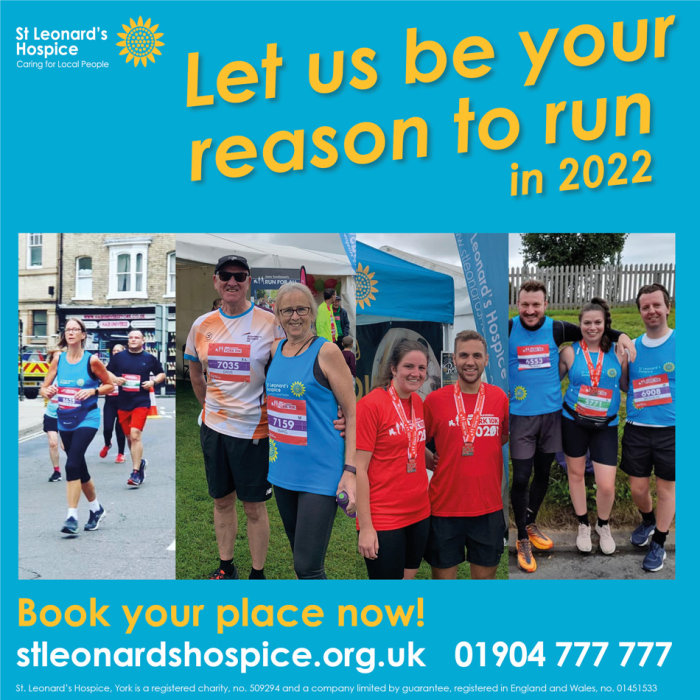 Yorkshire Marathon For St Leonard's Hospice
Sunday 16 October 2022
York University
The Yorkshire Marathon is classed as the jewel in Yorkshire's sporting crown. This iconic race, taking you past some of York's historical landmarks and through its stunning countryside (see route map below), is suitable for runners of all abilities - whether you are a first timer just wanting to cross the finish line or a seasoned runner attempting a personal best.
The atmosphere is truly amazing as your are cheered on throughout by locals, including our St Leonard's team of supporters. Call 01904 777777 or email sarah.atkinson@stleonardshospice.nhs.uk for further details.