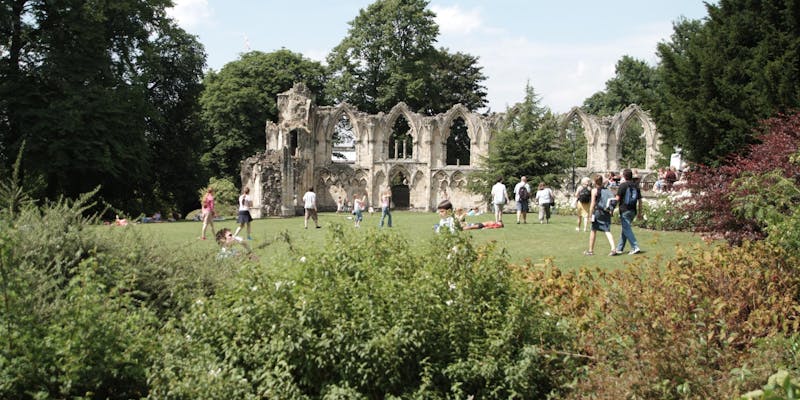 The Story Of York's Museum Gardens
📅
Thursday 27 June 2019
Venue: York Mansion House
What other city has, at its heart, anything to compare with York's Museum Gardens?
The Gardens, and the Yorkshire Museum, were created nearly two centuries ago by the Yorkshire Philosophical Society, with the history of the land is pieced together by the surviving remains. St Mary's Abbey and the Multangular Tower, as well as Romans, Northumbrian Earls, Benedictine monks, Henry VIII, and the Civil War, all left their mark on the land that became the Gardens.
Join Peter Hogarth for this fascinating talk, as he explores the history of the Museum Gardens through the eyes of the Yorkshire Philosophical Society, and those who have cared for the garden; drawing on their archives to show how the gardens were planned, and reveal hidden stories and personal memories.
A glass of prosecco is included with your ticket, priced at £6,
DOORS OPEN 6.15PM FOR 6.30PM START.
About Peter Hogarth
Peter Hogarth joined the new University of York in 1965 and has been there ever since, until retirement about five years ago as senior lecturer in the Biology Department. Since then, he has held an honorary position in the University, and is much involved in Yorkshire Philosophical Society. Hogarth has recently co-authored a book on history of the Museum Gardens, published by the Society.
🎟️
Tickets
York Mansion House Ghost Hunt
📅
Saturday 13 July 2019
York Mansion House, St.Helens Square, York YO1 9QL
8.30pm to 1.30am
Tickets £35.00 (includes a small booking fee)
Come with us for the first ever ghost hunt of York Mansion House which set in the centre of this very historical and one of the most haunted cities in the United Kingdom. The event will begin from 8.30pm but we meet up from 7. 45pm on the night.
You may have the chance to look around the building prior to the event and experience a number of the now famous ghost stories.
As our guests at the York House you will be located into smaller teams and after a brief discussion and security brief, we will start our vigils in the haunted parts of the York Mansion House.
You are welcome to bring your own ghost hunting equipment, snacks, food and treats but we do have central area to make hot and cold drinks which we provide.
On our events we do use mediums and sensitives on evening but if you feel you are able to connect and talk with spirits, please do mention this to the team. We welcome your information to develop a picture of the building and past residents and users.
Event Information
Ghost Hunting Vigils
Paranormal Equipment as well as Dowsing / Table Tipping
Psychics & Mediums on All Events
🎟️
Tickets