T'ai Chi For All
9 February - 29 March 2020
York Mansion House
As the winter sun comes streaming into the glorious State Room, we invite every body to come and experience the 'moving meditation' of T'ai Chi.
Open to all ages, and no experience necessary, you will be led through this gentle exercise that promotes relaxation, balance, health and fitness. Practised for over 3,000 years, T'ai Chi is renowned for reducing physical and mental strains, and setting you on the path to a tranquil mind.
Led by instructor Paul Neary, there is no better way to spend a Sunday morning than in hidden tranquility right in the centre of York.
Sundays 9:30-10:30am
£6 per person, per session
Tickets
York Fashion Week: A Night At York Mansion House
Saturday 21 March 2020
York Mansion House
Step into York Mansion House for an evening of opulence, with Berry's Jewellery and the debut collection from Thimbelina Bridal.
Presenting their exciting new range of breath-taking bridal gowns, Thimbelina's collection will be perfectly complimented by Berry's incredible pieces that will be adorning the catwalk models. Throughout the evening, Berry's and Thimbelina will be ready to answer questions and discuss any bespoke orders, as well as showcasing more of their remarkable pieces that will be displayed throughout the house.
You'll be welcomed to the evening with a signature gin and tonic from Cooper King Gin Distillery, who will be serving their bespoke beverages throughout the evening; and Panda Mami will be on hand to serve delicious canapés from their fantastic new menu.
A spectacular evening awaits…
Please note ticket price includes canapes and a welcome drink. A paid bar will be available throughout the evening.
Tickets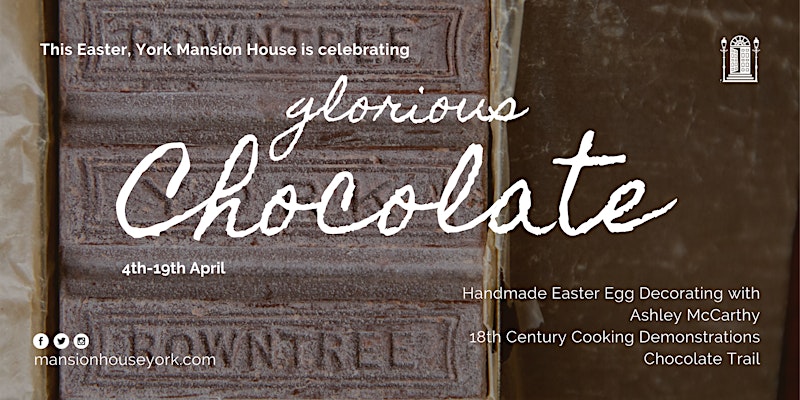 Easter Egg Decorating With Ashley McCarthy
Saturday 4 - Tuesday 7 April 2020
York Mansion House
This Easter, York-based master chocolatier Ashley McCarthy is coming to York Mansion House, and bringing his incredible creativity with him. In the State Room, multiple-award winner Ashley will take you through the art of decorating hand-made Easter Eggs, in a delicious chocolate of your choice.
From dark to vegan chocolate, and everything in between, this is a wonderful opportunity to treat a loved one, or just keep your creation for yourself (we know you'll want to…!). Settle into the beautiful State Room, find out more about the Mansion House's unique chocolate heritage, and get gloriously chocolatey.
Fancy making an evening of it? Our workshop on Saturday 4th is exclusively adults only. A cash bar will be available throughout the event, so grab a drink and get decorating!
🎟️
Tickets
York Mansion House
St Helen's Square
York YO1 9QL
mansionhouseyork.com