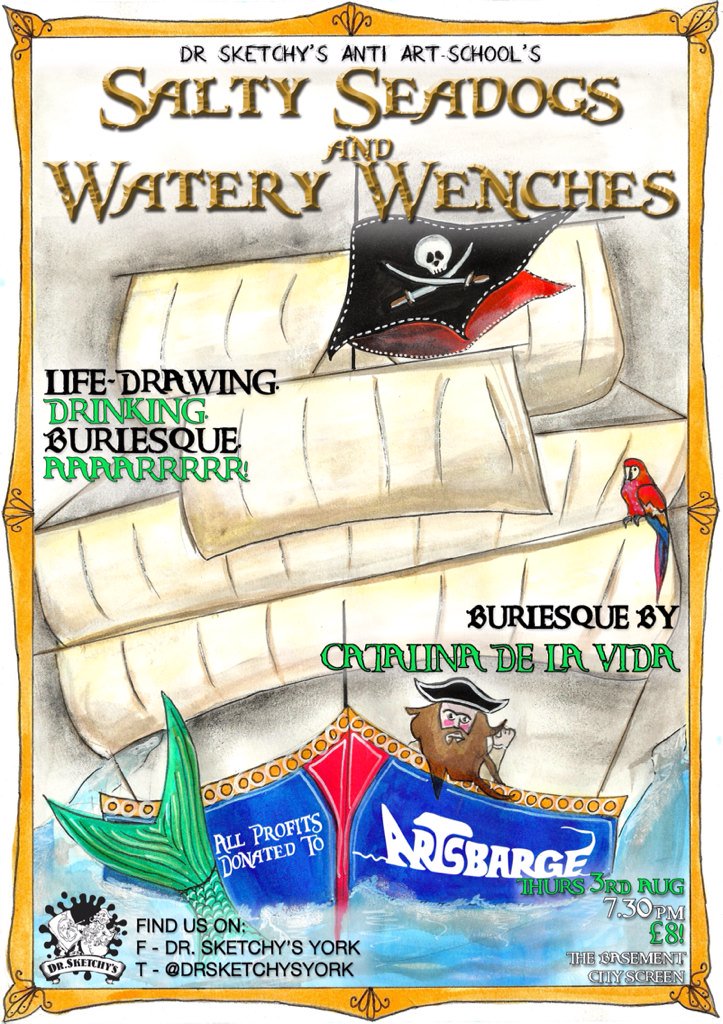 Dr Sketchy's York Salty Seadogs and Watery Wenches
Thursday 3 August 2017
The Basement Bar - City Screen
All aboard the good ship Sketchy!
We're going on a naughty-cal life drawing adventure to raise money for ARRRRR friends at The Arts Barge Project on Thursday 03 August and Captain Sketchy needs a crew. So grab your bottle of rum and hold on to your booty, things are going to get seriously salty…
Featuring splashing and dashing burlesque from the CATALINA DE LA VIDA!
To err is human, but to arrr is pirate. Captain Sketchy doesn't care what you draw or how, as long as you have an awesome time trying. Old hands and pasty landlubbers are all welcome here. We'll be stocking up on all the supplies you'll need to set sail on a sketching adventure and will have a variety of scurvy seadogs and watery wenches to pose for your drawing pleasure.
What's a pirate's favourite letter? You might think it's ARRR but nay, his first love is the C.
Remember, all profits from the night will be donated to the fabulous folks at the ArtsBarge, so dig out yer' buried treasure and come to The Basement Bar at City Screen for an evening of drinking, drawing, burlesque, and PIRATES!
EVENT DETAILS
- City Screen Basement Bar.
- Doors: 7.30pm. We will be starting promptly at 7.45 (Feel free to arrive later, but be aware you will miss some poses)
- £8 on the door, £7 advance tickets (via City Screen Website) or with valid student ID.
- Paper, pencils, and some other materials are provided, but feel free to bring your own.
- Hosted by your friendly neighbourhood Dr Sketchy's Team!
MISSION STATEMENT.
At Dr Sketchy's we seek to shake up the traditional life drawing experience– there will be no-one telling you how to draw, what to draw with or at what pace. We celebrate drawing the way you've always wanted to. We're not a serious art class, just a lot of Art Monkeys giving it a go in a relaxed atmosphere.
We love audience input and involvement. Please let us know what you think, and what themes you would like.
Talk to us on Facebook and Twitter @drsketchysyork with the tag #drsketchysyork
The Basement - Live Music, Comedy, & Arts..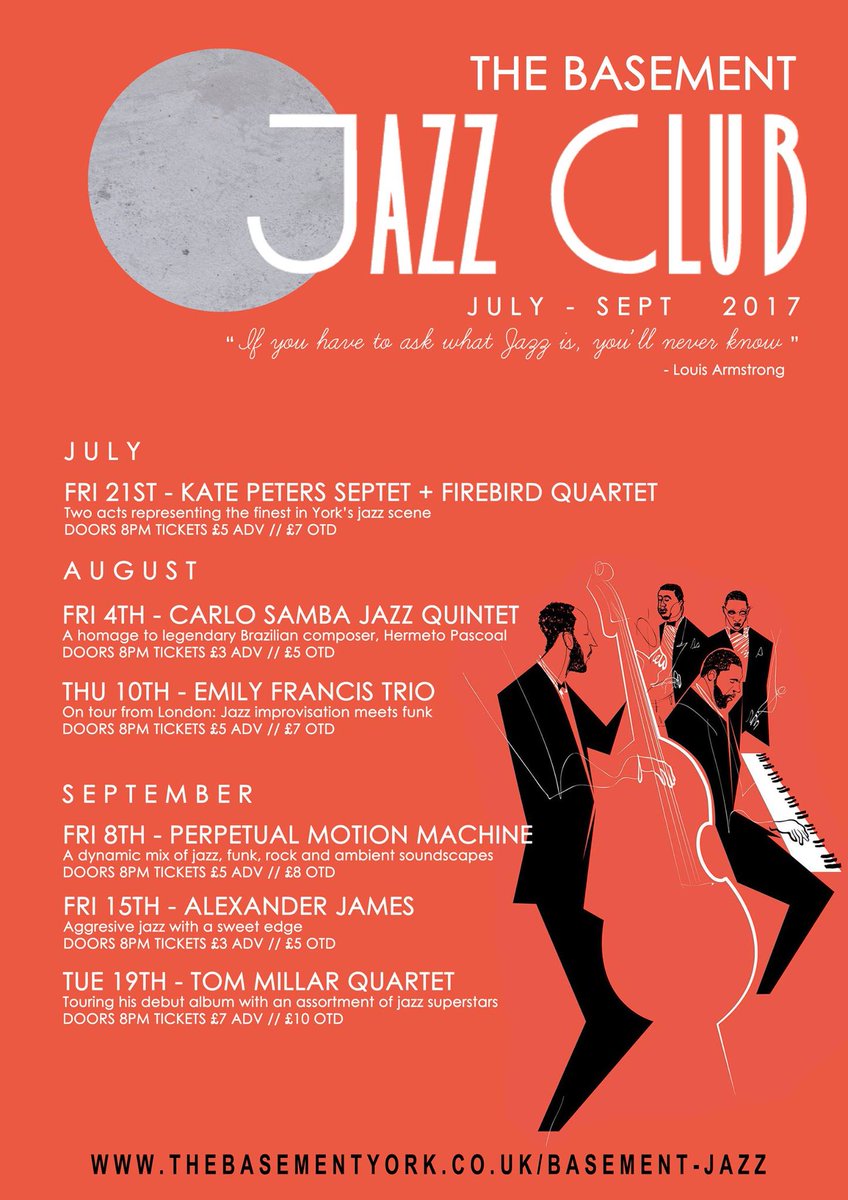 Emily Francis Trio
10 August 2017
Touring band from London fusing jazz improvisation with the sounds of funk and soul. Doors 8pm. Tickets £5 Adv / £7 OTD
Fri 11th Aug - Laugh Out Loud Comedy Club
Starring: Daliso Chaponda, Dave Longley, Bill Woolland, Damion Larkin (MC) Doors 7.30pm
Tickets £17 Adv / £20 Otd
Sat 12th Aug The Velma Celli Show
Tue 15th Aug Louise Distras
Sat 19th Aug Kashmere + Pura Vida + Televangelists
Thu 24th Aug Living Body
The Basement
A venue situated below City Screen Picturehouse cinema, right in the heart of York city centre. The venue hosts an eclectic mix of events including live music, poetry, comedy, drama and DJ nights.
13-17 Coney Street, York, YO1 9QL
thebasementyork.co.uk
|
map
Café Scientifique is a place where, a cup of coffee or a glass of wine in your hand, you can come to explore the latest ideas in science and technology. The first Cafés Scientifiques in the UK were held in Leeds in 1998. From there, cafes gradually spread across the country. Currently, some forty or so cafes meet regularly to hear scientists or writers on science talk about their work and discuss it with diverse audiences.
Kinofolk Pop Up Cinema
Christmas Parties at Revolution York
Revolution York, Coney Street, YO1 9NA
Enjoy Christmas in style at Revolution York. Perfect for an xmas meet up with friends or a full-on work Christmas party with all the trimmings.
Christmas packages include 3 Course Dining from £17.95pp, Christmas Buffet from £14.95pp and Bar Snacks from £10.00pp.
Get in touch to book your Christmas parties and nights out now, by emailing our Events Team at bookings-york@revolution-bars.co.uk or by phone on 01904 676054.