The Basement - Live Music, Comedy, & Arts..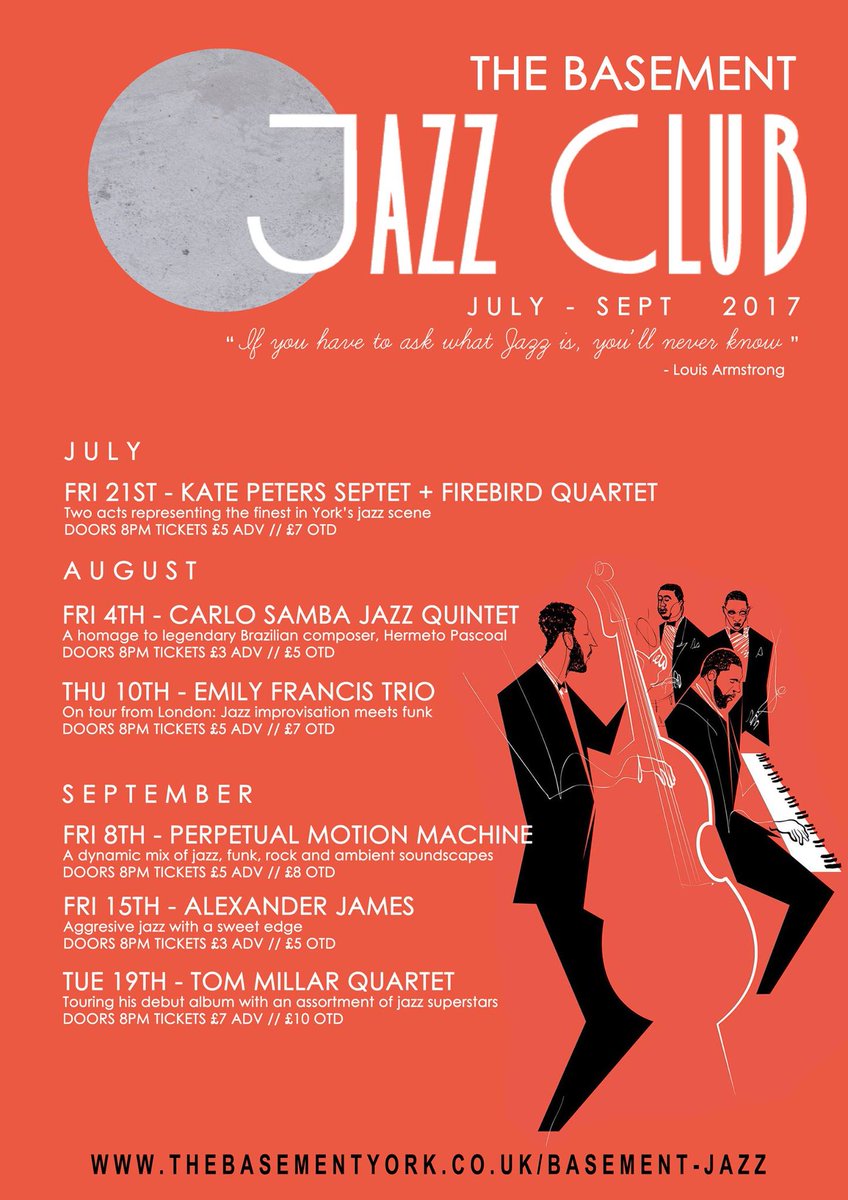 Fri 15 Sept - Basement Jazz Club: Alexander James
Sat 16 Sept - Laugh Out Loud Comedy Club
Sunday 17 Sept - Please Please You: Siobhan Wilson
Siobhan Wilson was brought up in Elgin, Morayshire and after some time absorbing the French culture in Paris returned to Scotland to the city of Glasgow where she currently resides. Since returning to Scotland Siobhan self-realised an EP, receiving critical praise and radio play across the BBC network (Radio 1, Radio 2, Radio 6 Music, BBC Scotland) and been championed by Lauren Laverne (BBC Radio 6 Music) as one of her Headphone Moments.
Doors 8pm / Tickets £8 Adv / £10 Otd
Mon 18 Sept - Script Factor
Tue 19 Sept - Basement Jazz Club: Tom Millar Quartet
Tom Millar is a London-based pianist, composer and bandleader. He was born in Sydney, Australia and grew up in London. After reading Music at King's College, Cambridge, he studied Jazz Piano and Composition for a Masters at the Royal Academy of Music, London, and with Django Bates in Bern, Switzerland.
Doors 8pm / Tickets £7 Adv / £10 Otd
Wed 20 Sept - Please Please You: John Murry
John Murry's The Graceless Age was the album of a lifetime. When it was released in 2012, it entered the hearts of countless listeners and gathered accolades from critics worldwide. An extraordinary work of breathtaking scope and ambition, it came from nowhere and seemed to have set up John Murry as a major artist. The album was listed by Uncut as one of the 10 best records of 2012. Mojo also included it in their 10 best albums of 2013, as well as The Guardian in their Top 50 of 2013 and American Songwriter in their Top 5 of 2013. His UK tour in support of John Murry's acclaimed new album A Short History Of Decay comes to the Basement on 20 September.
Doors 8pm / Tickets £13 Adv / £15 Otd
Fri 29 Sept - Jack Sabbath
Sat 30 Sept - Say Owt Slam
Sun 1 Oct Fleeting Quiz: Rick & Morty
Mon 2 Oct These Dudes Abide! The Cinema Of Joel & Ethan Coen
Tue 3 Oct Slotface
Wed 4 Oct Cafe Scientifique
Thu 5 Oct Craig Stephenson: Deception
Fri 6 Oct Jazz Club Presents: Not Now Charlie
Sat 7 Oct Headlock Vintage Clothing Sale
The Basement
A venue situated below City Screen Picturehouse cinema, right in the heart of York city centre. The venue hosts an eclectic mix of events including live music, poetry, comedy, drama and DJ nights.
13-17 Coney Street, York, YO1 9QL
thebasementyork.co.uk
|
map
Café Scientifique is a place where, a cup of coffee or a glass of wine in your hand, you can come to explore the latest ideas in science and technology. The first Cafés Scientifiques in the UK were held in Leeds in 1998. From there, cafes gradually spread across the country. Currently, some forty or so cafes meet regularly to hear scientists or writers on science talk about their work and discuss it with diverse audiences.
Kinofolk Pop Up Cinema
Dr Sketchy's York Presents: The King of Horror
Friday 13 October 2017
The Basement, City Screen Picturehouse
Alternative Life Drawing, Drinking and Burlesque
We can't CARRIE on like this, IT is time to take a STAND and put you out of your MISERY by announcing that on Friday the 13th of October we'll be cracking the spines and SHINING a light on the twisted horrors that lurk within the pages of Stephen's King's books.
Our life models will portray the characters that feature in your NIGHTMARES AND DREAMSCAPES posing for a STEVENING of sketching pleasure in our own REDRUM down in The Basement Bar at City Screen. We don't care if you are an APT PUPIL or if you feel more like a member of THE LOSER'S CLUB when you get your sketch on – all artistic abilities are welcomed here. Everything you need to get started creating your own gory masterpiece will be there ready and waiting if you dare to enter CASTLE ROCK!
We'll be searching for THE DARK TOWER, laying CUJO to rest in our PET SEMATERY, walking THE GREEN MILE, and seriously hoping that THE TOMMYKNOCKERS won't be knocking on the door…
EVENT DETAILS
-City Screen Basement Bar.
-Doors: 7.30pm. We will be starting promptly at 7.45 (Feel free to arrive later, but be aware you will miss some poses)
-£8 on the door, £7 advance tickets (via City Screen Website) or with valid student ID.
-Paper, pencils, and some other materials are provided, but feel free to bring your own.
-Hosted by your friendly neighbourhood Dr Sketchy's Team!
MISSION STATEMENT.
At Dr Sketchy's we seek to shake up the traditional life drawing experience– there will be no-one telling you how to draw, what to draw with or at what pace. We celebrate drawing the way you've always wanted to. We're not a serious art class, just a lot of Art Monkeys giving it a go in a relaxed atmosphere.
We love audience input and involvement. Please let us know what you think, and what themes you would like.
Talk to us on Facebook and Twitter @drsketchysyork with the tag #drsketchysyork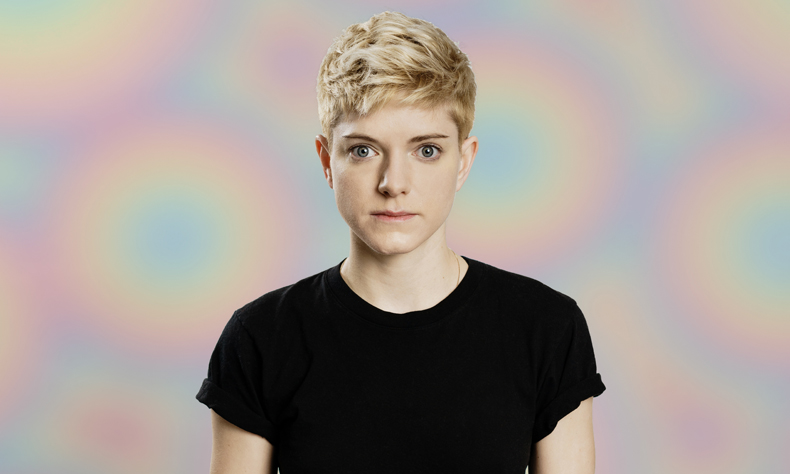 Mae Martin: Dope
Wednesday 18 October 2017
The Basement, City Screen, York, YO1 9QL
7.30pm | Tickets £10 adv, £12 on door
maemartin-tour.com
EDINBURGH COMEDY AWARD NOMINEE 2017
The star of the award-nominated Mae Martin's Guide to 21st Century Sexuality (BBC Radio Four) and her own stand-up special (Comedy Central) examines a lifetime of obsessions, fandom and addiction with 'effortlessly amusing, highly watchable charm' (Times).
MAE MARTIN shines a light on that one weird shrimp we all have in our brains that is happy to pursue short-term pleasure, despite knowing the long-term negative consequences. She asks: who are we when we're not addicted?
'Likeable and thoughtful – her funniest and frankest show yet'
The Guardian
'Hopeful and joyous… I didn't want the hour to end'
The Times
'Her best set yet – will have you hooked from start to finish'
Evening Standard
'Richly absorbing'
The Scotsman
'A breath of fresh air'
Chortle