The Basement - Live Music, Comedy, & Arts..
YPS Cafe Scientifique
Wednesday 1 March 2017
Café Scientifique is a place where, a cup of coffee or a glass of wine in your hand, you can come to explore the latest ideas in science and technology. Meetings take place in cafes, bars, restaurants and even theatres, but always outside a traditional academic context.
Doors 7pm / Free Admission.
Basement Jazz Club
Fri 3 March 2017
The Basement Jazz Club is a monthly night which wants to put York's amazing jazz scene front and centre. We pride ourselves on excellent sound and an intimate atmosphere, giving over our stage to the finest musicians from York, as well as the odd featured act from further afield
Sat Mar 4th - Open Mic Night
Sun Mar 5th - Burning Duck Comedy: Kiri Pritchard Mclean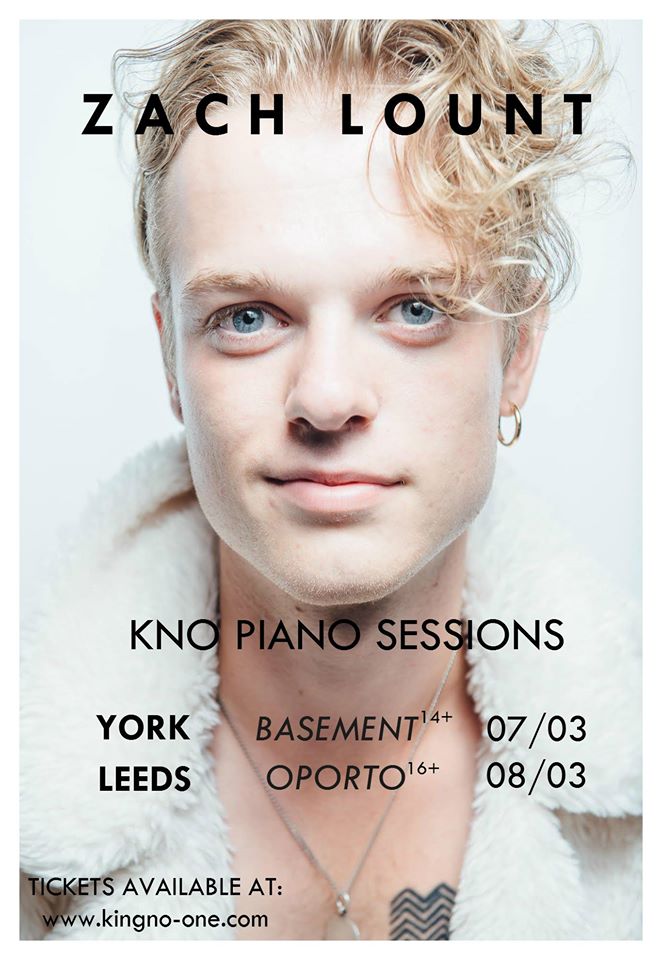 King No One
Tuesday 7 March 2017
After coming off of a sell out December tour with King No-One, Lead singer and song writer Zach Lount will be performing two very intimate and personal shows in both Leeds and York.
Tickets £6
Wed Mar 8th The Cleverest Thief
Beth Mcarthy
Thursday 9th March 2017
Fatherson + Supports
Friday 10 March 2017
Carefully constructed, straight-to-the-point songs. Soaring, sweeping, swooning songs that rise up, and fall back down in a graceful incline. Doors 8pm. Tickets £10 ADV / £12 OTD
Saturday 11 March 2017
Velma Celli
The Basement
A venue situated below City Screen Picturehouse cinema, right in the heart of York city centre. The venue hosts an eclectic mix of events including live music, poetry, comedy, drama and DJ nights.
13-17 Coney Street, York, YO1 9QL
thebasementyork.co.uk
|
map
Kinofolk Pop Up Cinema
Laugh Out Loud Comedy Club
Saturday 19 March 2017
13-17 Coney St York, York YO1 9QL
Four top professional comedians, Enjoy brilliant comedy, A great night out!
Starring: Raymond Mearns, Nathan Caton, Rob Mullholand, Damion Larkin (MC).
Doors: 7.30pm / Start: 8pm
Tickets: £17 in advance / £20 on the door / £12 City Screen Members
lolcomedyclubs.co.uk
Dr Sketchy's York Presents: Strike a Pose
Thursday 6 April 2017
The Basement Bar - City Screen
In partnership with FASHION CITY YORK, on Thursday 6 April we'll be exploring a century of style at Dr Sketchy's York Present: Strike a Pose – Celebrating 100 years of British Vogue with an evening of drawing, drinking and burlesque.
Our cover models will help you discover the world of fashion throughout the past century from the Roaring Twenties to the Swinging Sixties, as the heels got higher and the hems shorter. It's time to loosen your stays, burn your bras, and get ready for a night of haute couture and radical fashion.
As always, we'll provide all the art materials you need to create your sketches of our life models, all of whom will be styled in iconic outfits that span the decades of Vogue. Every level of artistic experience welcome – we don't care if you draw every day or haven't picked up a pencil in years if you're willing to give it a try and have a good time.
EVENT DETAILS
-City Screen Basement Bar.
-Doors: 7.30pm. We will be starting promptly at 7.45 (Feel free to arrive later, but be aware you will miss some poses)
-£8 on the door, £7 advance tickets (via City Screen Website) or with valid student ID.
-Paper, pencils, and some other materials are provided, but feel free to bring your own.
-Hosted by your friendly neighbourhood Dr Sketchy's Team!
MISSION STATEMENT.
At Dr Sketchy's we seek to shake up the traditional life drawing experience– there will be no-one telling you how to draw, what to draw with or at what pace. We celebrate drawing the way you've always wanted to. We're not a serious art class, just a lot of Art Monkeys giving it a go in a relaxed atmosphere.
We love audience input and involvement. Please let us know what you think, and what themes you would like.
Talk to us on Facebook and Twitter @drsketchysyork with the tag #drsketchysyork
Exhibition of paintings by Artist Adam Keay
21 - 29 April 2017
City Screen
Through the course of producing my work I had been destroying and resurfacing the paintings more and more frequently. I then made the conscious decision to make this process of chance discovery central to my interrogation of painting.
Part of
York Open Studios 2017