The Basement - Live Music, Comedy, & Arts..
Callaghan UK Summer Tour 2017 + Supports
Tuesday 6 June 2017
Callaghan plays piano and guitar and delivers a stunning vocal which earns frequent comparisons with artists like Sarah McLachlan and Emmy Lou Harris. Her songwriting chronicles the stories, experiences and emotions which are part of everyone's lives. BBC London's Gabby Roslin describes hearing Callaghan live as
"breathtaking...absolutely incredible".
8pm Coney St, York YO1 9QL
www.callaghansongs.com
Tickets £11 Adv
Synthetic Flesh / Rotten Blood
Sunday 11 June 2017
Join author and Starburst film crictic Jon Towlson on a graphic journey through 'pre-code' 1930s horror cinema. Experience the terrors of synthetic flesh, the agonies of rotten blood.
Doors 3pm Tickets £6/£5/£4​
York College Summer Solstice
Wed 14 June 2017
An evening of Soul Music featuring Soul Solution and Calamity
Doors 7:30pm Tickets £5 / £4 Concs​
Basement Jazz Club
Friday 16 June 2017
Presents: The Arts Barge Incredible Hammond Band
Local heroes join us for a special show, with some surprise guests in tow! Doors 8pm Tickets £3 Adv / £5 Otd
Sat Jun 17th Laugh Out Loud Comedy Club
Wed Jun 21st York Music For Refugees
Thu Jun 22nd Lloyd Daniels
Sun Jun 25th Annie Keating
Fri Jun 30th Basement Jazz Club
Cycling Home From China
In January, local Bishyroad girl, Laura left China in sub-zero temperatures and CYCLED all the way back home to York.
On
Monday 17th July
, she will be doing a fascinating talk about her travels at the City Screen Basement and raising money for charity.
Doors 7pm Tickets £5 Adv / £6 Otd
The Basement
A venue situated below City Screen Picturehouse cinema, right in the heart of York city centre. The venue hosts an eclectic mix of events including live music, poetry, comedy, drama and DJ nights.
13-17 Coney Street, York, YO1 9QL
thebasementyork.co.uk
|
map
Café Scientifique is a place where, a cup of coffee or a glass of wine in your hand, you can come to explore the latest ideas in science and technology. The first Cafés Scientifiques in the UK were held in Leeds in 1998. From there, cafes gradually spread across the country. Currently, some forty or so cafes meet regularly to hear scientists or writers on science talk about their work and discuss it with diverse audiences.
Kinofolk Pop Up Cinema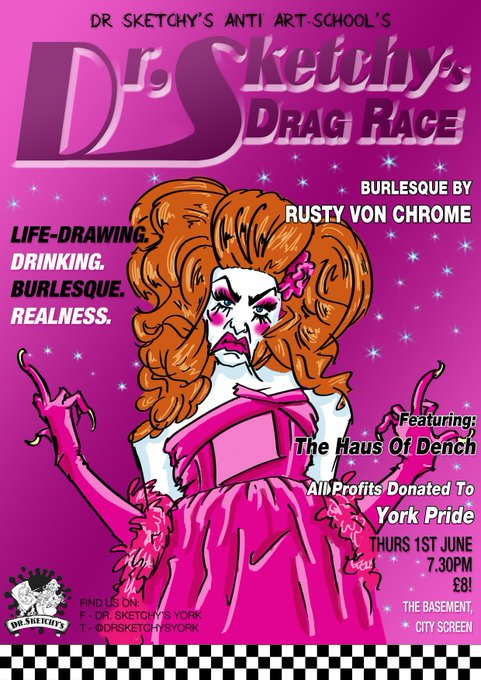 Dr Sketchy's York Presents: Dr Sketchy's Drag Race
Thursday 1 June 2017
The Basement Bar - City Screen
The time has come for you to sketch for your life at Dr Sketchy's Drag Race on Thursday 01 June. So sashay away to The Basement Bar at City Screen where we'll be serving life drawing, drinking, burlesque REALNESS! All profits from the night will be donated to York Pride.
Featuring brilliant gender bending burlesque from RUSTY VON CHROME and the fierce and fabulous queens of the HAUS OF DENCH will keep your tongues POPPIN'!
We're not here to judge how well you draw. Ain't nobody got time for that. All we care about is that you have a laugh while getting creative. We welcome all abilities from absolute amateurs to old pros and we'll provide the art materials you'll need to get your hands dirty.
And just remember huntys, if you can't love yourself, how the HELL you gonna love somebody else?
EVENT DETAILS
-City Screen Basement Bar.
-Doors: 7.30pm. We will be starting promptly at 7.45 (Feel free to arrive later, but be aware you will miss some poses)
-£8 on the door, £7 advance tickets (via City Screen Website) or with valid student ID.
-Paper, pencils, and some other art materials are provided, but feel free to bring your own.
-Hosted by your friendly neighbourhood Dr Sketchy's Team!
MISSION STATEMENT.
At Dr Sketchy's we seek to shake up the traditional life drawing experience– there will be no-one telling you how to draw, what to draw with or at what pace. We celebrate drawing the way you've always wanted to. We're not a serious art class, just a lot of Art Monkeys giving it a go in a relaxed atmosphere.
We love audience input and involvement. Please let us know what you think, and what themes you would like.
Talk to us on Facebook and Twitter @drsketchysyork with the tag #drsketchysyork
Record Vinyl collectors Fair
Saturday 1 July 2017
Basement-City Screen Cinema, Coney St.
Free entry event, Top dealers from around the country bring amazing collections of Records and CDs to York. Jazz, Blues, Folk, Punk, Rock, Metal, prog, 60s, 70s, 80s, 90s Rare records to browse, sell, buy, Also free on site valuation service.
Record Vinyl Collectors Fair
Saturday 1 July 2017
The Basement-City Screen Cinema, Coney St.
Top dealers from around the country bring 1000s LPs 45s eps CDs to York. Entry is free and their is a free valuation service for your collectables. Doors open 10.30 till 3.45.
Christmas Parties at Revolution York
Revolution York, Coney Street, YO1 9NA
Enjoy Christmas in style at Revolution York. Perfect for an xmas meet up with friends or a full-on work Christmas party with all the trimmings.
Christmas packages include 3 Course Dining from £17.95pp, Christmas Buffet from £14.95pp and Bar Snacks from £10.00pp.
Get in touch to book your Christmas parties and nights out now, by emailing our Events Team at bookings-york@revolution-bars.co.uk or by phone on 01904 676054.